WW2 5 years service stripes £10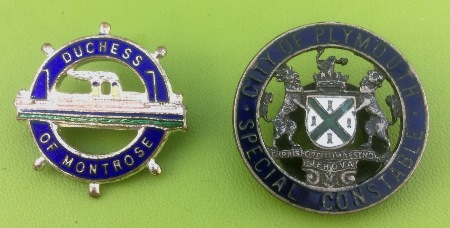 Duchess of Montrose ship badge 1930-1964 Caledonion Steam packet Co. H W Miller BHam £10 City of Plymouth Special Constable badge Hiatt £15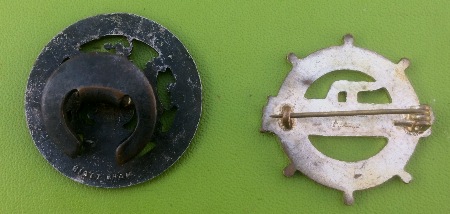 reverse of badges above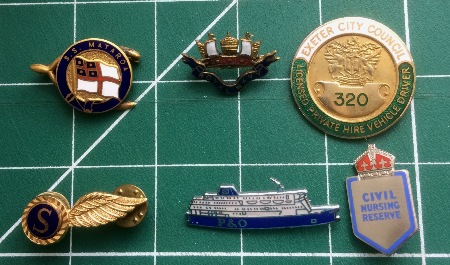 S.S MATAROA (1932-57) Shaw Savill Albion Line £20 Royal Navy £10 Exeter City Council Taxi badge £10, Half wing brevet Steward ? £10 PO Ferry £5 Civil Nursing Reserve Kings Crown £5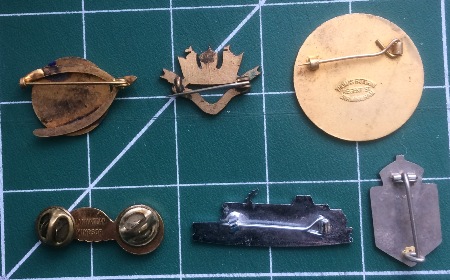 Rear of badges above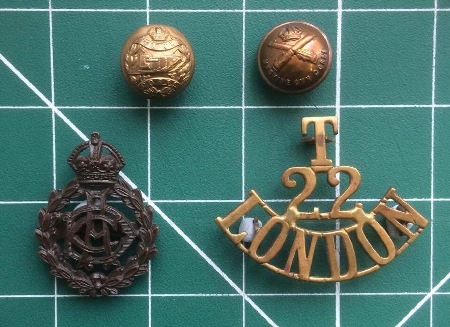 Genuine insignia WW1 Tank Corps button £10 WW1 Machine Gun Corps button £5 Officer Service Dress Army Dental Corps cap badge with blades £25. T 5 LONDON regiment shoulder title £20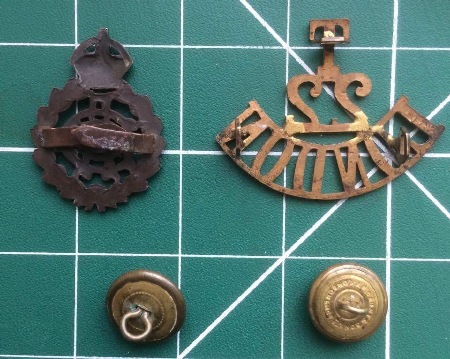 Rear of above



Sherwood Rangers Yeomanry officers pattern £10 Cheshire Yeomanry top lug missing £15


Reverse of badges above



WW2 AMERICAN MERCHANT MARINE silver badge Sterling marked AE CO UTICA N.Y £15
Genuine Fire Watchers enamel badge £15
Scarce Rochdale ARP (Air Raid Precautions ) token or disc marked F.A 279 possibly first aid or a shelter token ? £15



rear of badges above £15 each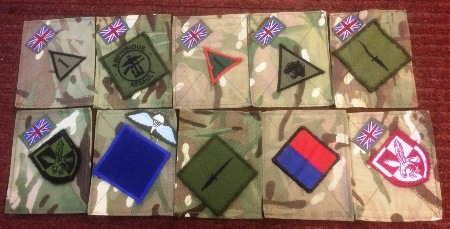 All genuine issue current MTP panels taken off combat shirts £5 each. Lots of plain and Union Flag panels also available £3 each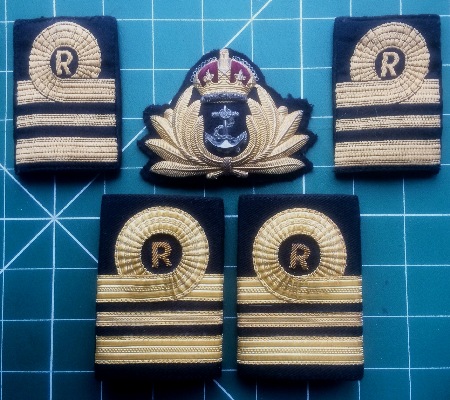 A fantastic Kings Crown Officer Cap badge same pattern as regular Royal Navy £30, A pair of RNR Lieutenant Commander slips ons £10, another pair with inserts making them firmer and a stock number inside £10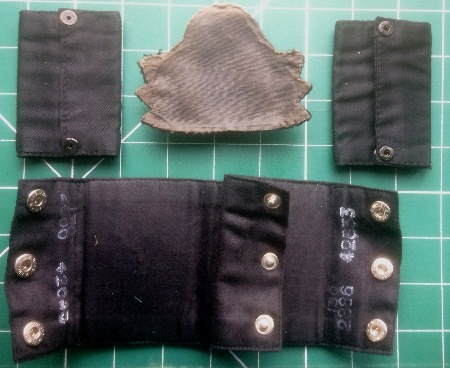 Reverse of badges above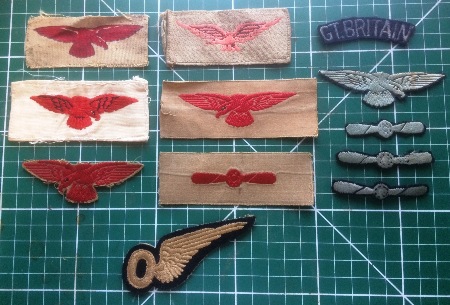 early RAF badges £10 each Observers brevet £25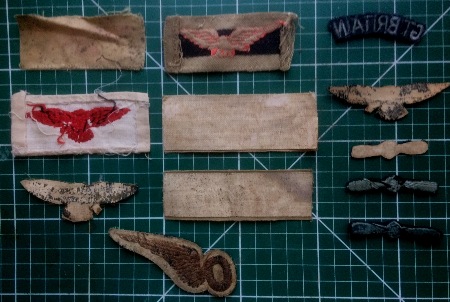 Reverse of badges above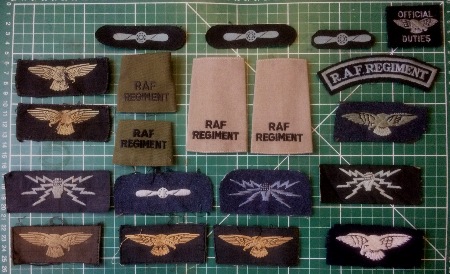 R.A.F. badges £5 each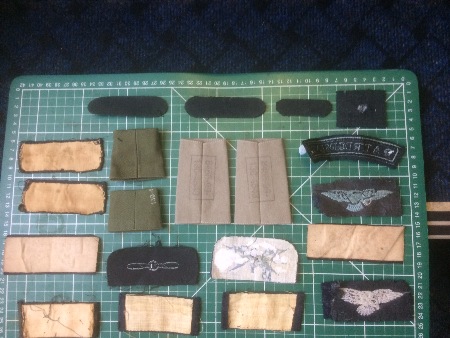 Reverse of badges above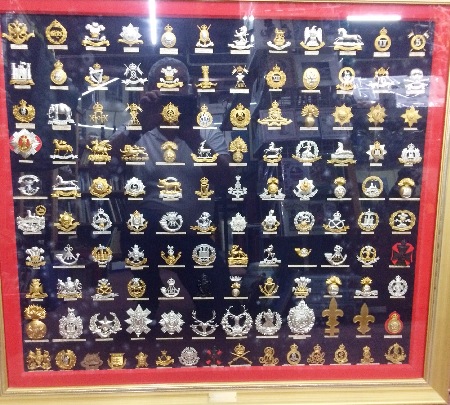 Just in a fantastic framed display of original Edwardian British Army cap badges

THESE SOLD. 4th Hussars, 5th Lancers,16 Lancers ,18 Hussars, 19 Hussars, Border Reg, Middlesex, KRRC, Royal Irish Rifles,Army Scout , Army Scout 1st Class, Royal Malta Artillery, East African Regiment, Border Militia, KRRC Militia,School of Musketry, Royal Military School,Military Provost Staff Corps and Military Police.SOLD
Others are available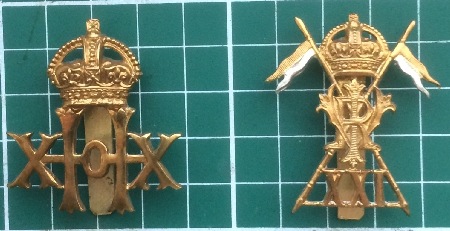 20th Hussars £50 21st Lancers £50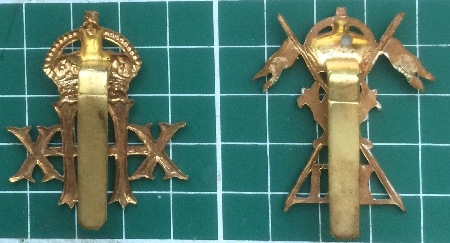 Rear of badges above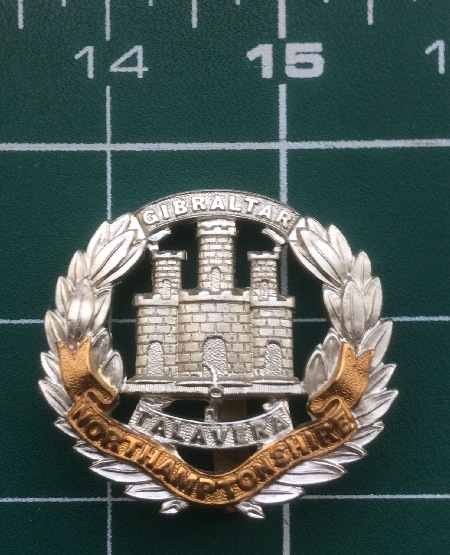 Northamptons £30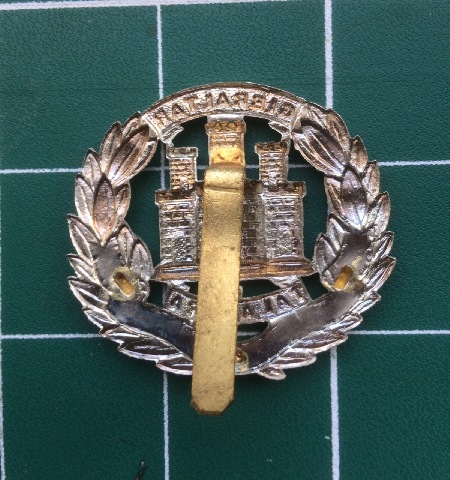 Reverse of badge above £30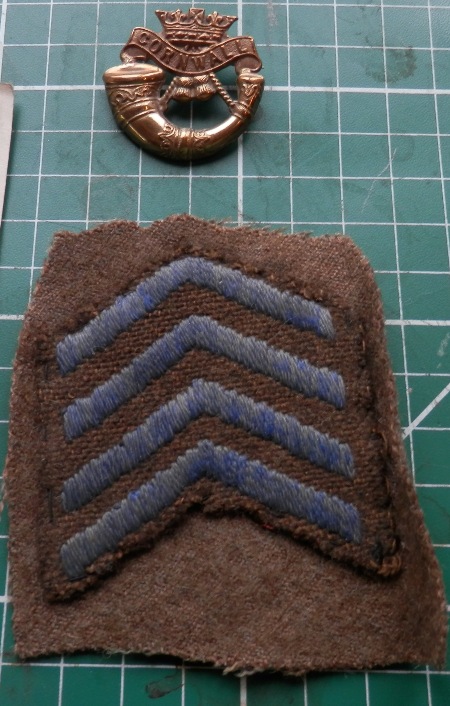 Duke Of Cornwalls Light Infantry badge converted to a sweetheart £10, 4 overseas service stripes or chevrons 1915-18 SOLD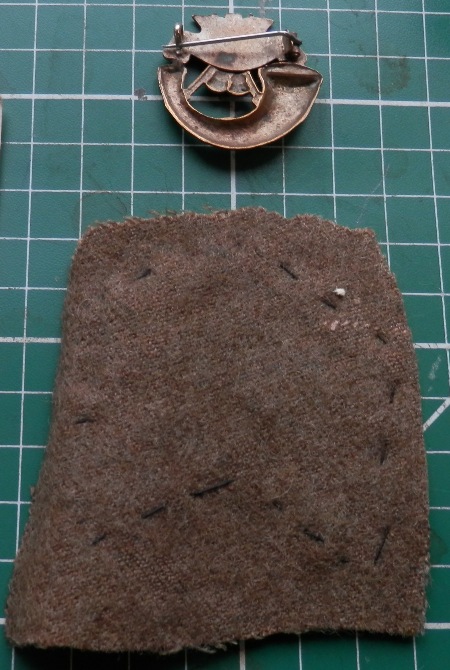 reverse of above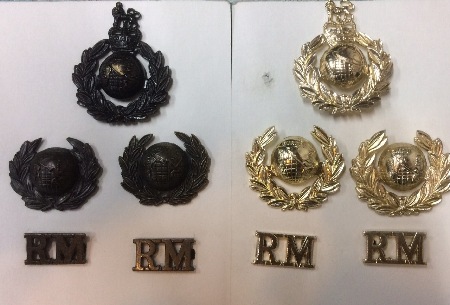 COMPLETE SETS £10 EACH

Scarce pair of WW1 brass shoulder titles complete with backing plates and pins. T/7 /HANTS 7th Hampshire battalion served Aden and India WW1 £40 the pair (2)


Purchased with the owners BWM to Pte G W Emtage 2106 Hants Regiment, medal has now sold

Original Officers collar badge but sometimes worn as a cap badge Machine Gun Corps Gaunt London mark to rear. £20

£20
Reverse of badge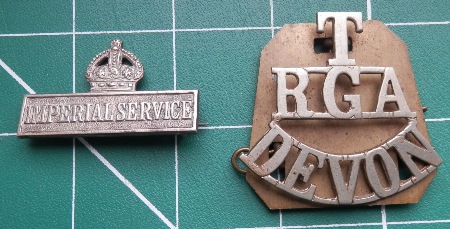 ORIGINAL PIN BADGE £20 WHITE METAL VOLUNTEER TERRITORIAL ROYAL GARRISON ARTILLERY DEVON £40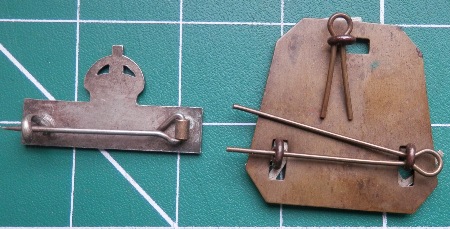 REVERSE OF BADGES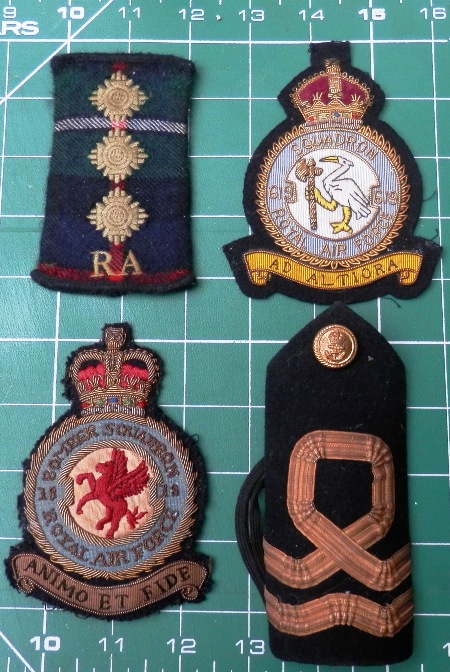 RA Captain slider Highland Gunners SOLD RAF 619 Bomber Command gold wire baddge £10, RAF 18 Squadron gold wire badge ( Falklands Chinooks ) £10. RNVR Lieutenant £5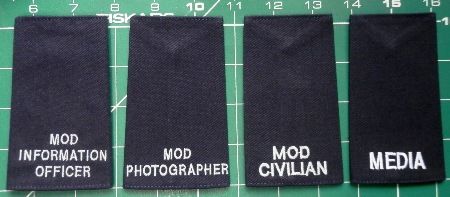 Selection of current issue Media sliders genuine issue to British Forces £5 each


I have a vast stock of genuine Royal Navy rate and branch badges which are ideal for framing up as presentation pieces or those hard to find gifts for ex matelots. Make ideal presents framed up with cap tallies and photographs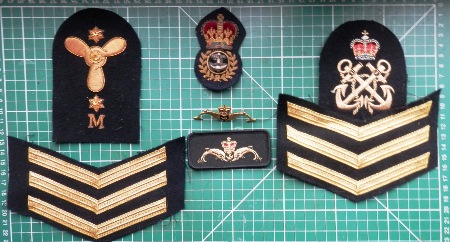 Cloth badges from £4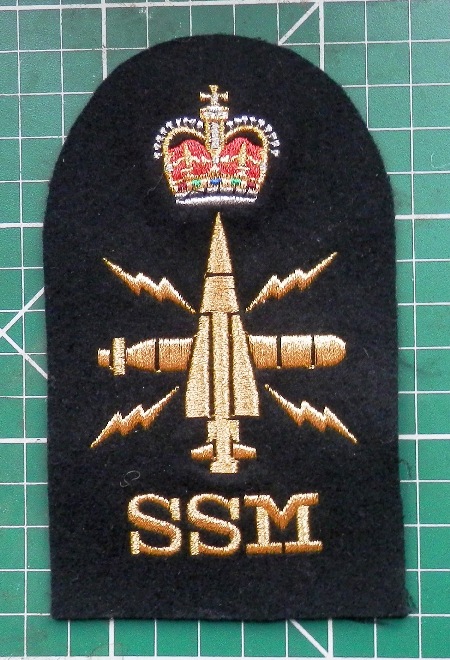 Petty Officer Sensors Submarine service £4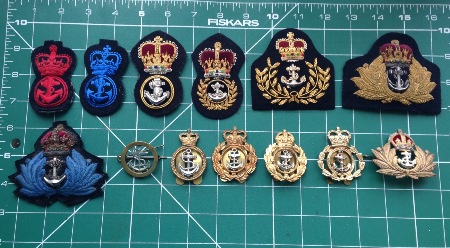 All original as issued to the Royal Navy and WRNS

Ratings not dressed as seaman £6, Petty Officer Wren SOLD, Petty Officer £5, Chief Petty Officer £6, Warrant Officer SOLD, Officer £15, Wren Officer WW2 Kings Crown SOLD, Junior rating £4 Petty Officer £5, Chief Petty Officer £5, Chief Petty Officer WW2 Kings crown £15, Warrant Officer (old style Fleet Chief Petty Officer ) £15, Officer WW2 Kings Crown SOLD.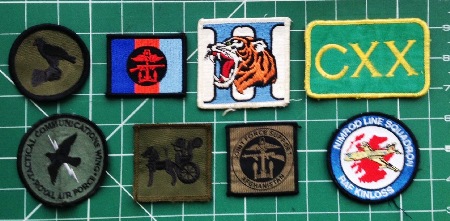 All from one source original badges Nimrod and TCW SOLD £5 each

RQMS or WO2 brass cuff badge on leather wristlet £10 pair of old print RAF shoulder eagles £8 pair, RNVR bullion title SOLD, Russian brass belt buckle £12.

Reverse of items above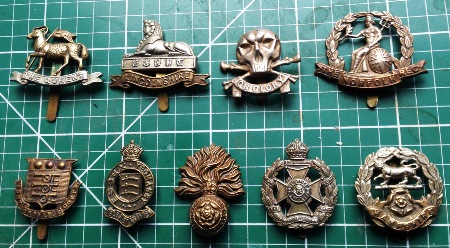 £15 EACH Lincolns SOLD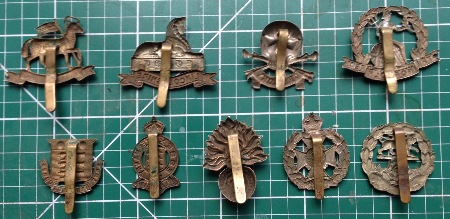 BACK OF BADGES ABOVE £15 EACH

Complete with 3 threaded fixing posts to rear £80

rear of badge showing fixing posts £80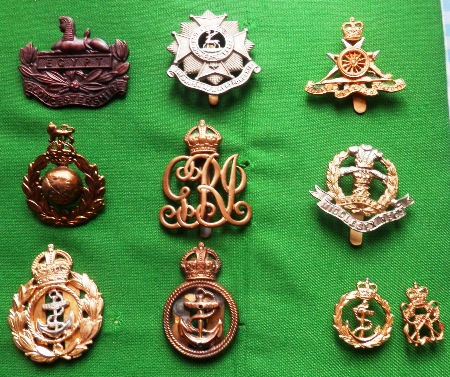 Gloucestershire regiment OSD blade fixings £20 Bedfordshire and Hertfordshire £12 Royal Malta Field Artillery SOLD Royal Marines Kings crown £15 GRI Indian troops £12 Middlesex Regiment £10 Kings Crown Chief Petty Officer £12 Kings Crown Petty Officer £12 CPO and Po tie pins £5 each


rear of badges above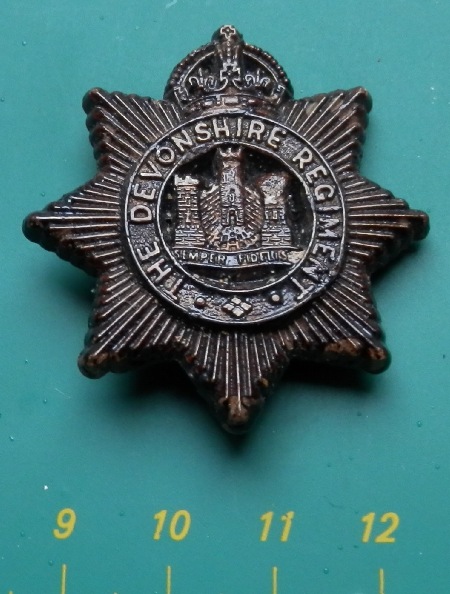 A scarce badge blades intact £25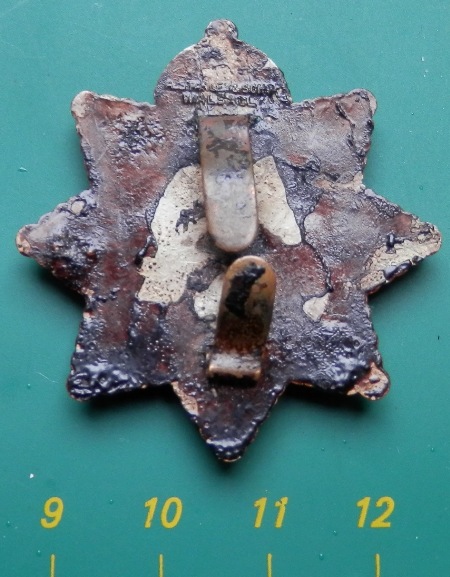 Reverse of badge maker marked £25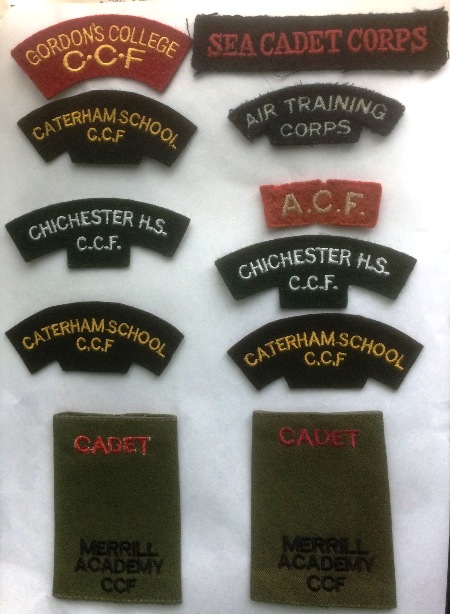 £3 each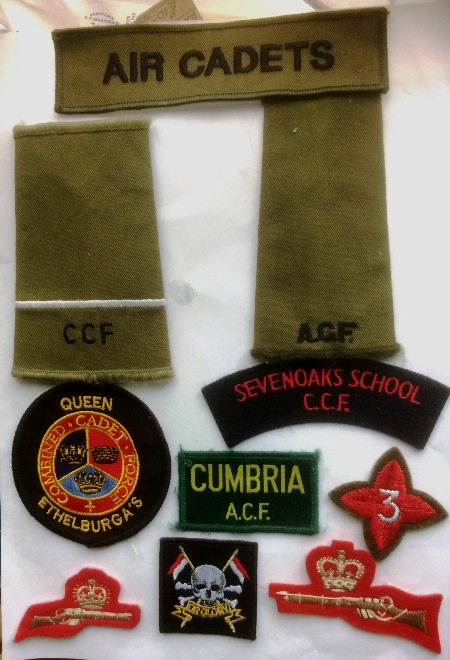 £3 each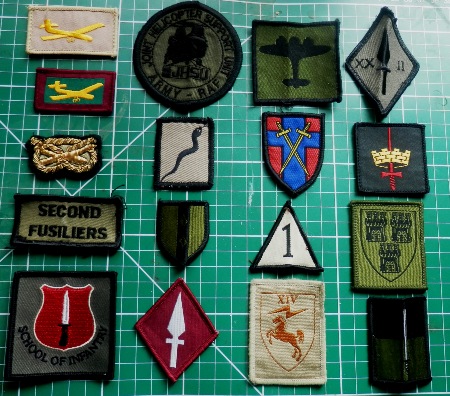 £5 EACH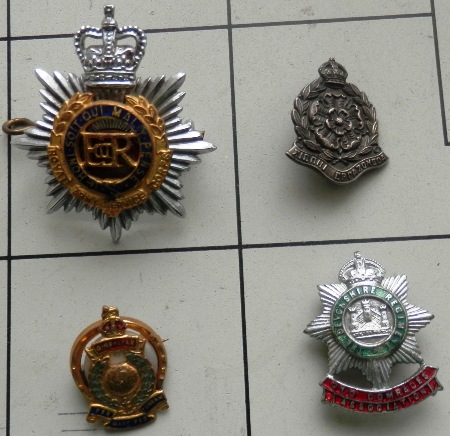 RASC SOLD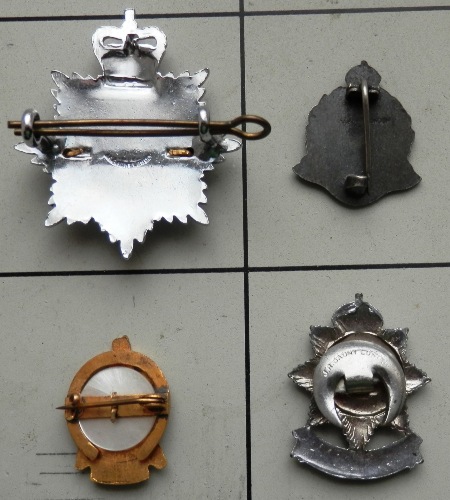 Reverse of badges above

Officer pattern Royal Army Sevice Corps cap badge nice enamels J GAUNT marked SOLD Royal Marine sweetheart badge £8 Devonshire Regiment Old Commarades association J R Gaunt marked £10. Scarce WW2 Ministry of Information pewter finish badge GUANT LONDON based on the Army Intellegence Corps badge with the Greek motto "we work in silence ". This unit was responsible for ensuring no information useful to the enemy was disclosed as type of censor £15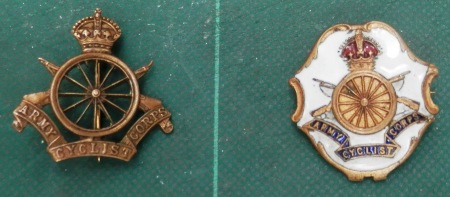 White enamel faced £25 collar badge coverted to sweetheart £10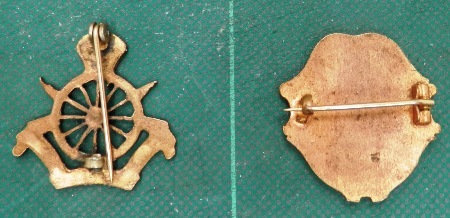 Reverse of badges above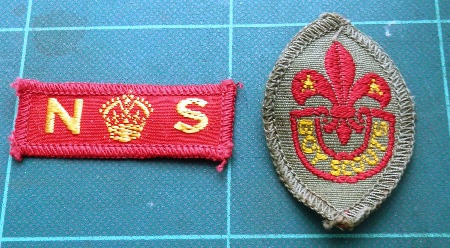 Mint condition pair of badges National Service awarded for 100 hours service e.g collecting scrap, 49 mm long £15 and a Tenderfoots badge £10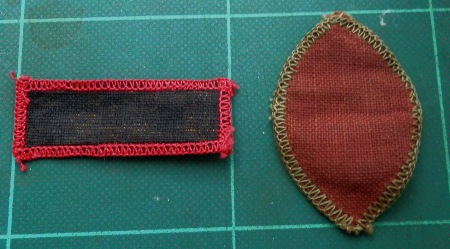 reverse of above badges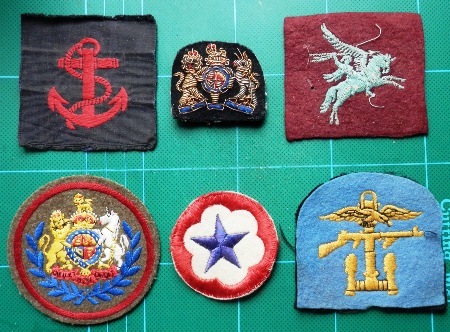 Leading Hand Royal Navy woven £10 Warrant Officer (press studs) £8 Airborne Pegasus small hole SOLD Kings Crown Conductor SOLD USA Army Service Forces £5 American Combined Operations possibly English manufacture SOLD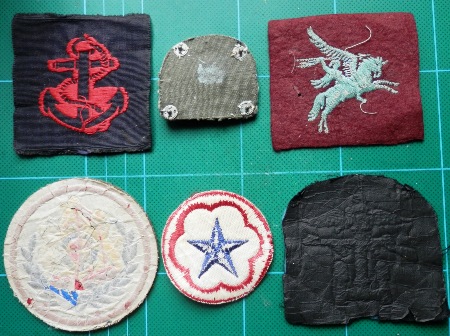 Reverse of badges above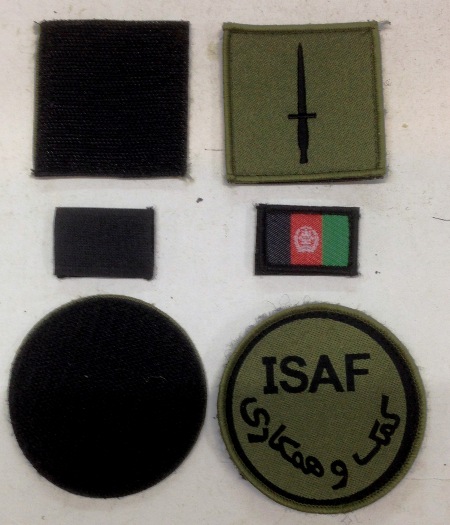 All original as worn on a 2012 tour all velcro backed 3 Commando Brigade, Afghan national flag and ISAF patch £12 the set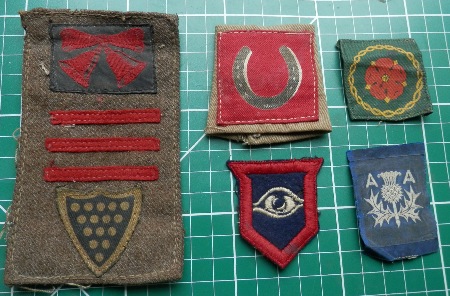 47th London Division and rare Cornwall 6th Battalion D.C.L.I.badge dating from 1942-44 SOLD 13th Infantry Division sewn on a KD slip £20 Lancs and Border district £6, Guards Armoured Division £10, 3rd Anti Aircraft Division £20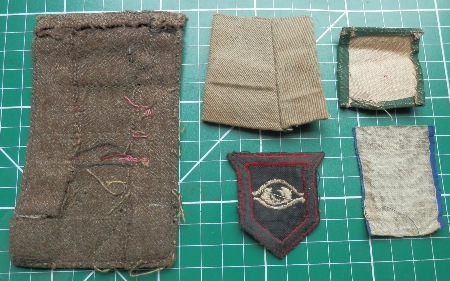 Reverse of above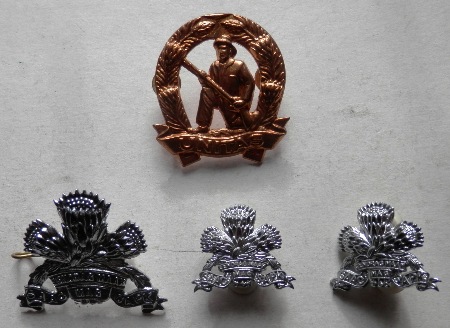 South African UNITAS Commando badge £6 South African Armoured Corps Cap and collar badges £10 set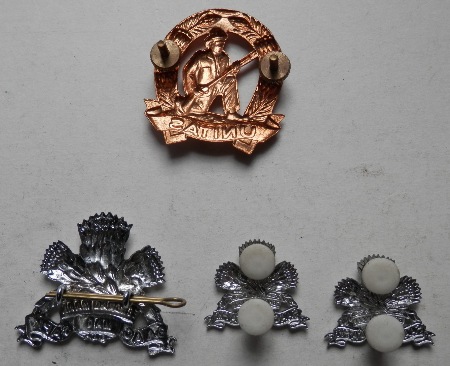 Reverse of above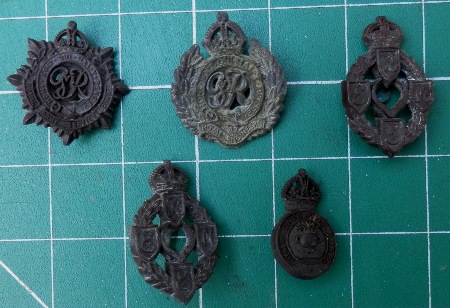 ALL £8 EACH RASC R.E. A.C.C.REME

ALL BLADES INTACT £8 EACH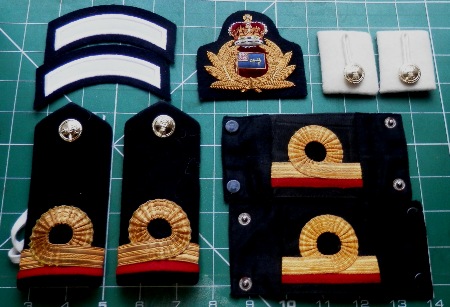 Selection of Naval Insignia

White shoulder "mudguards " for Officers on initial sea training or Senior Upper yardman SOLD Port Auxillary service Masters cap badge SOLD Midshipmans collars £6 Surgeon Sub Lt Boards SOLD Surgeon Sub Lt slip ons £6 pair

Please keep checking for regular uploads.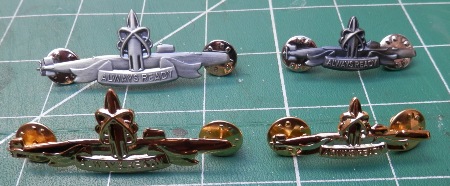 Original RN issue Silver for one patrol £6, gilt for 20 patrols £6, small gilt SOLD



Pair of Warwickshire Cadet badges and ACF titles removed from battledress £20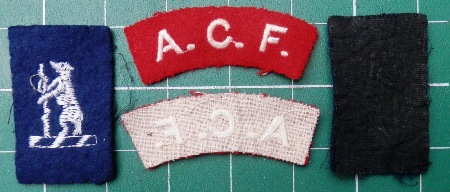 Different pattern Warwickshire Cadets badges and larger ACF titles removed from battledress £20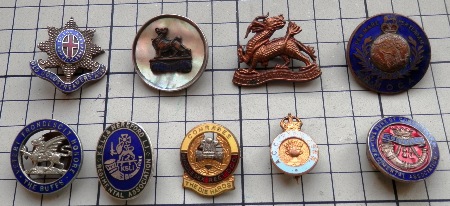 £10 each

Old Coldstreamers,Royal Berkshires,Princess Charlottes of Wales,Royal Marine Association SOLD,The Buffs, K.S.L.I. & Hereford L.I , Middlesex, ,Army Catering Corps, D.C.L.I.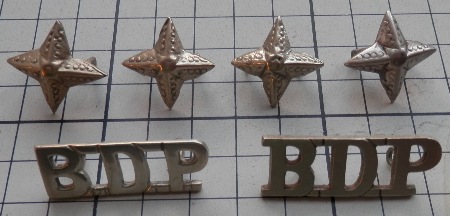 Bombay Distict Police shoulder titles and rank stars £15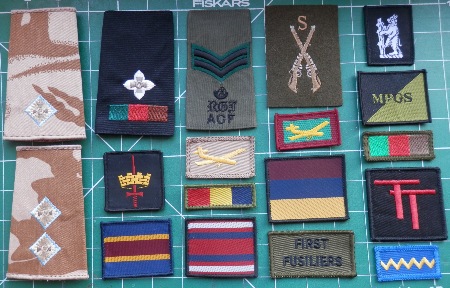 £4 EACH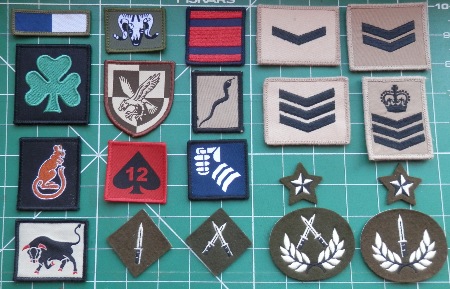 £4 EACH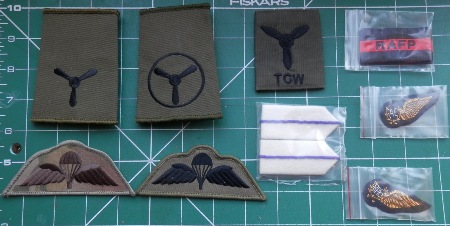 £4 £5 EACH HALF BREVETS SOLD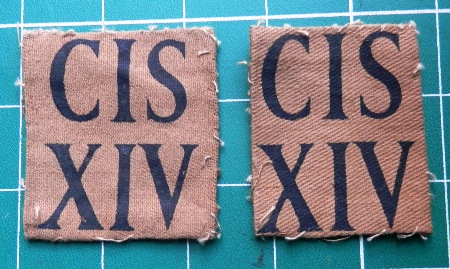 Pair of the printed designation sign used by the fictional Home Guard units in the 1981 film " Eye of the Needle" The letters " CIS" above the roman numerals "XIV" Interesting film item £40 pair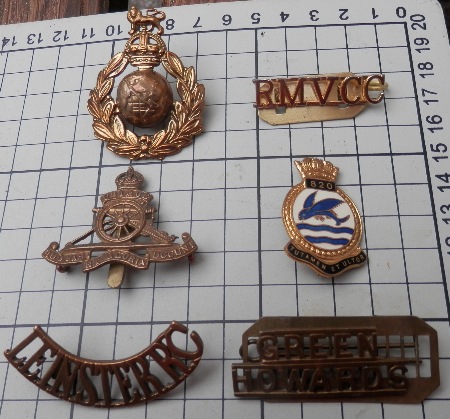 Royal Marine Kings crown £12 Royal Marine Volunteer Cadet Corps staybrite shoulder title SOLD Royal Artillery Dowler marked beret badge slider and lugs £12 820 Squadron FAA HW MILLER enamel badge £10 WW1 Leinster Royal Canadians shoulder title SOLD Green Howards shoulder title £7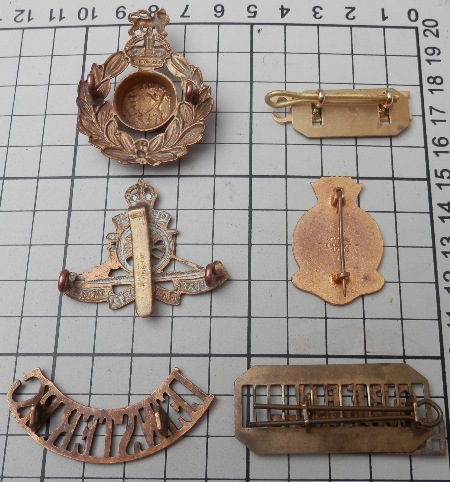 Reverse of above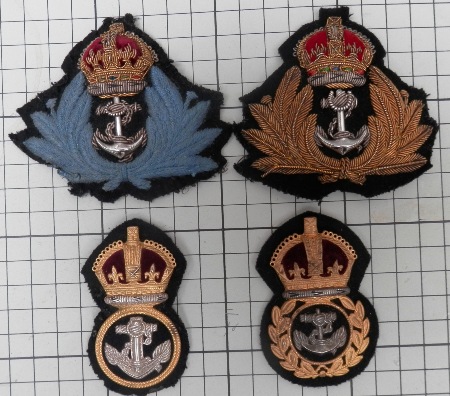 Original WW2 Kings Crown cap badges WRNS Officer cap badge £40 slight damage where removed from cap RN Officers cap badge £25 Chief Petty Officer SOLD Petty Officer SOLD

early armband Exeter Volunteers ? £30 GHQ sew on £10 General Service Corps slip ons £40 pair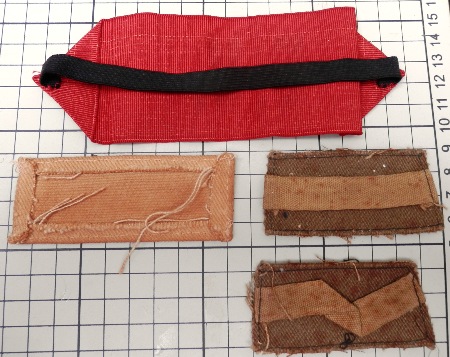 Reverse of above

Royal Army Medical Corps Emergency Reserve £25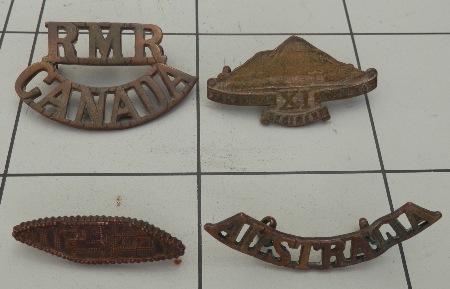 Selection of original brass insignia Royal Montreal Regiment Canada Shoulder title £10 Australia title SOLD Tarakani Rifles Regiment Gaunt marked SOLD Early American Tank Corps collar badge Meyer New York marked SOLD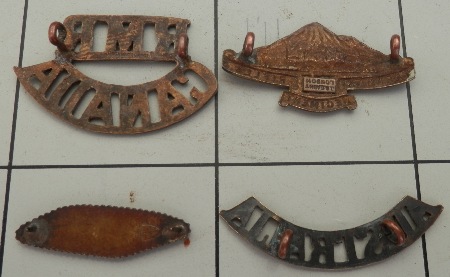 Reverse of badges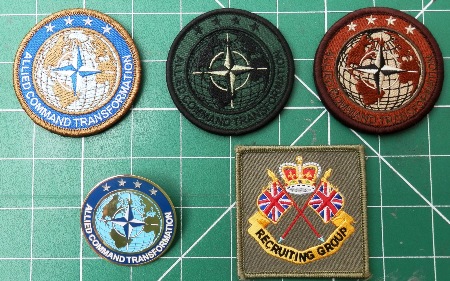 Original insignia as worn by British personel attached to NATO Allied Command Transformation in Norfolk Virgina USA velcro backed badges £5 each. Breast badge with pin clutch fitting £8 TRF as worn by British Army Recriuting Team SOLD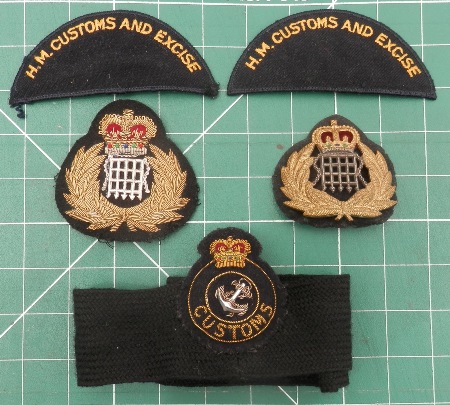 Shoulder titles £3 each
Cap badges £15 each one cloth other gilt metal
Customs badge on cap band SOLD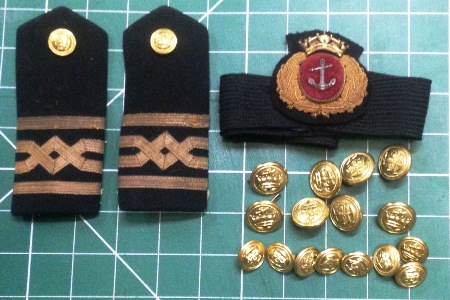 Old Merchant Navy Officers cap badge on original cap band pair of old Captains ( Certified Master ) shoulder boards 8 large brass buttons 8 smaller buttons R Macleod maker £30 the lot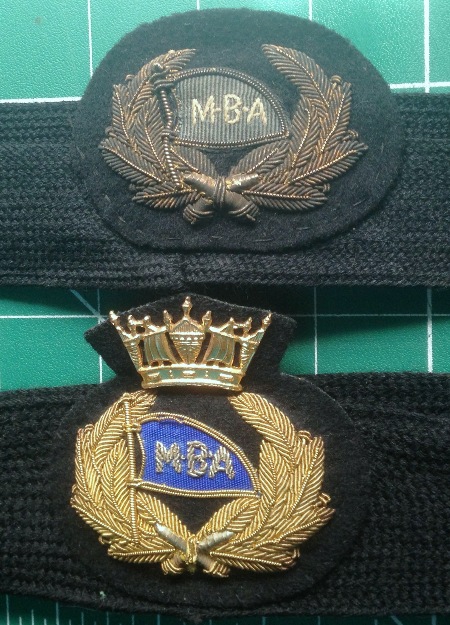 2 original rare cap badges from the Marine Biological Association which was based in Plymouth until closure. They operated a small fleet of craft to take and monitor sealife samples. Sewn onto cap bands. £20 EACH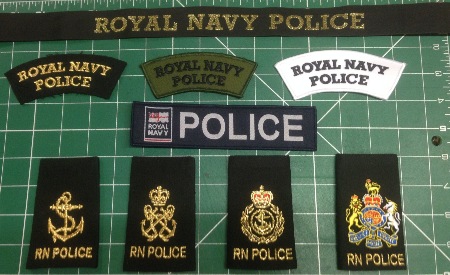 ROYAL NAVY POLICE £5 EACH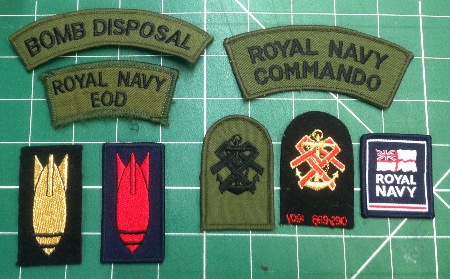 ALL GENUINE ROYAL NAVY INSIGNIA
£5 - £10 EACH RARE EOD BADGES INCLUDING SENIOR OPERATOR BOMB DISPOSAL BADGES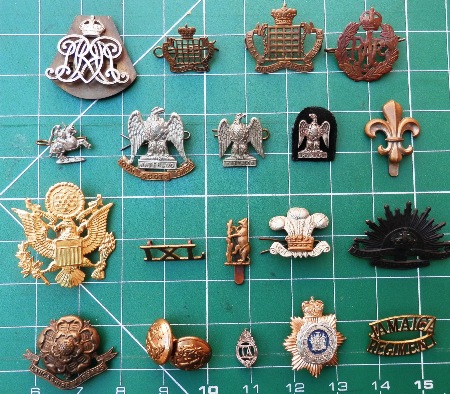 9TH LANCERS ARM BADGE SOLD, ROYAL GLOUCESTERSHIRE HUSSARS COLLAR £5, ROYAL GLOUCESTERSHIRE HUSSARS CAP BADGE £10, RAF KINGS CROWN £7, FORTH AND FIFE YEOMANRY COLLAR SOLD, ROYAL SCOTS GREYS SOLD, ROYAL SCOTS GREYS WATERLOO COLLAR SOLD, ROYAL SCOTS GREYS R.S.G. COLLAR RESERVED, MANCHESTER REGIMENT £10, UNITED STATES CAP BADGE SOLD £10, 9TH LANCERS SHOULDER TITLE SOLD, WARWICKSHIRE YEOMANRY (TIPTAFT MAKER ) SOLD, DENBIGHSHIRE HUSSARS £12, AUSTRALIAN COMMONWEALTH MILITARY FORCES (K G LUKE MELB ) SOLD, LANCASHIRE HUSSARS SOLD, PAIR GENERALS BRASS BUTTONS (J R GAUNT LONDON ) £7, TA LAPEL BADGE £8, STAYBRITE JAMAICA DEFENCE FORCE £8, JAMAICA REGIMENT BRASS SHOULDER TITLE £12.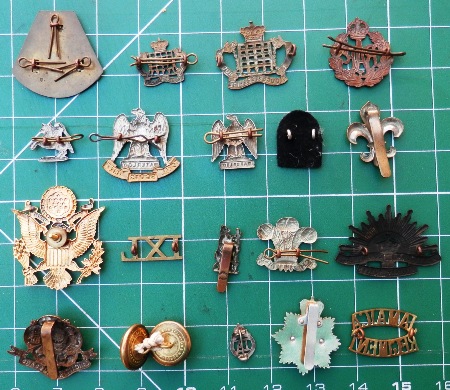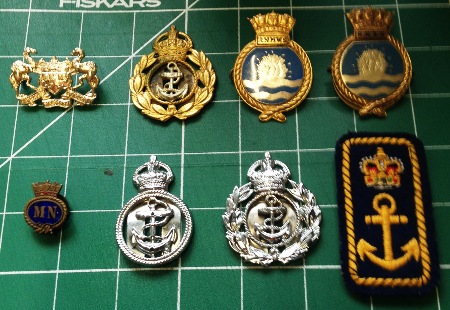 MERCHANT TAYLORS C.C.F. STAYBRITE CAP BADGE SOLD
KINGS CROWN CHIEF PETTY OFFICERS BI METAL BERET CAP BADGE £10
ROYAL NAVY MINEWATCHING WATCHING SERVICE BERET BADGE £12
ROYAL NAVY AUXILLIARY SERVICE BERET BADGE £12
OLD ENAMEL MERCHANT NAVY LAPEL BADGE CRESCENT FITTING £8
KINGS CROWN PETTY OFFICERS CAP BADGE CHROMED £10
KINGS CROWN CHIEF PETTY OFFICERS CAP BERET CAP BADGE £10
ROYAL CORPS TRANSPORT (FLEET ) CHIEF ENGINEER BADGE VELCRO BACKED £10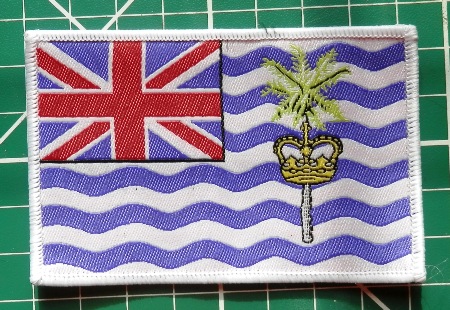 Very rare current issue Diego Garcia Naval Party 1002 badge as worn on upper sleeve of tropical stone shirts by Royal Marines and Royal Navy ratings serving on the British Indian Ocean Territoriy islands on Police and Customs duties. 75mm x 50mm £8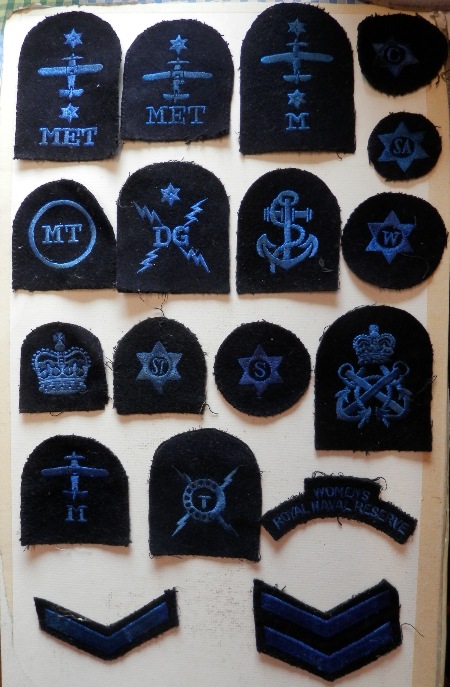 Rare Womens Royal Naval Service (WRNS ) wrens branch badges SOME NOW SOLD £5 each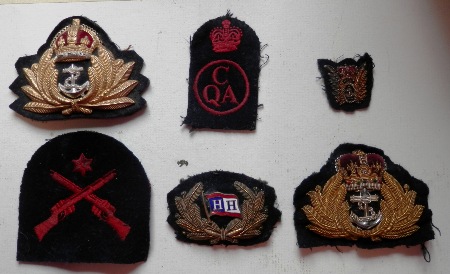 Kings badge Officers WW2 economy cap badge SOLD, Wrens C Q A SOLD Observers cuff badge £15, Royal Marine Platoon Weapons 3 SQ badge in red £12 H H SOLD RN Officers cap badge £15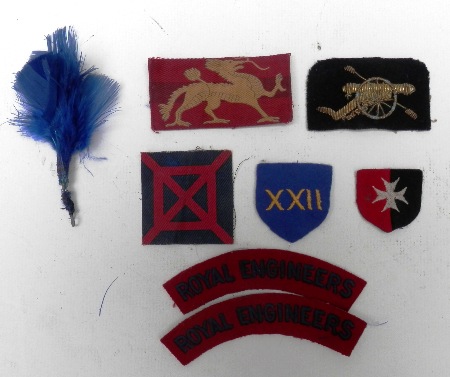 Blue feather hackle £10 Hong Kong Forces £10 Royal Artillery dress gold bullion gun £7 42nd Army Group Royal Artillery print badge £40 22 Royal Engineer Group £15 438 Field Squadron RE SOLD Royal Engineers shoulder titles £10 pair. All from one former soldier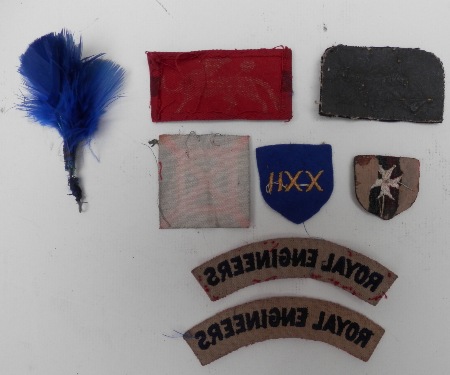 Reverse of above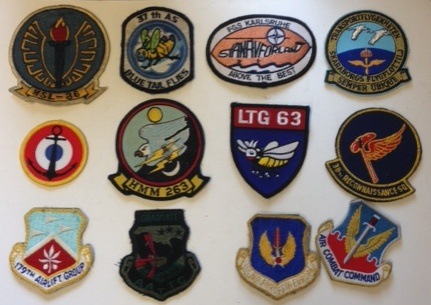 Collection of original Air Forces cloth badges £5 each some velcro backed SOME SOLD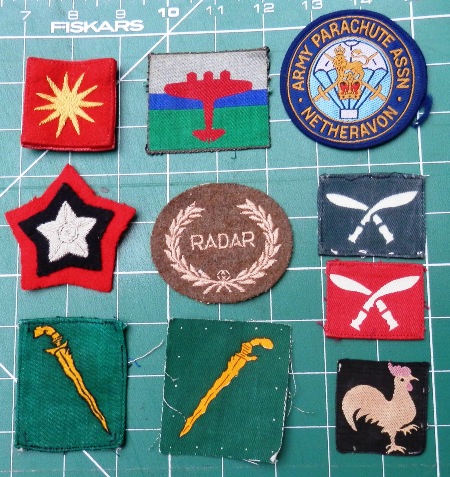 Singapore Malaya Command £15
Air Liason signals 310
Army Parachute Assn £8
star ? £6
Radar £8
Gurkha £10 each
Malaya command £10 each
40 th Division print £10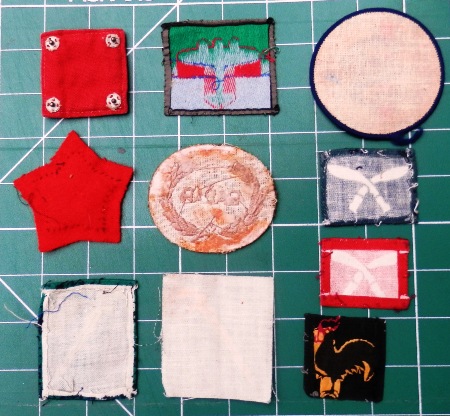 Reverses of above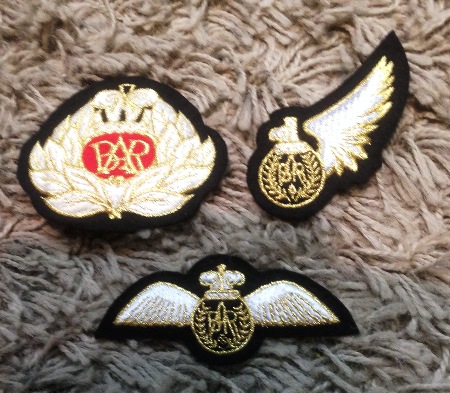 Unknown civillian airline BAR ?
Cap badge £12
Wing £8
Brevet £8

Captain shoulder £12 pair
Printed mint pair 11th Armoured £18
RASC flash SOLD
RWAFF plastic 2 blades £20
CCG enamel £15
2nd Army enamel badge £15
Pips flat £1 each
Crowns sold
21st Army Group £6

Original cloth badges
Troops attached Ministry Supply £20
Tripolitania Districe MELF £15
162nd Independent Brigade £30
Air Liasion Signals £20
Coastal Artillery SOLD
Queens Own Highlanders £6
Royal Artillery Training Brigade £8
19 th Indian Brigade £25
51st Independent Brigade silk pair £15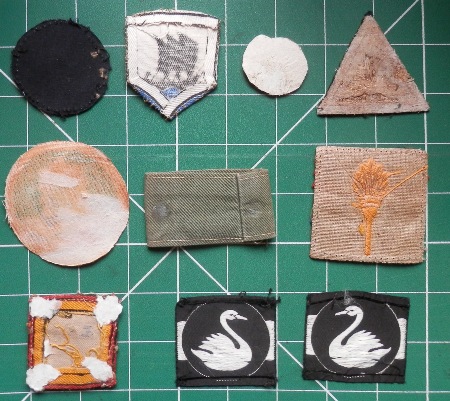 Reverse of badges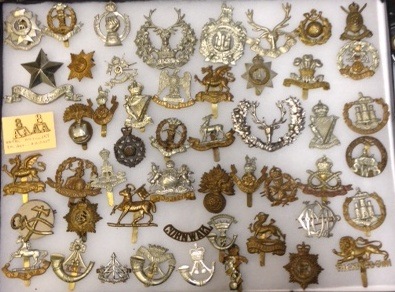 Good selection of original cap badges always in stock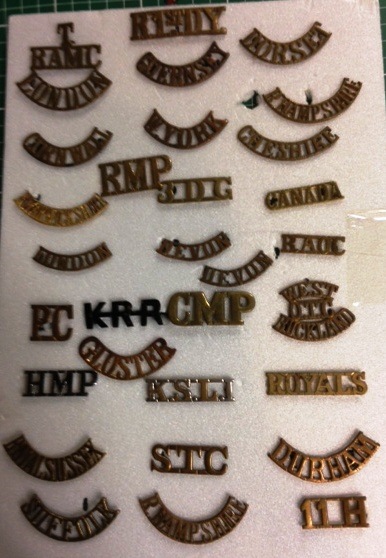 Some of the brass original shoulder titles in stock
most £5 each

T RAMC LONDON SOLD

R 1st DY ( Royal Devon Yeomanry) £25

WEST OTC BUCKLAND (West Buckland School Officer training Corps ) SOLD

GUERNSEY SOLD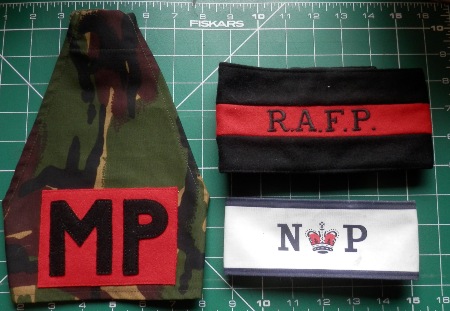 Military Police Insignia
MP Arm band in DPM brassard SOLD
Royal Air Force Police arm band SOLD
Royal Navy Patrol arm band £8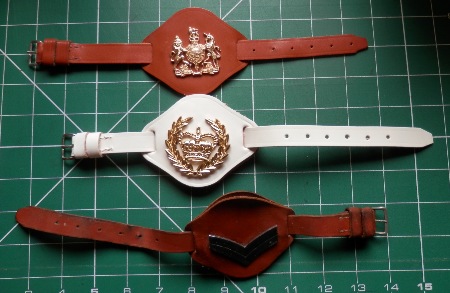 Genuine military wrislets Warrant Officer £10 others SOLD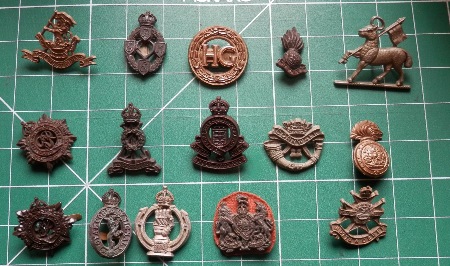 WW2 Plastic or bakalite badges £6 - £25
Duke of Wellingtons SOLD
Northumberland Fusiliers SOLD
Home Guard SOLD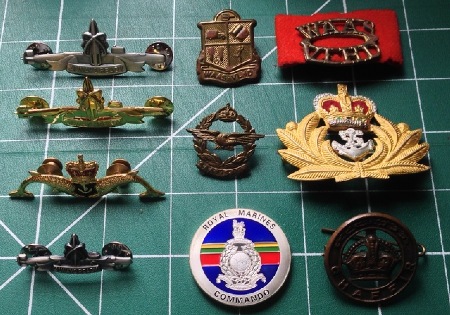 Submarine Insignia £6 each
Royal Navy officers beret badge £8
South African badges £5 each
Royal Marine Brigade Patrol Troop challange coin £9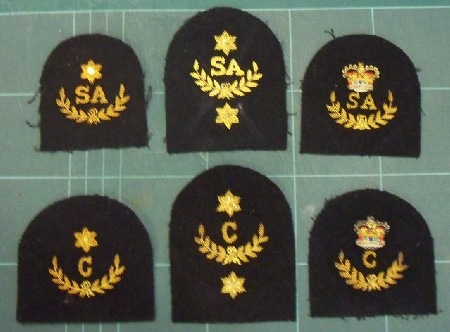 Royal Marine qualification badges (S.Q's ) worn on cuff of number one blue uniform £5 each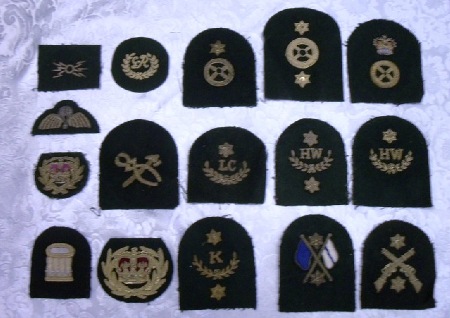 More Royal Marine badges from £5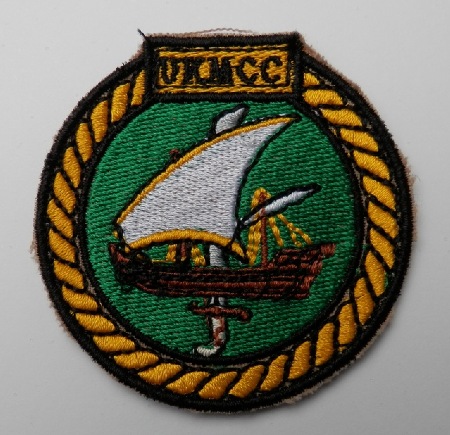 United Kingdom Maritime Control Contingent TRF worn by RN and RM attached to this small select unit £5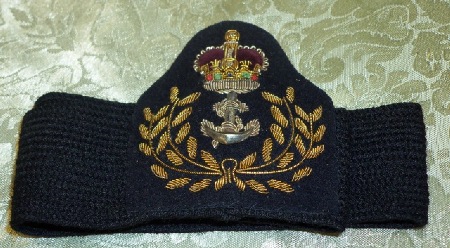 Royal Navy Warrant Officers Cap badge £15

Old RAF Navigators brevet wing £15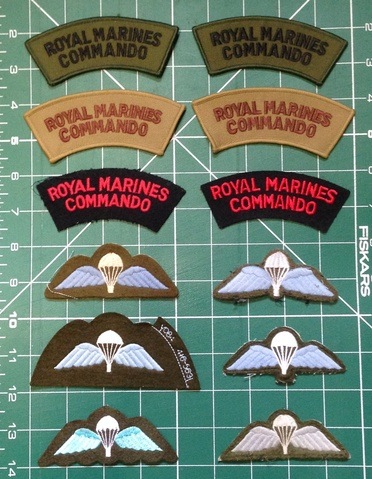 Selection of Royal marine Commando shoulder titles £3 each and parachute wings £5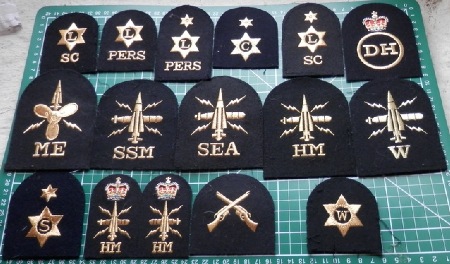 Selection of Royal Navy branch badges.
From £3 each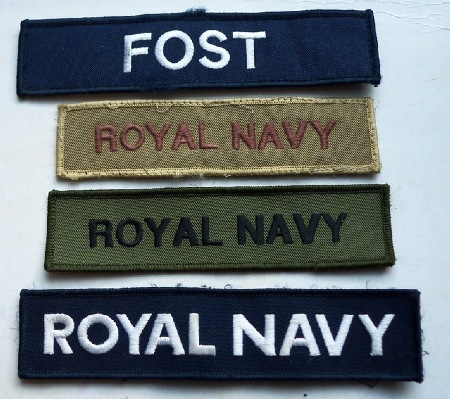 Breast pocket badges.
FOST-SOLD




Royal Navy desert- £4




Royal Navy olive green- £4




Royal Navy foul
weather jacket
- £4