ARMY PILOTS QUALIFICATION WINGS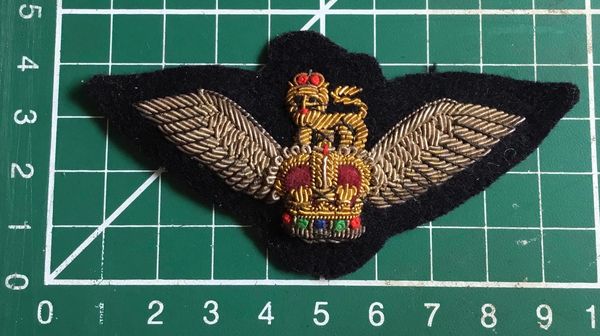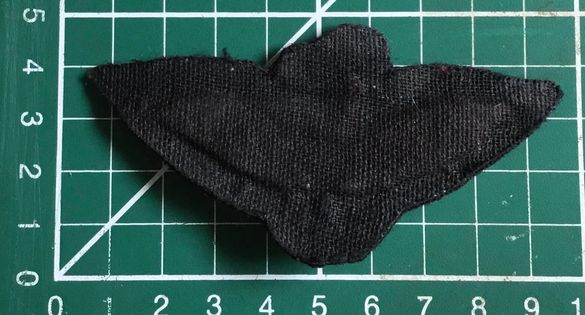 Fantastic bullion wire Army pilots wings

£20
SELECTION OF SHOULDER TITLES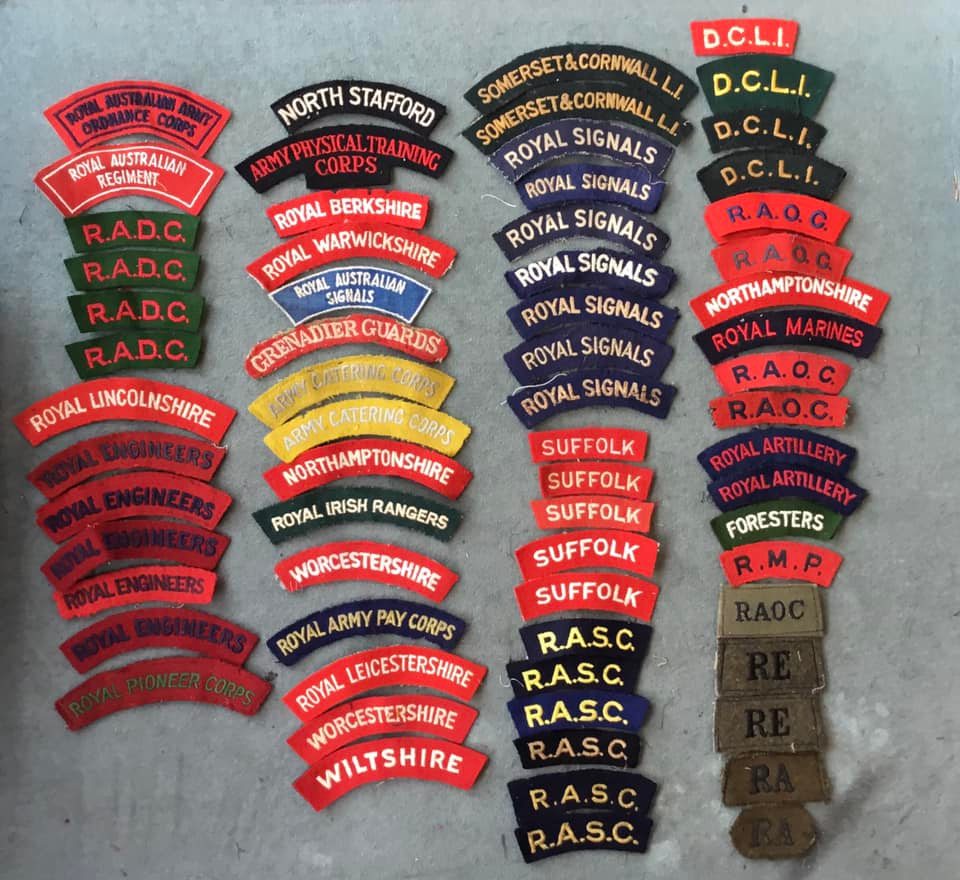 Good selection of cloth shoulder titles £5 each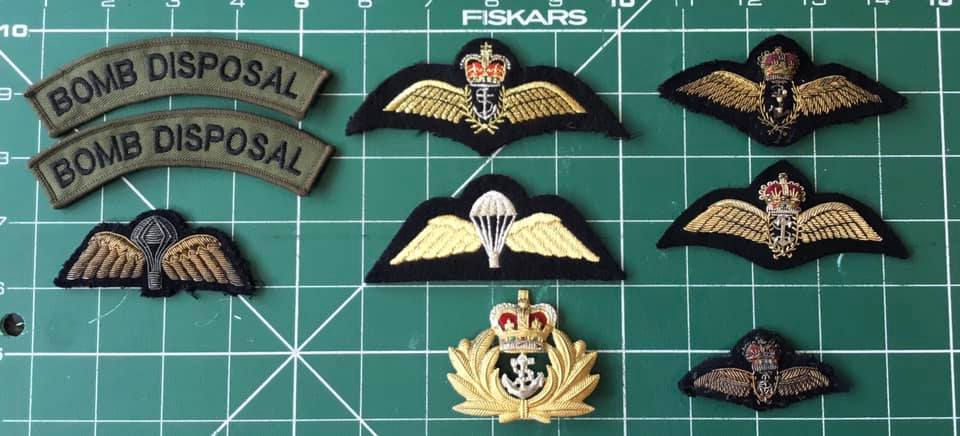 Bomb Disposal shoulder titles £10 pairOld school parachute bullion wings £10New style lurex parachute wings £5New style lurex pilots wings £10 NSN on reverseOld style bullion pilots wings £20 Old style bullion pilot wings for mess kit £15 Officers beret badge £10
ROYAL FLEET AUXILIARY INSIGNIA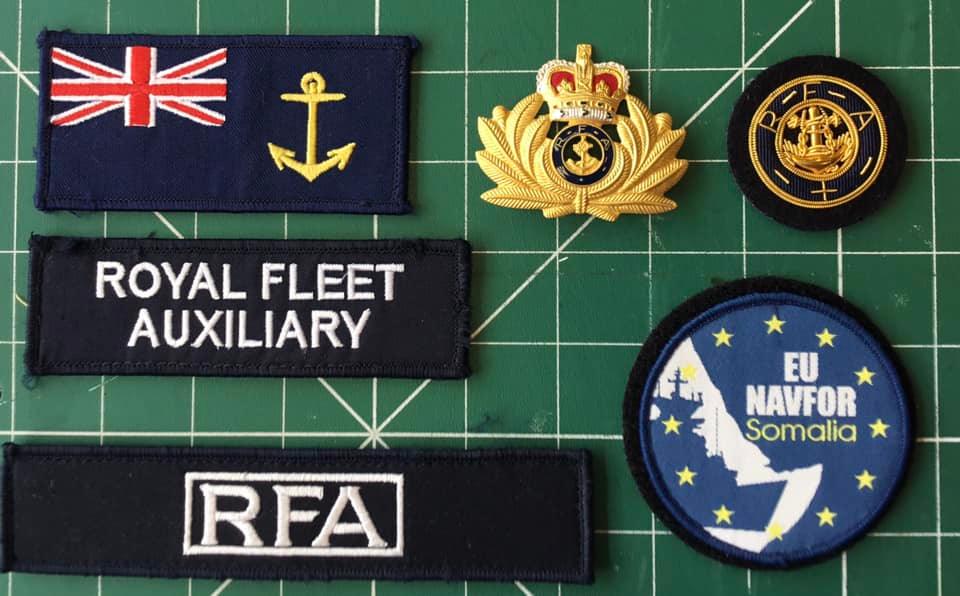 Arm badge ( RFA ensign ) £5
Royal Fleet Auxiliary shirt badge £5
RFAjacket badge Velcro backed £5
RFA officers beret badge £10
RFA bullion beret badge £8
EU NAVFOR SOMALIA Velcro backed £5
SELECTION OF BADGES BROUGHT BACK FROM IRAQ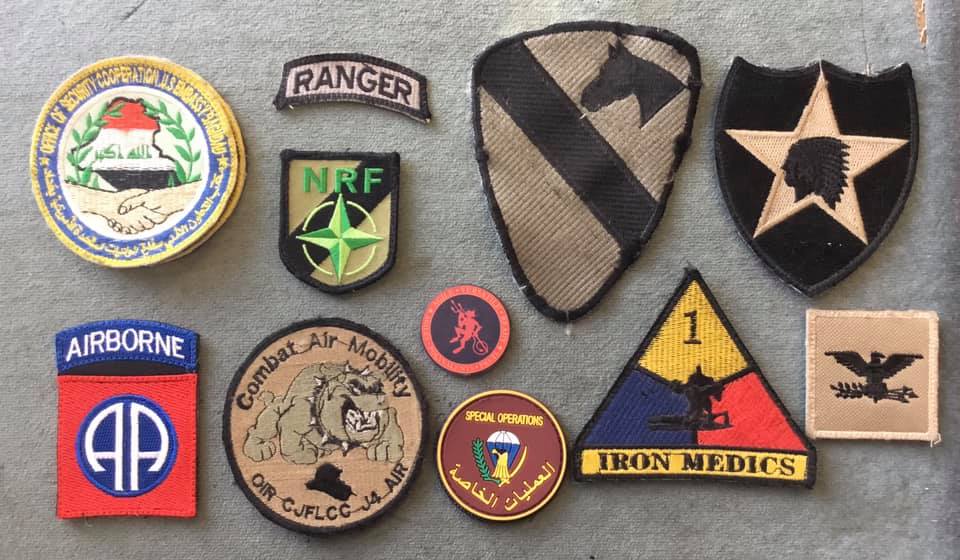 Selection of insignia brought back from Iraq ,some velcro backed.
Devil round one is1st Canadian Division HQ resin challenge coin
SpecialOperations SOLD

Air Cavalry SOLD
£5 each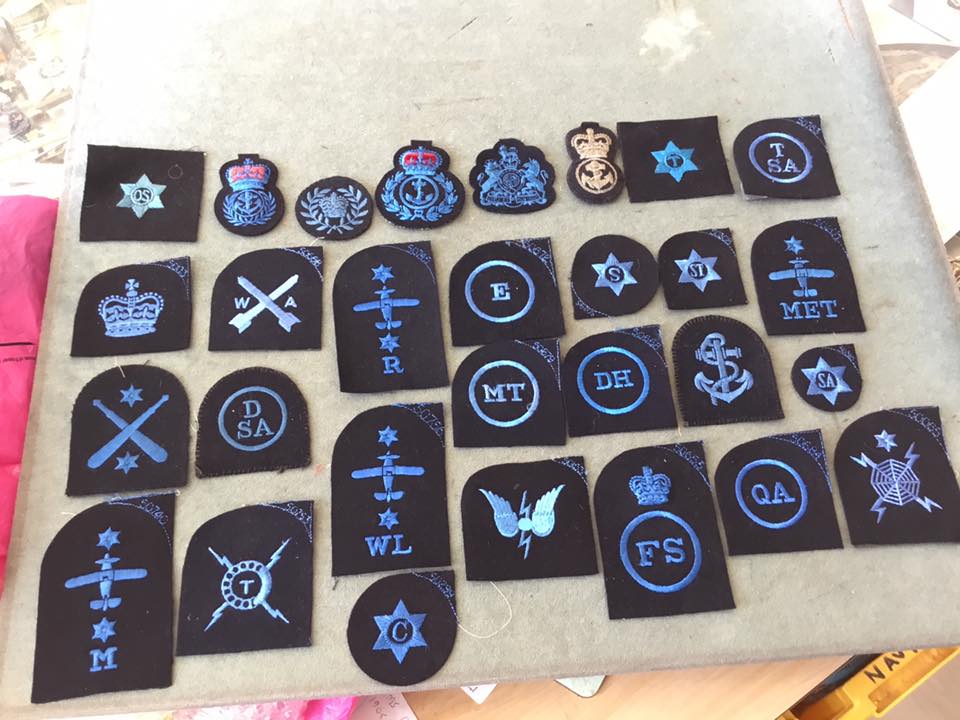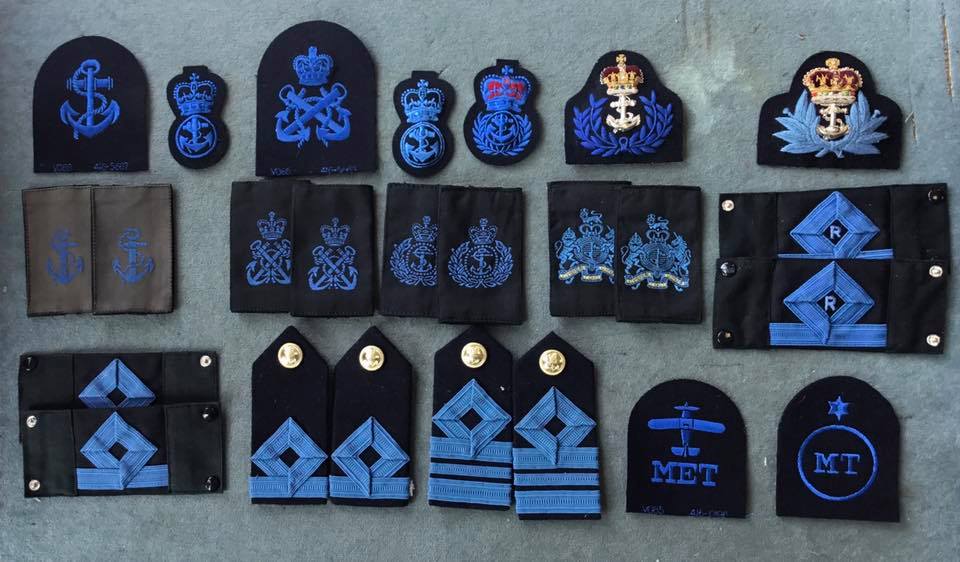 Vast stock of old Wrens badges in stock please e mail for availabilty
All shoulder boards SOLD



Regimental broaches for the Gordon Highlanders, maker marked for a quality manufacturerA & J SMITH ABERDEEN one marked SILVER , the other looks silver but not markedapprox 19mm across £20 each
ASSOCIATION OF WRENS £10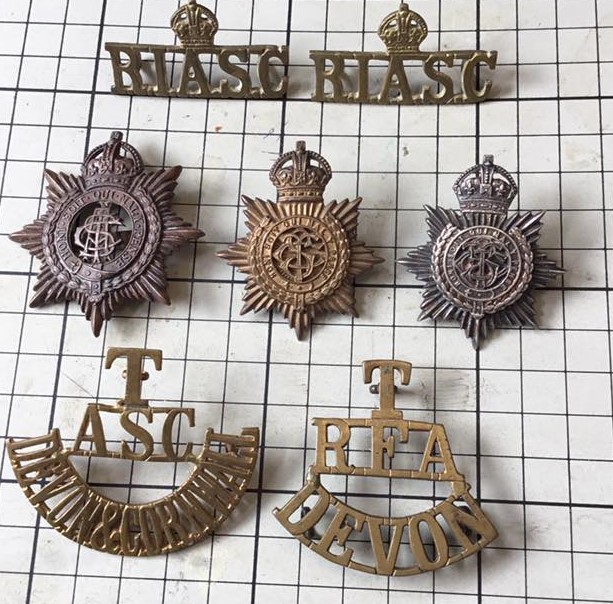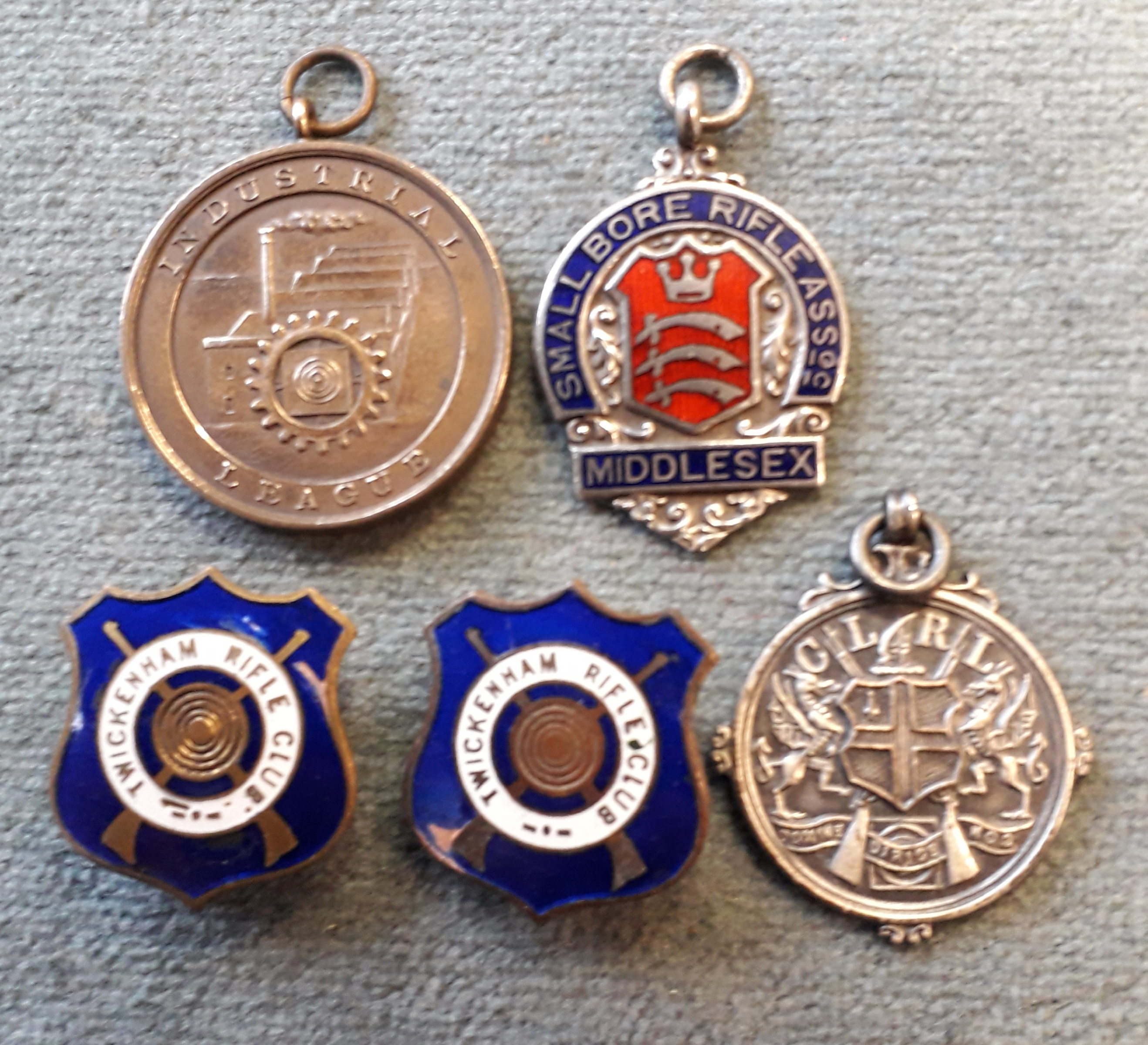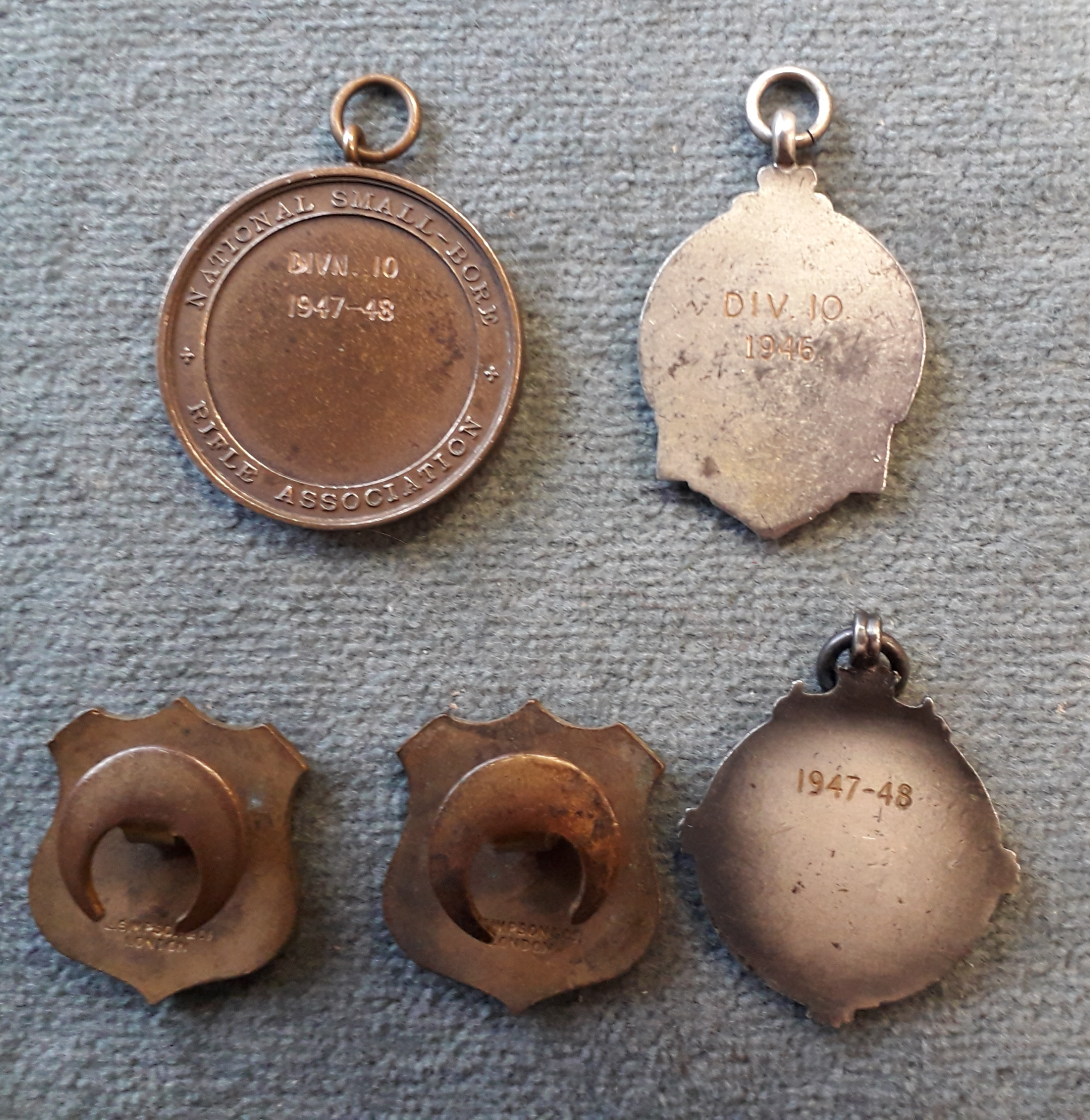 Just in 5 shooting medalions and fobs City of London and Middlesex connections 1947-48 £25 the lot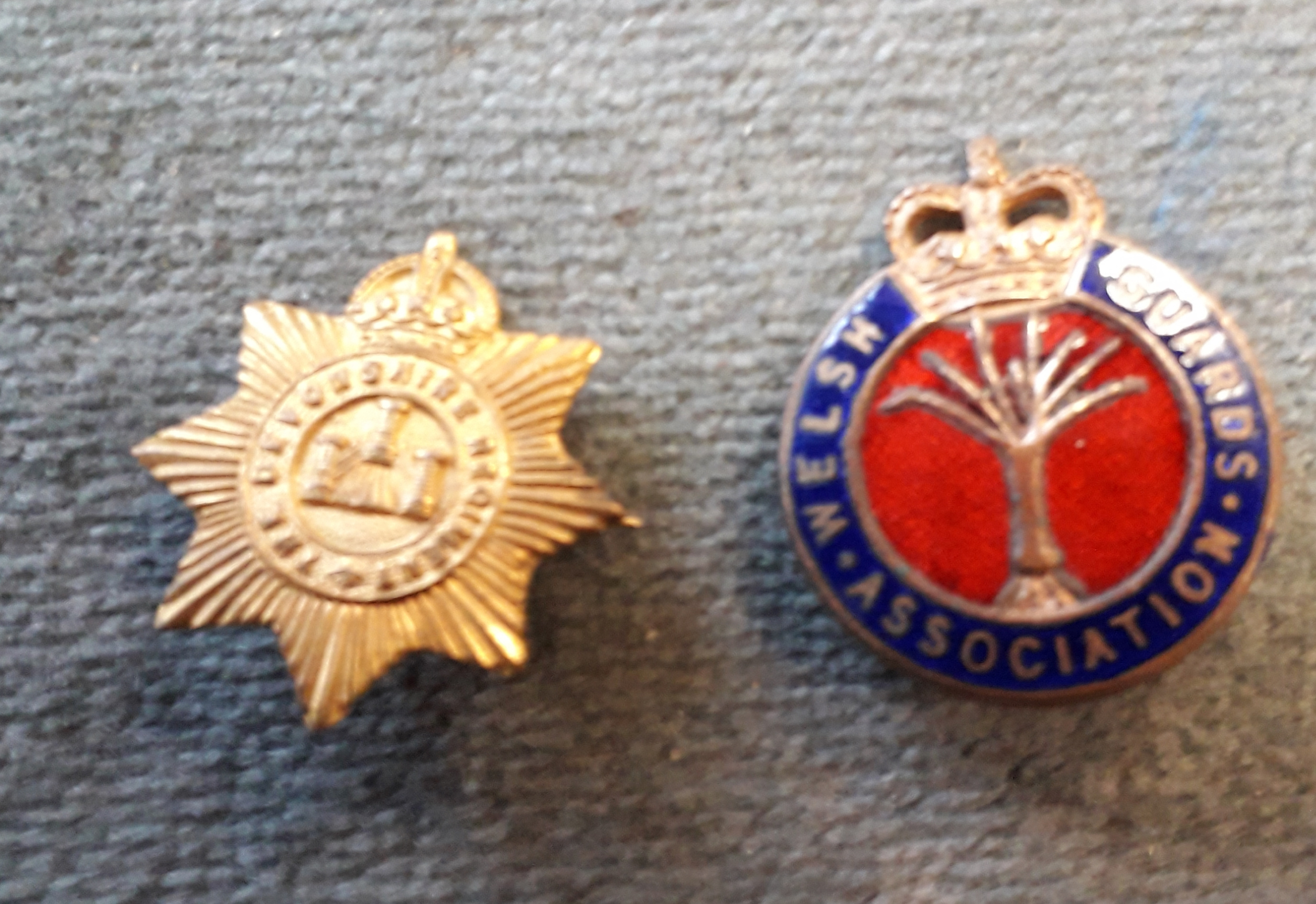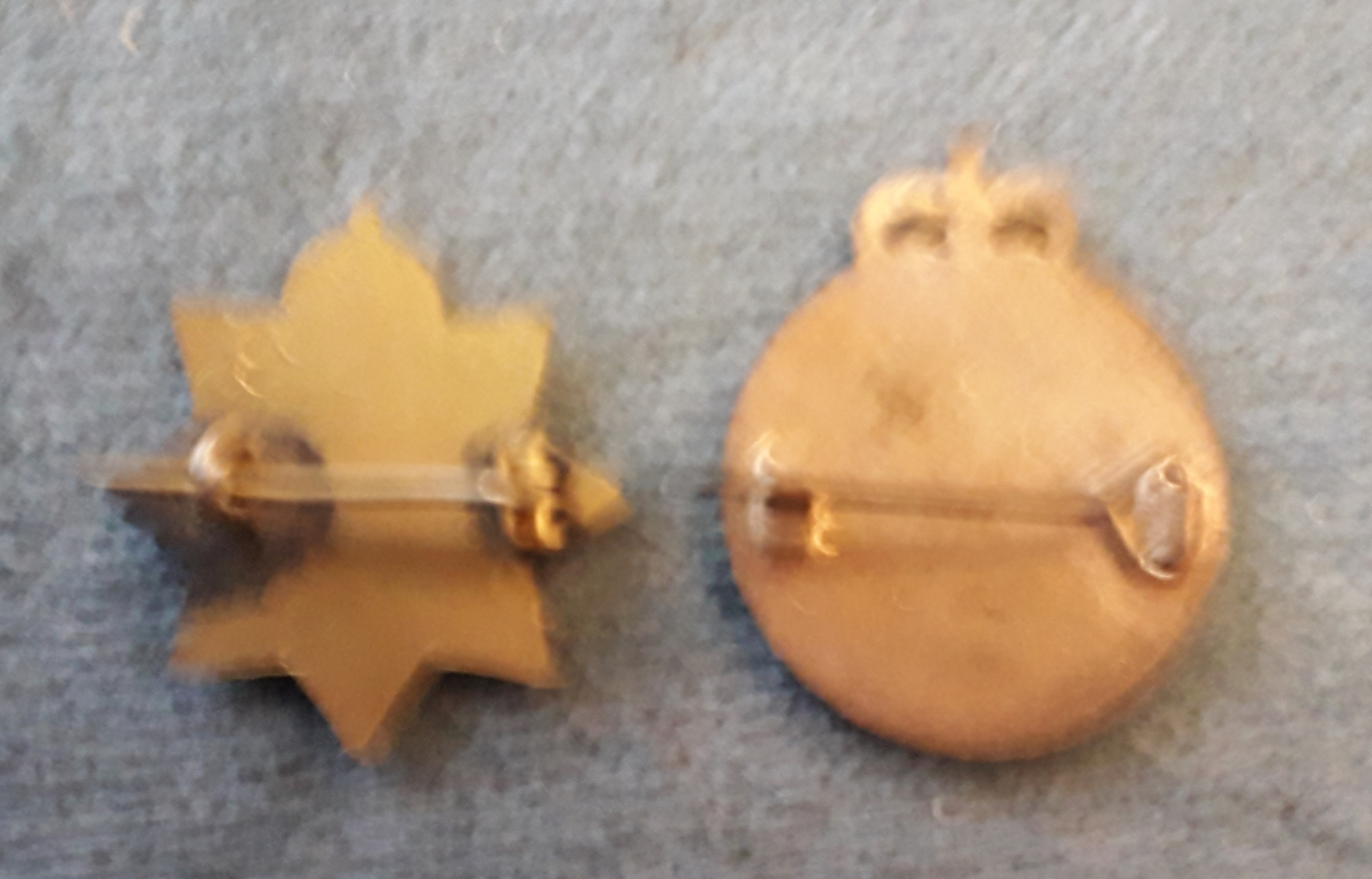 Welsh Guards Assocition enamel badge £20
Devonshire Regiment Kings Crown £10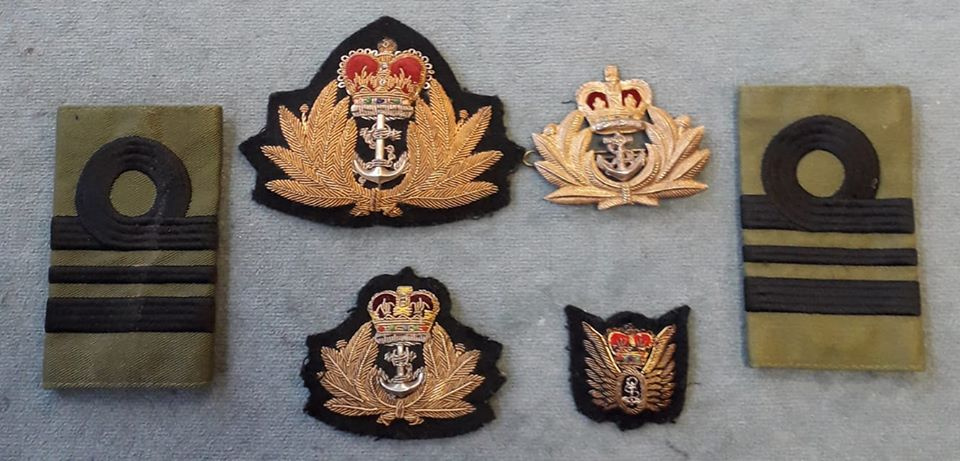 Mercantile Marine or Merchant Navy full sleeve lace for a Certified Master and shoulder boards for same rank. P and O gilt buttons, split pins to rear which can easily be removed .

£20 the lot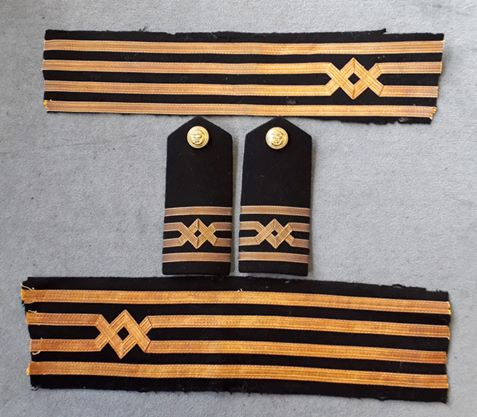 BRITISH AIR RESERVE INSIGNIA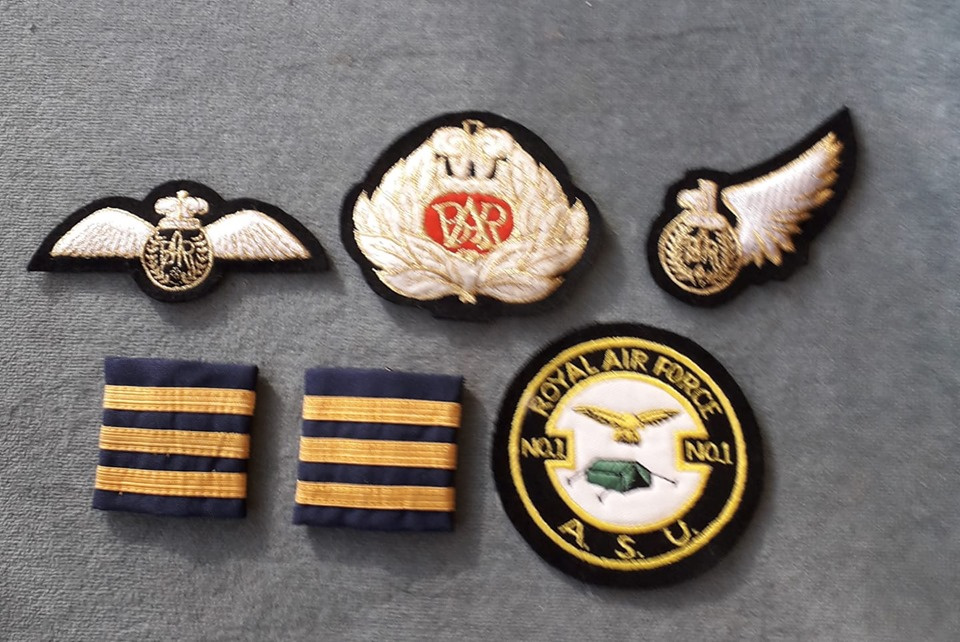 British Air Reserve insignia a short lived Air Force Reserve Organisation that ceased in the mid 1980's. Capbadge £15 , Brevets £10 each, pair of shoulder insignia £10

RAF ASU badge £8

ASU is abbreviation for Administrative Services Unit,which was a mobile catering Support Unit Based at RAF Hullavington, Near Chippenham, Wiltshire. Their role was as the catering element added to RAF detachments sent overseas. All from one source.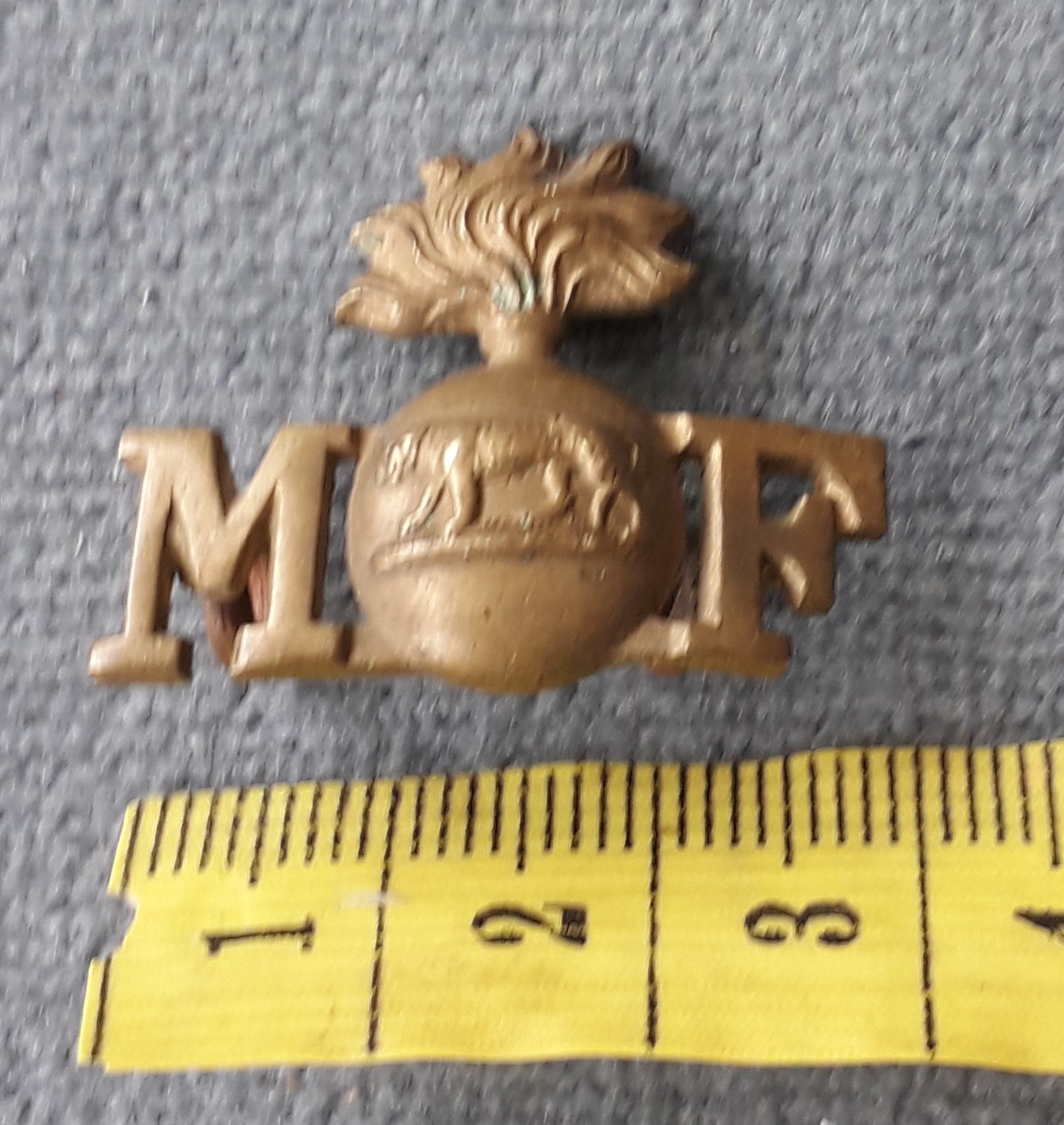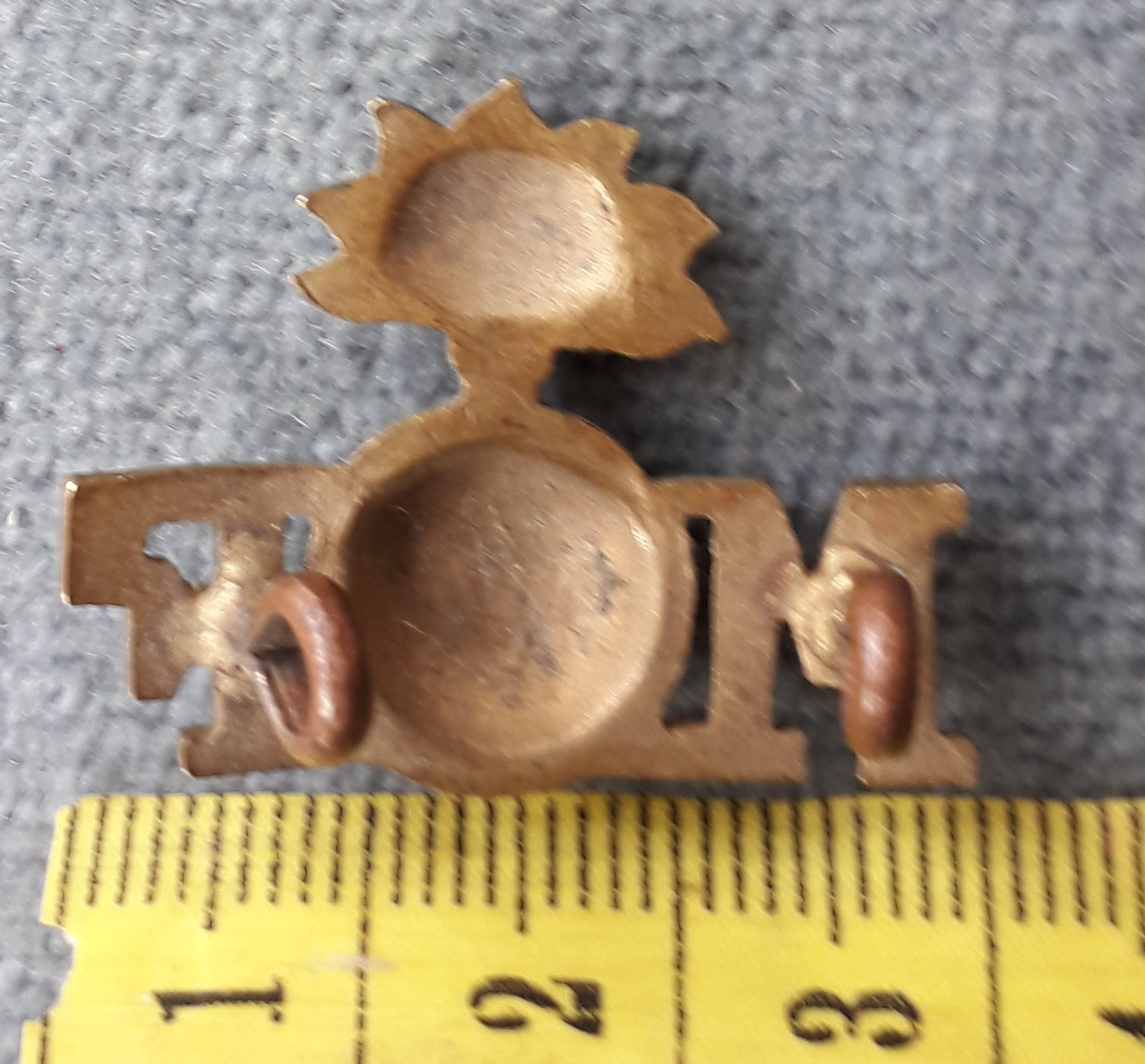 Very rare Royal Munster Fusiliers shoulder title . WW1 period all brass one piece title small size same as Officers pattern Westlake collecting shoulder titles 1426.
Lugs intact to rear the RMF were disbanded in 1922
SOLD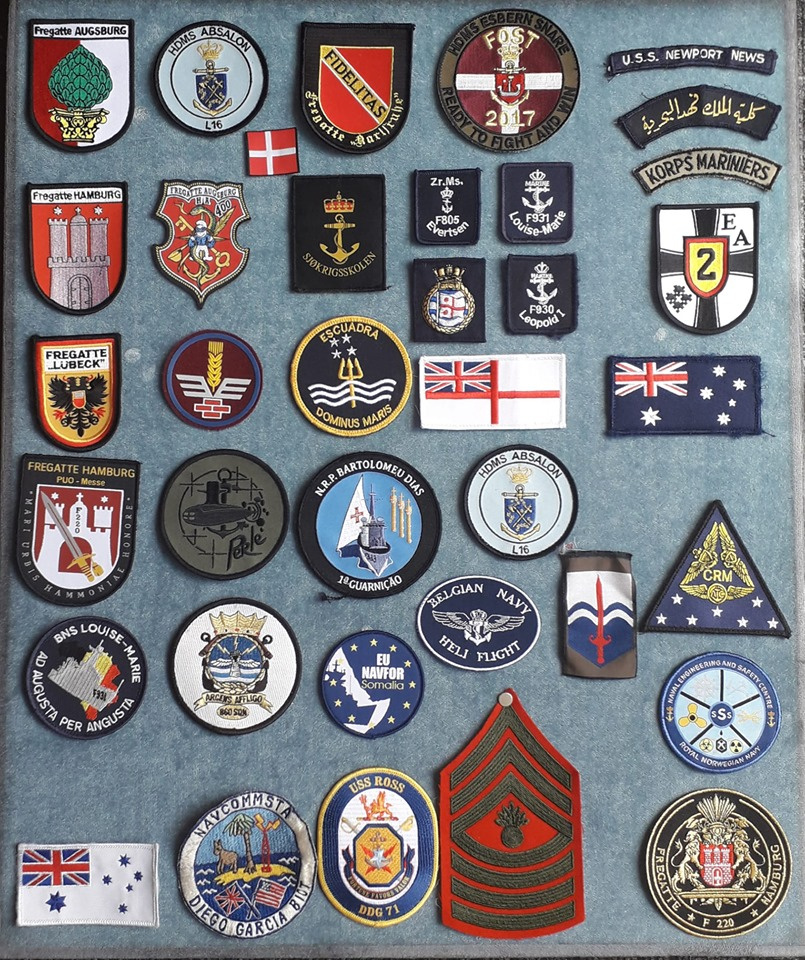 Selection of badges in stock

£5 each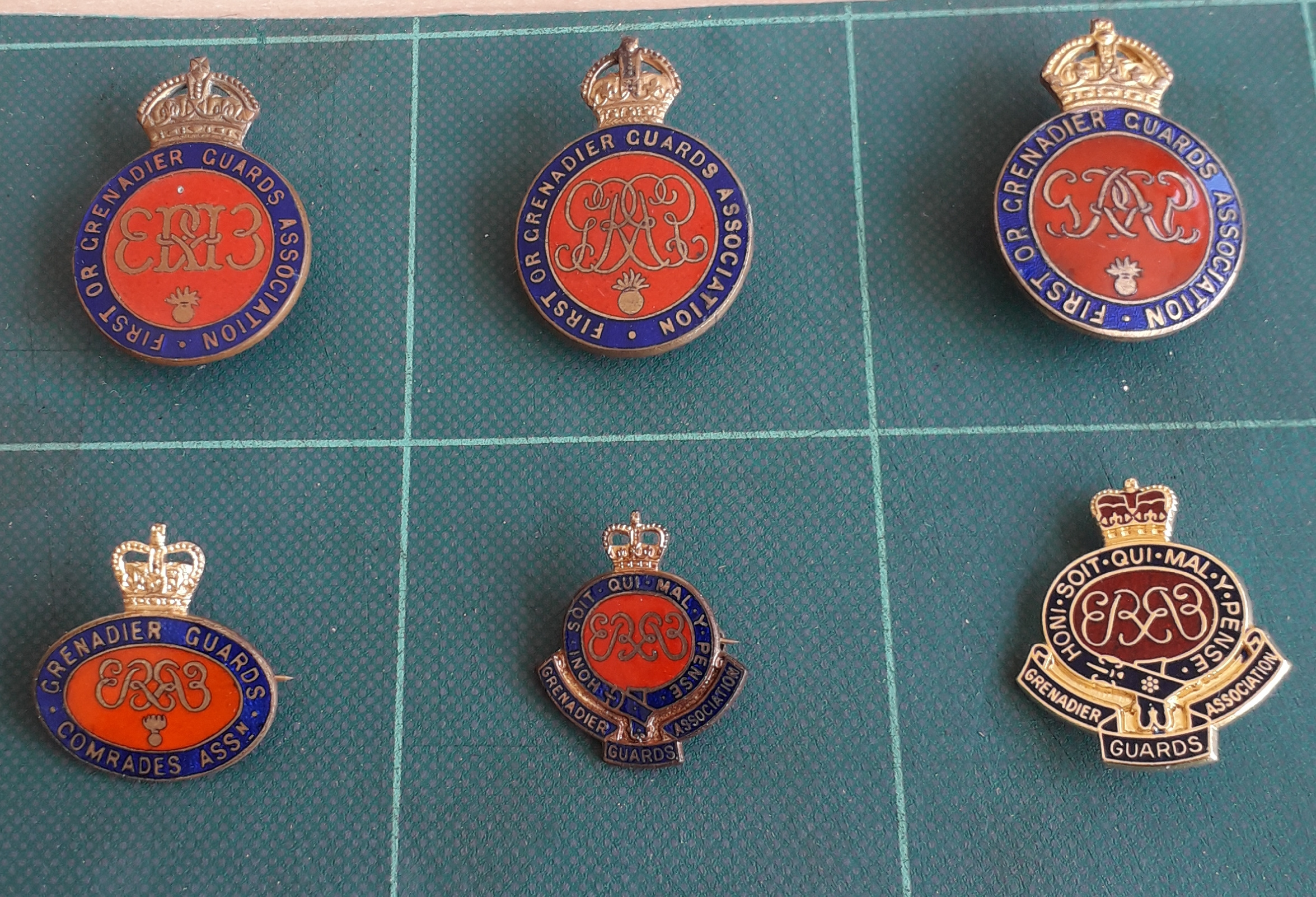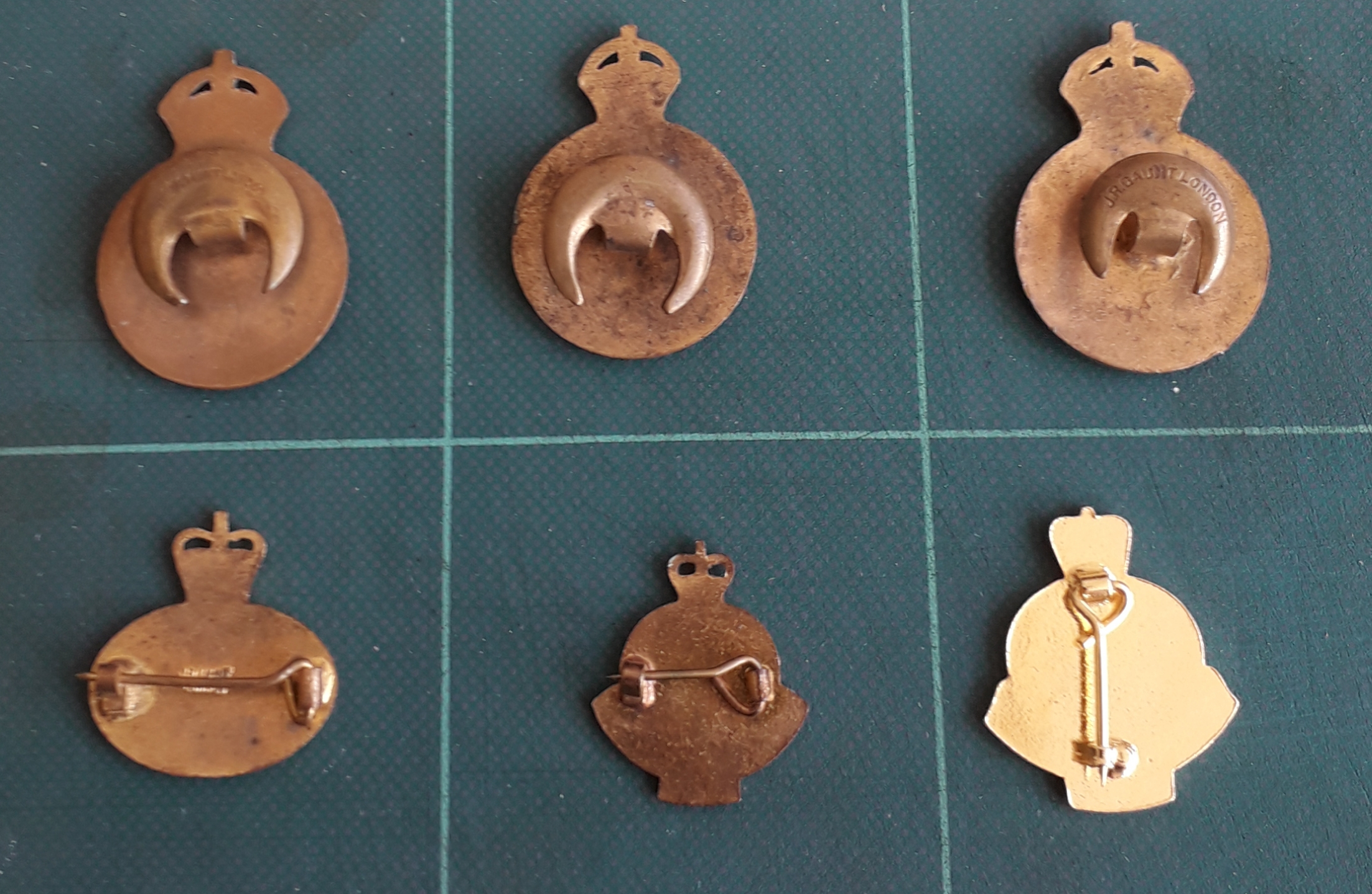 Collection of Greadier Guards Association enamel badges
Edward 7 SOLD
George 5 £25
George 6 £25
ER2 oval £10
ER2 £6 each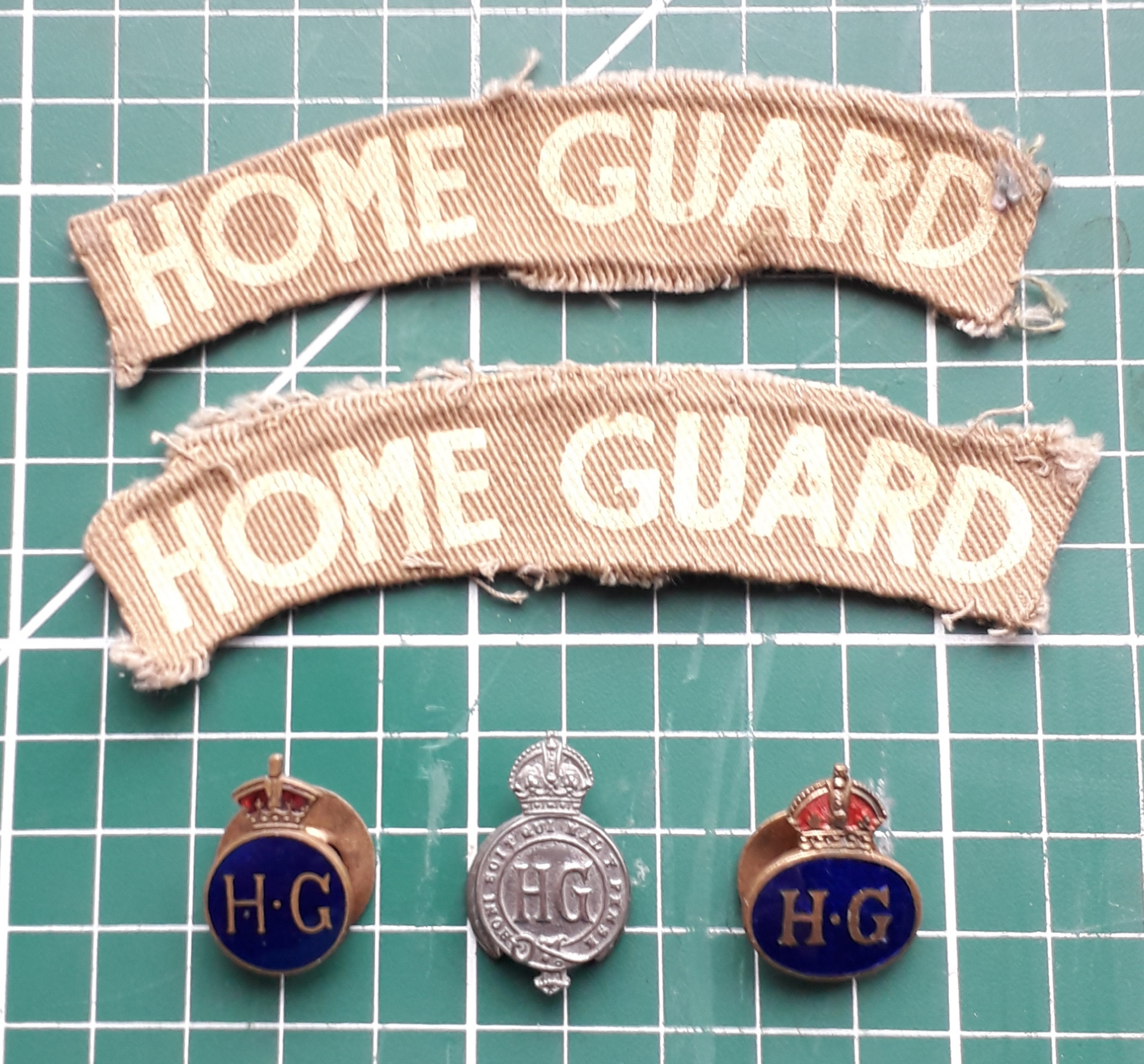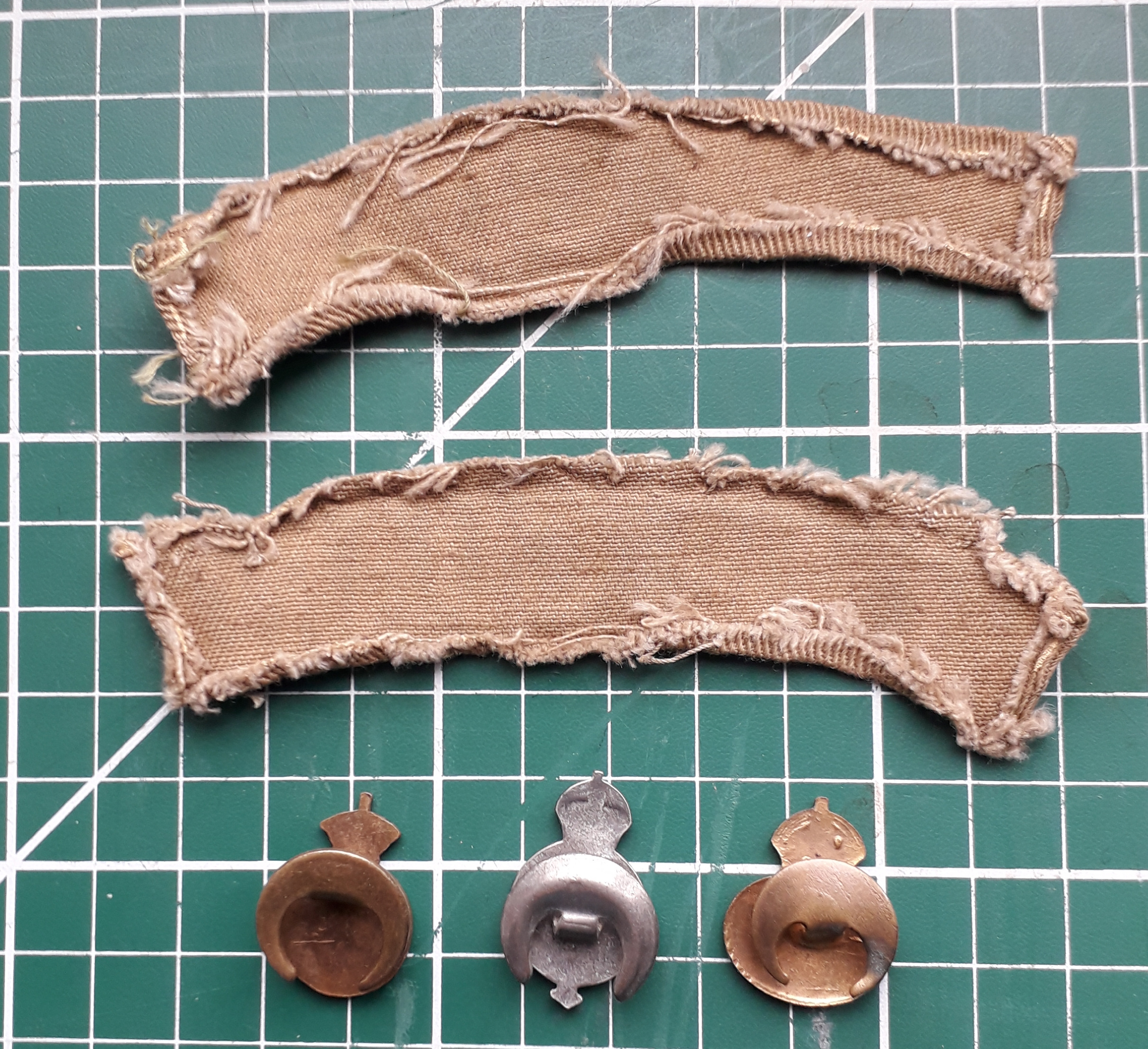 Pair of genuine WW2 print HOME GUARD shoulder tiltles SOLD
Home Guard button hole badges £10 each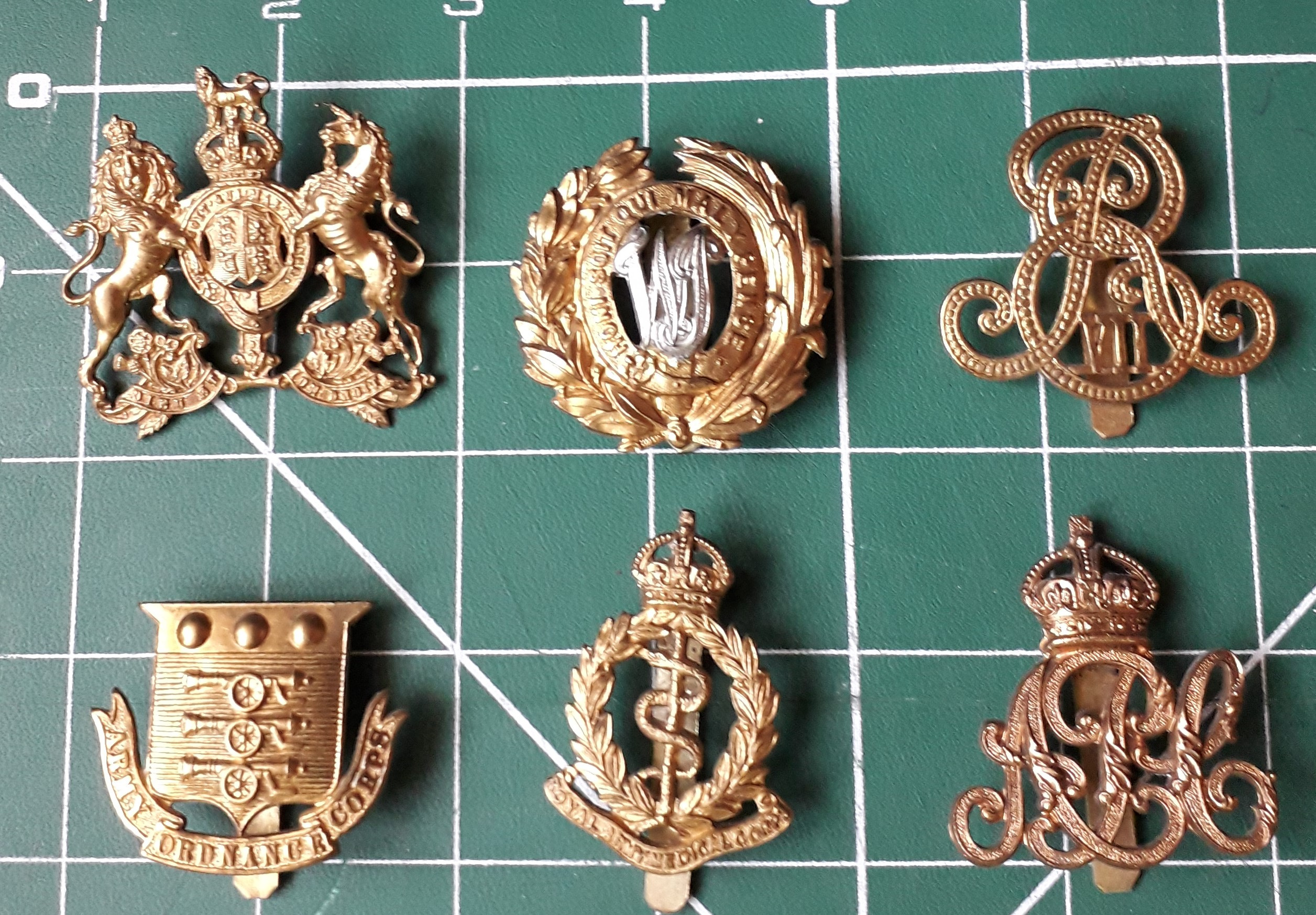 6 genuine british army cap badges c 1904 from a mounted collection
Royal Garrison Regiment or Royal Reserve Regiment SOLD
British West Indies Regiment (disbanded 1927 ) SOLD
Edward 7 Garrison Staff SOLD
Army Ordnance Corps £20
Royal Army Medical Corps £20
Army Pay Corps £20
Others available from same collection at £30 each

All guaranteed original badges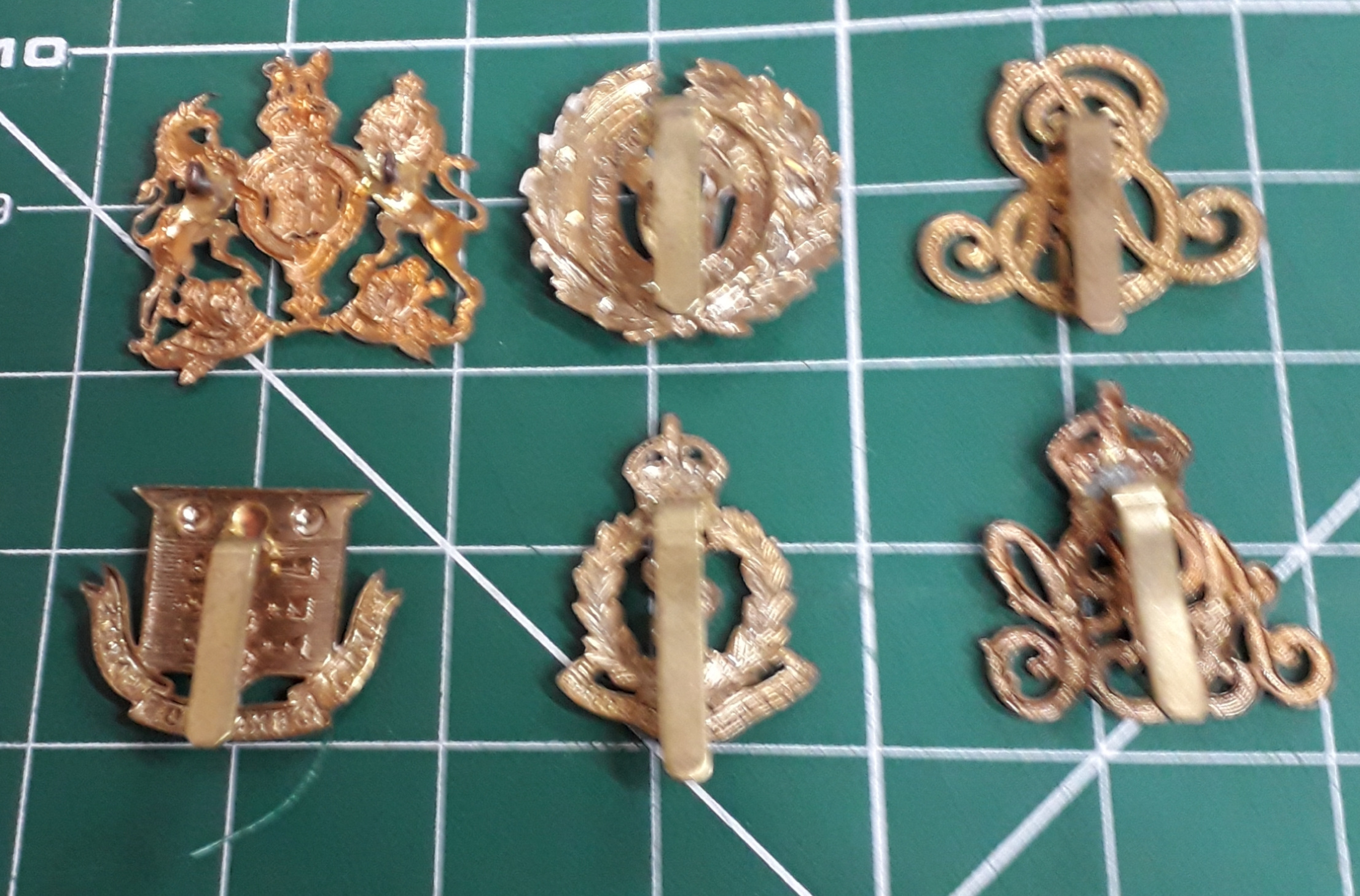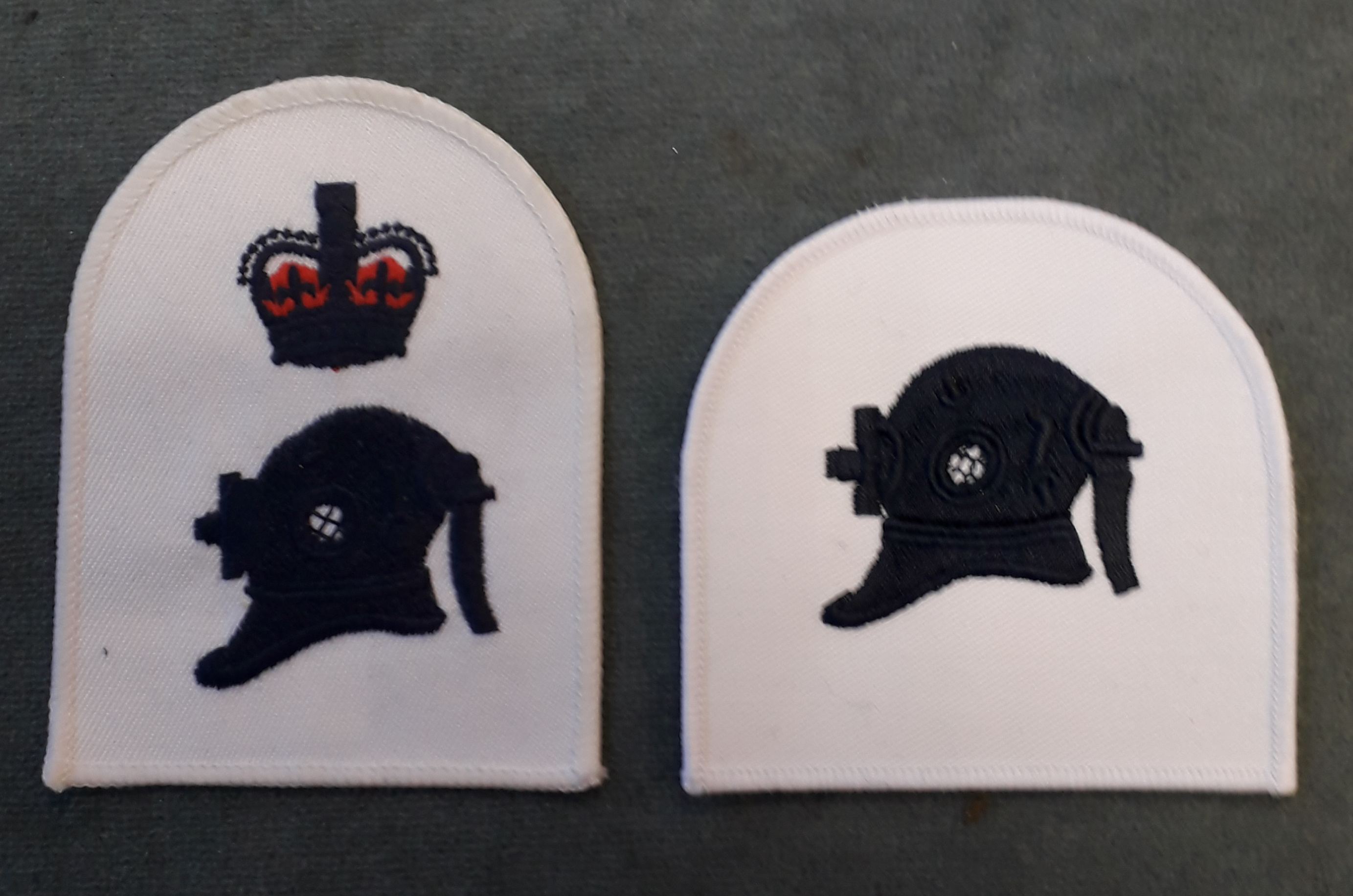 Royal Navy Diving badges. £5 each,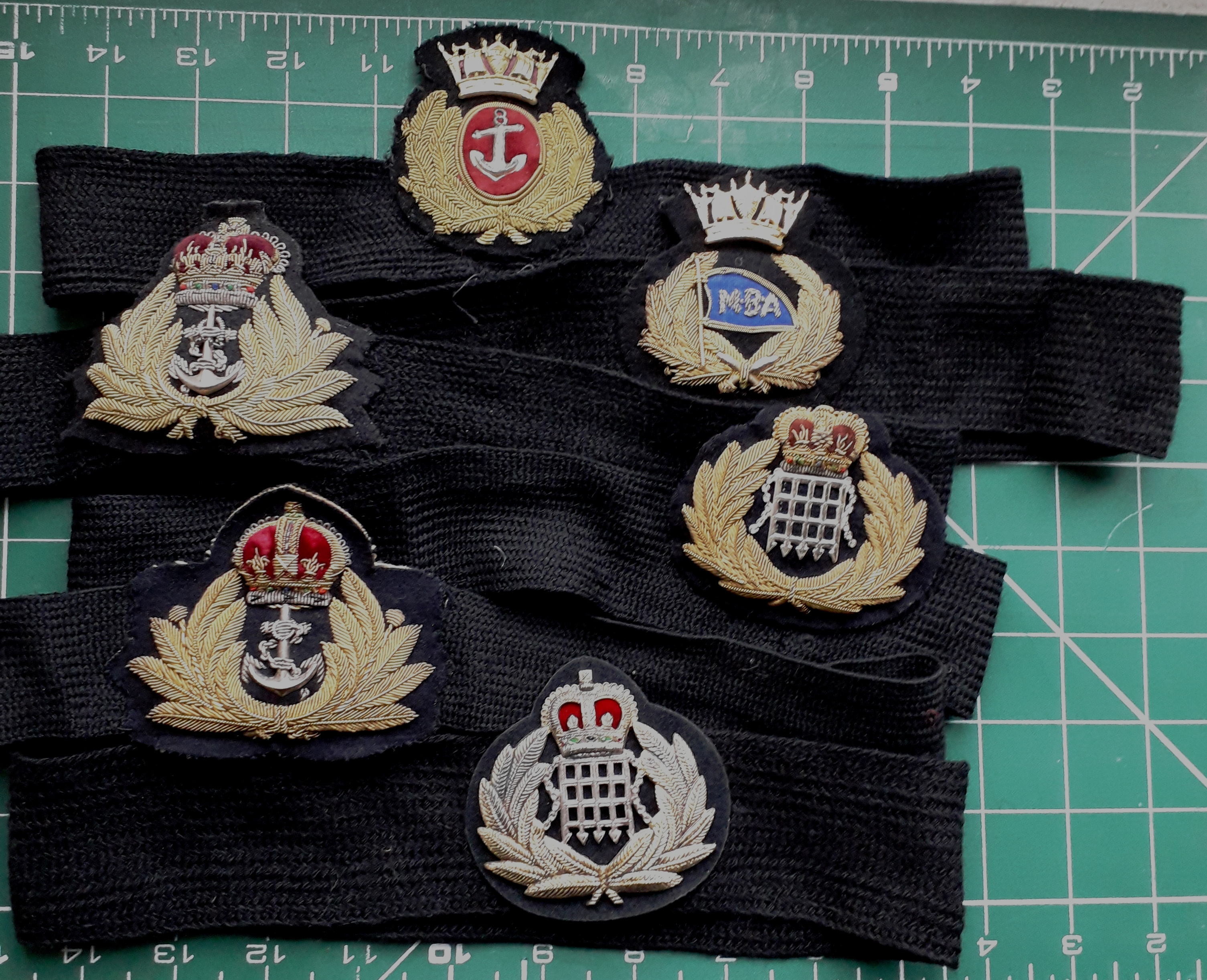 Genuine Naval cap badges on cap bands
Merchant Navy £20
Royal Navy Officers Queens crown £20
MBA Marine Biology Association ( Plymouth ) £25
HM Customs and Excise SOLD

Royal Navy Officers Kings crown WW2 £30
HM Customs and Excise SOLD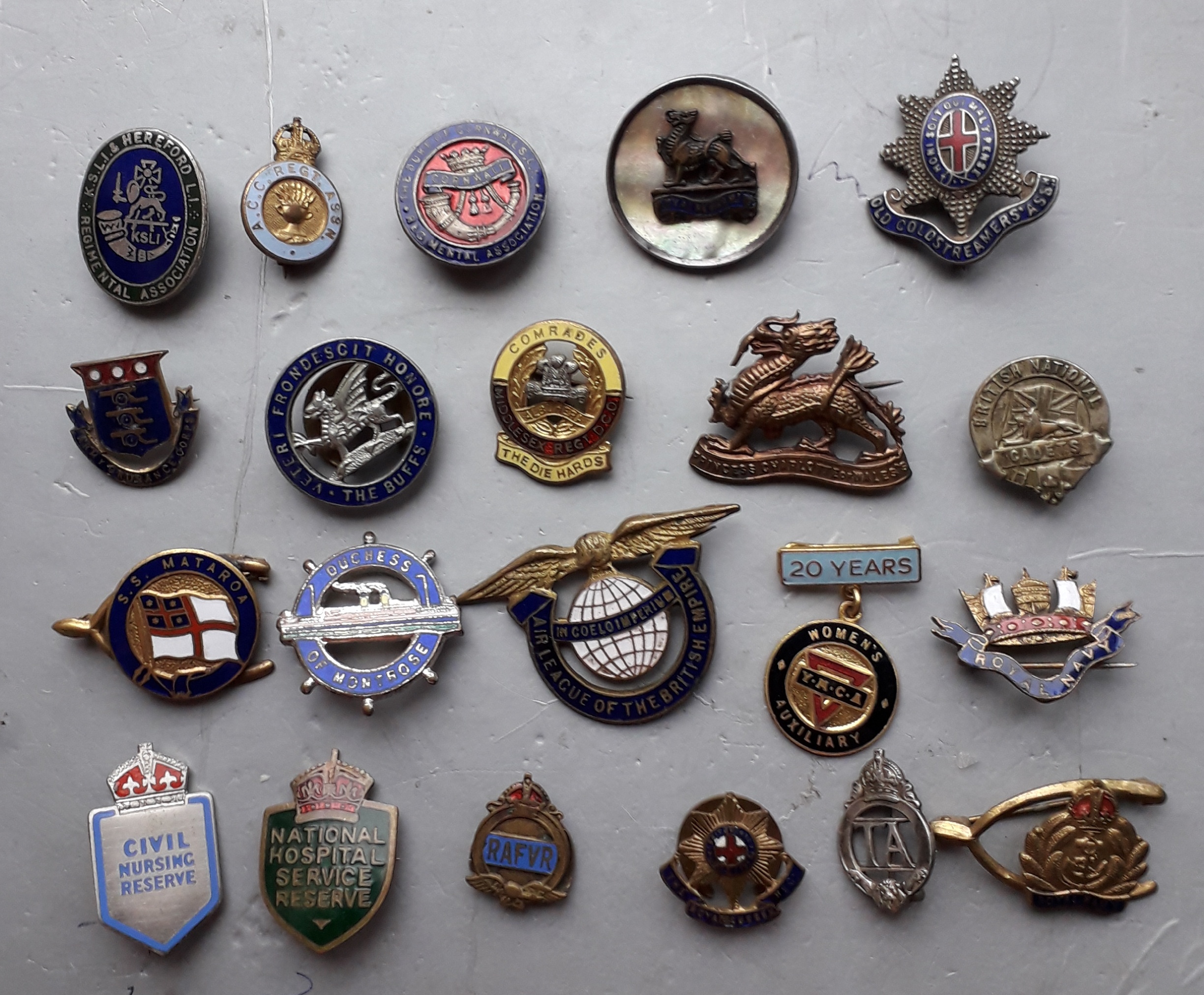 A selection of enamel and other regimental type badges in stock all £10 each.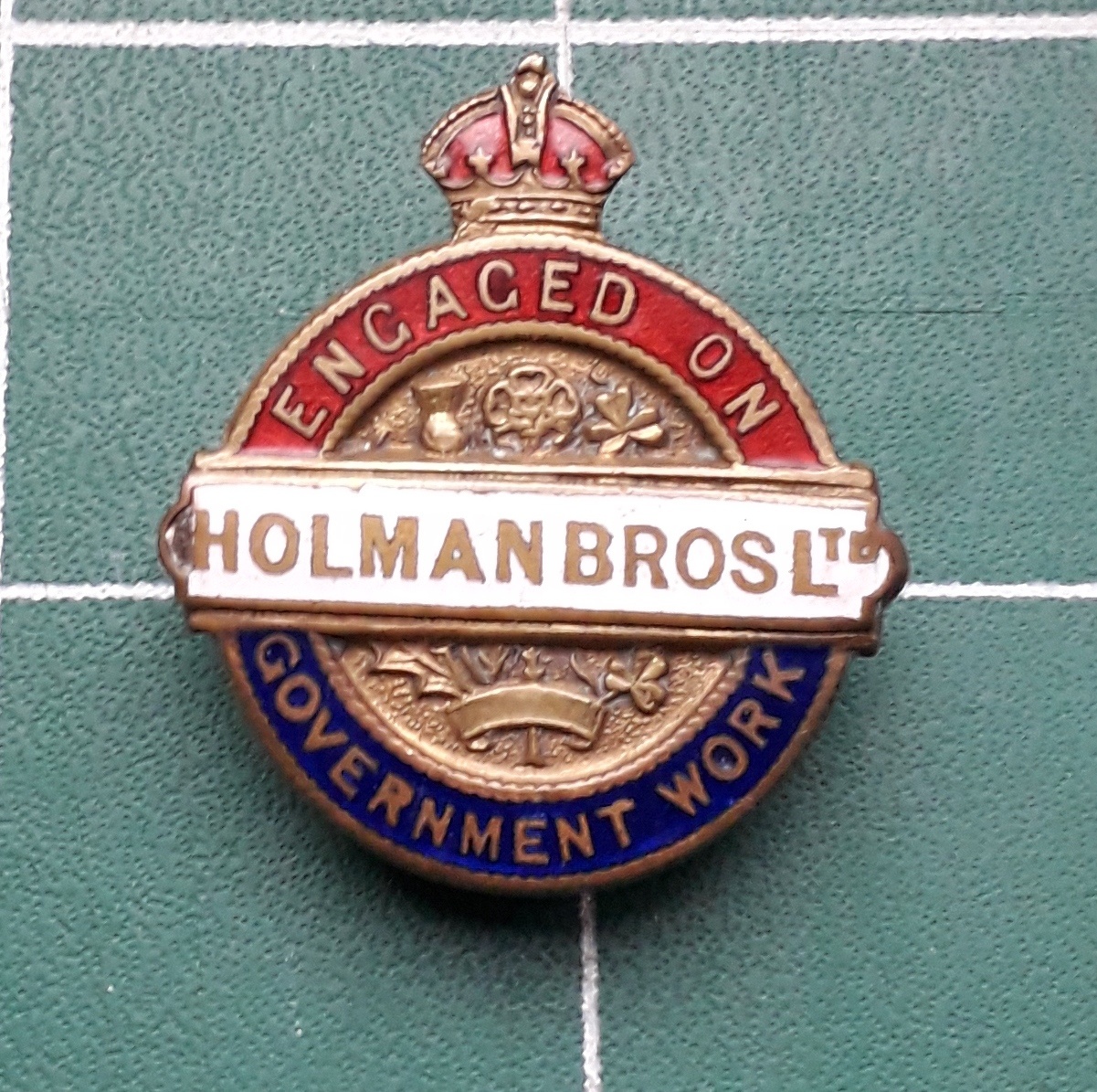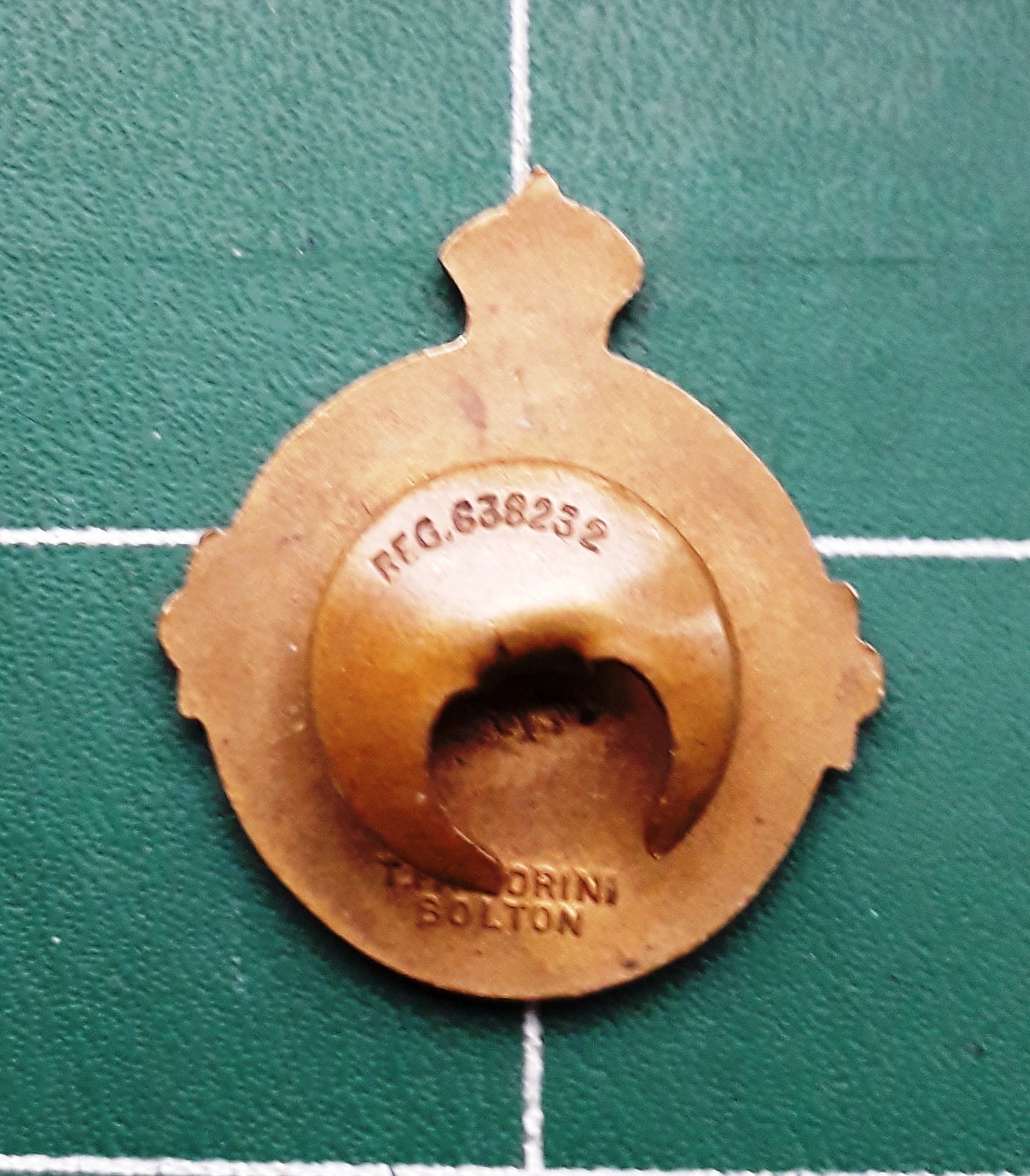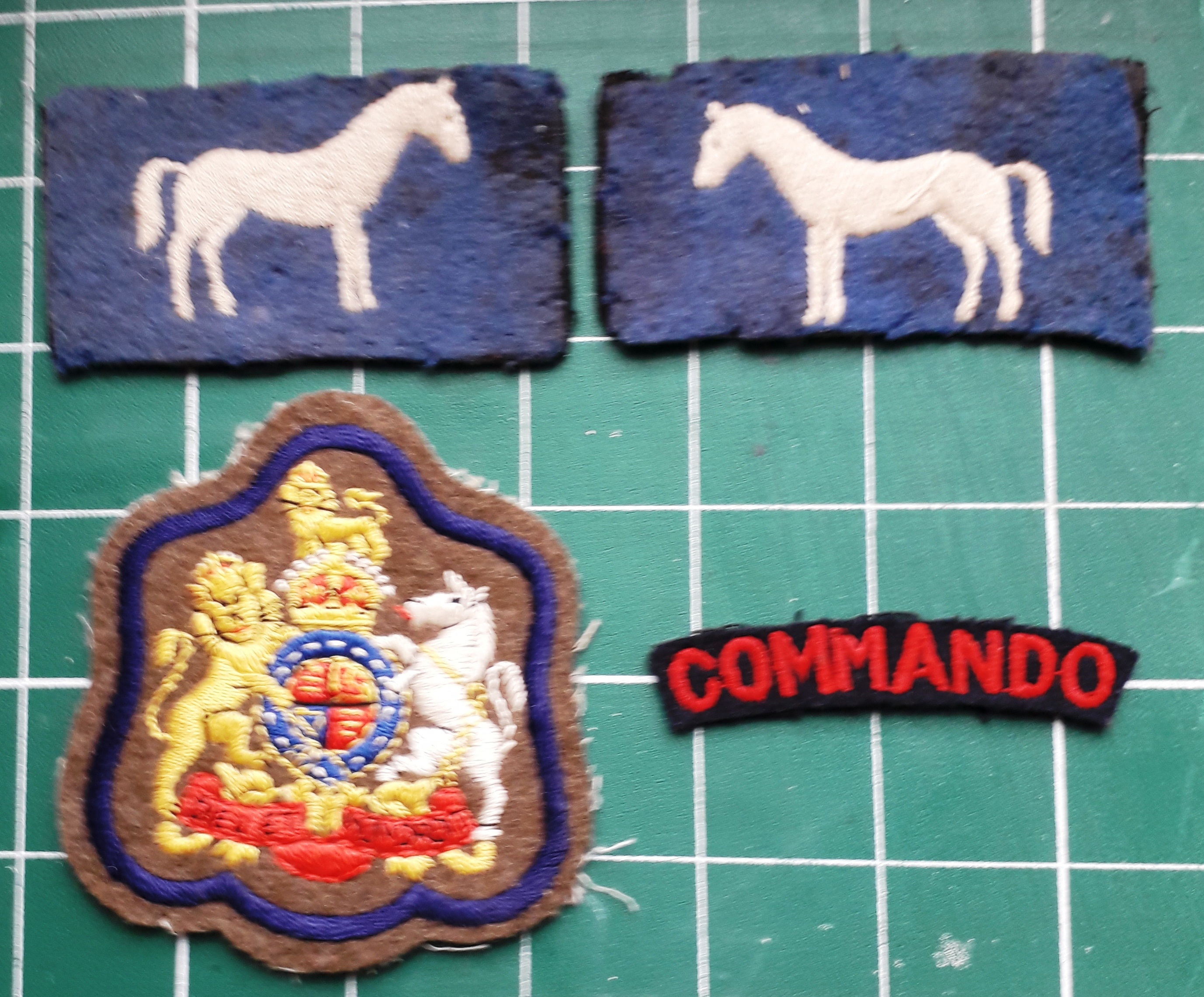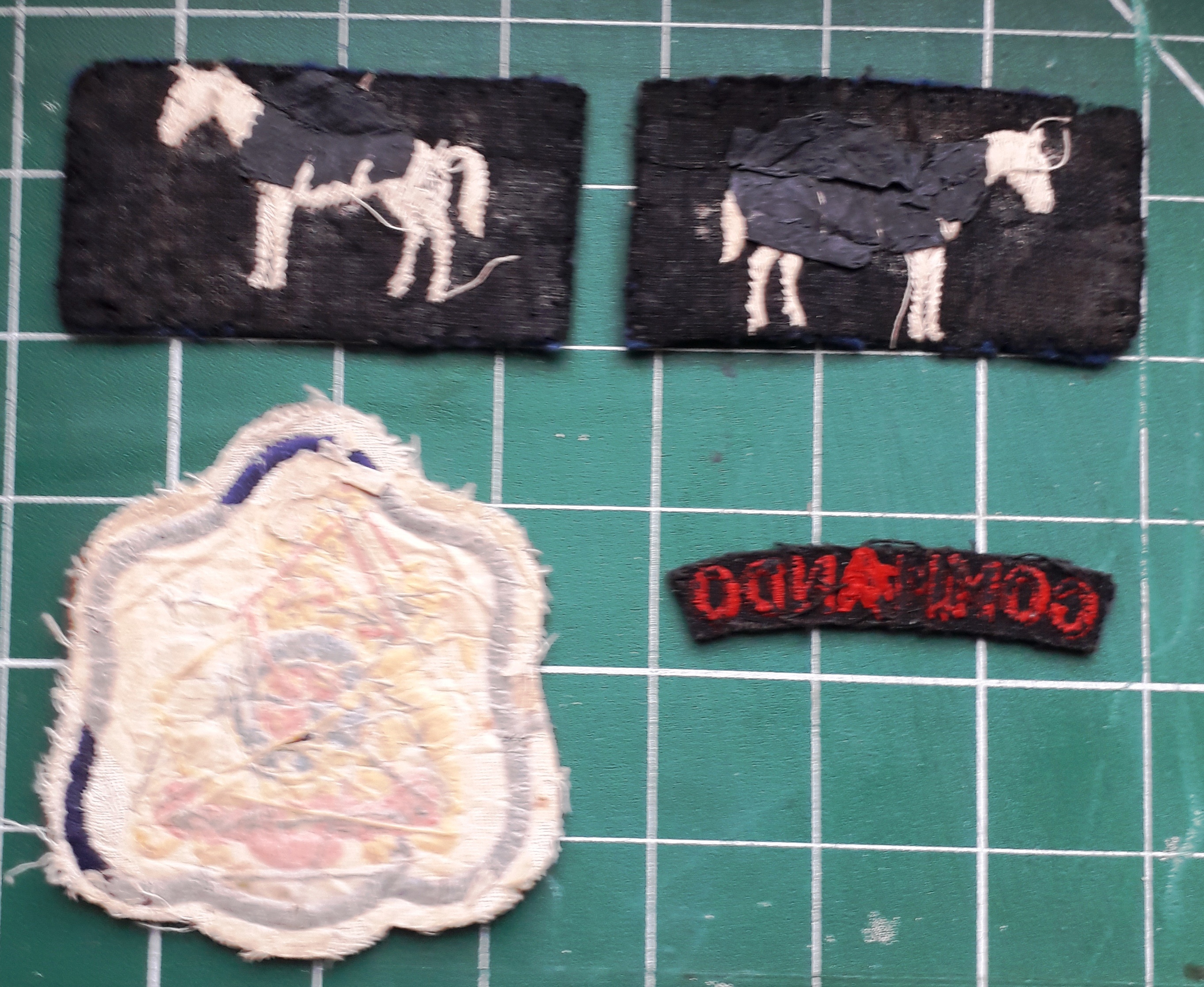 Nice original cloth insignia.
Pair of 26th Royal Engineers Group white horse formation signs
£25 the pair
Kings Crown warrant officers arm badge

£8
Commando shoulder title

£20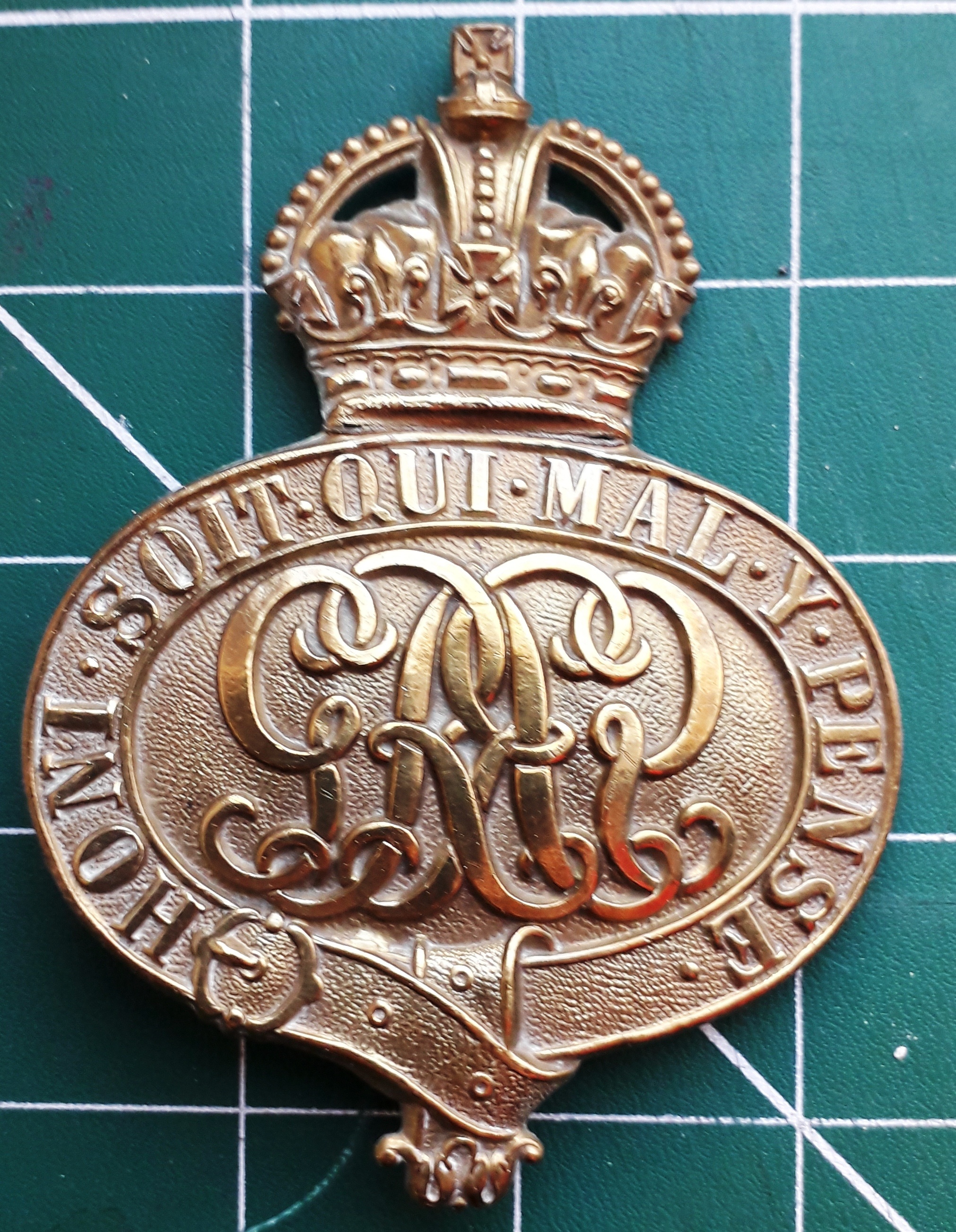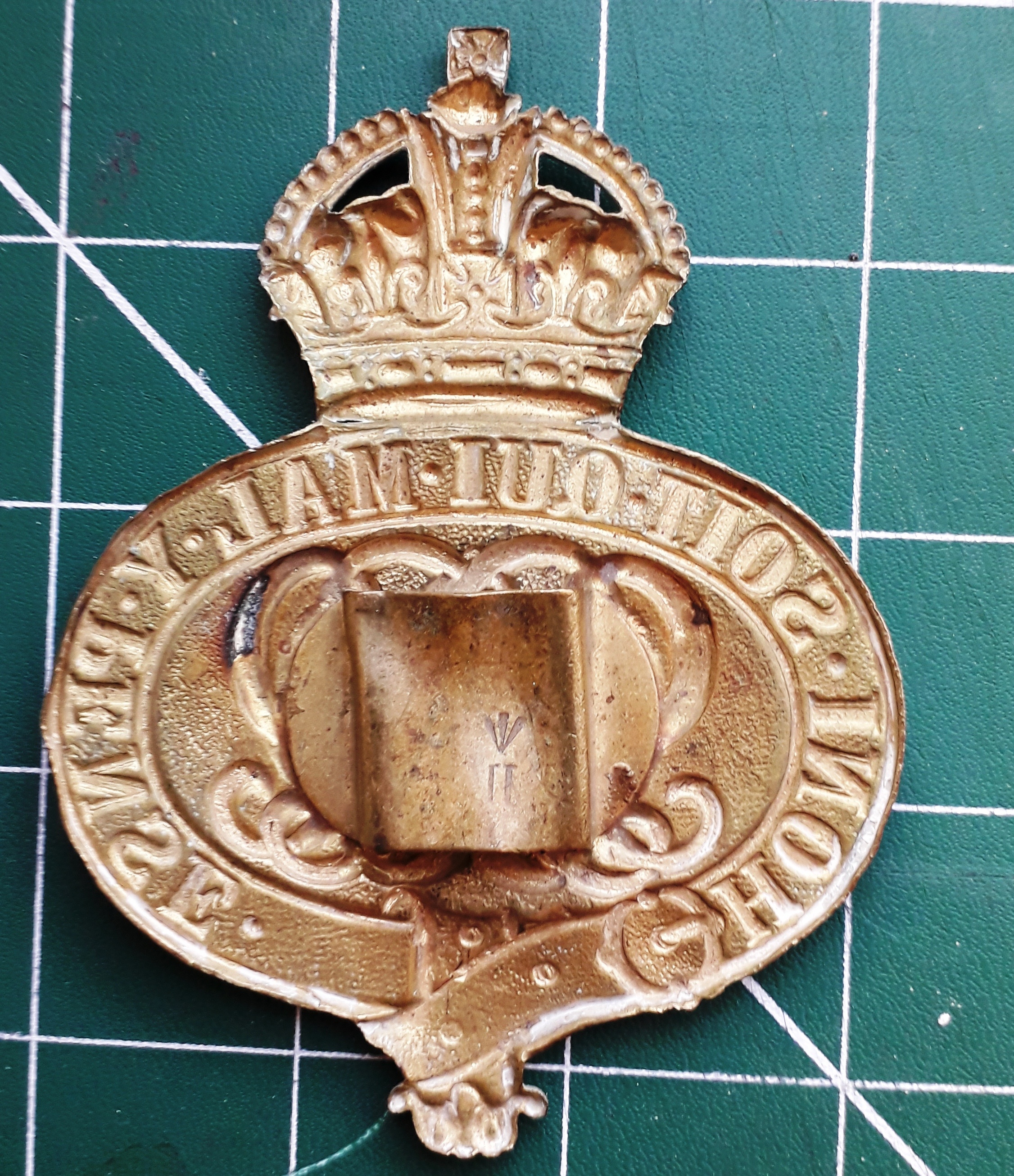 Grenadier Guards Valise badge George V issue with intertwinned letters on cypher and nicely marked to rear with a broad arrow Government mark and date letters 11
SOLD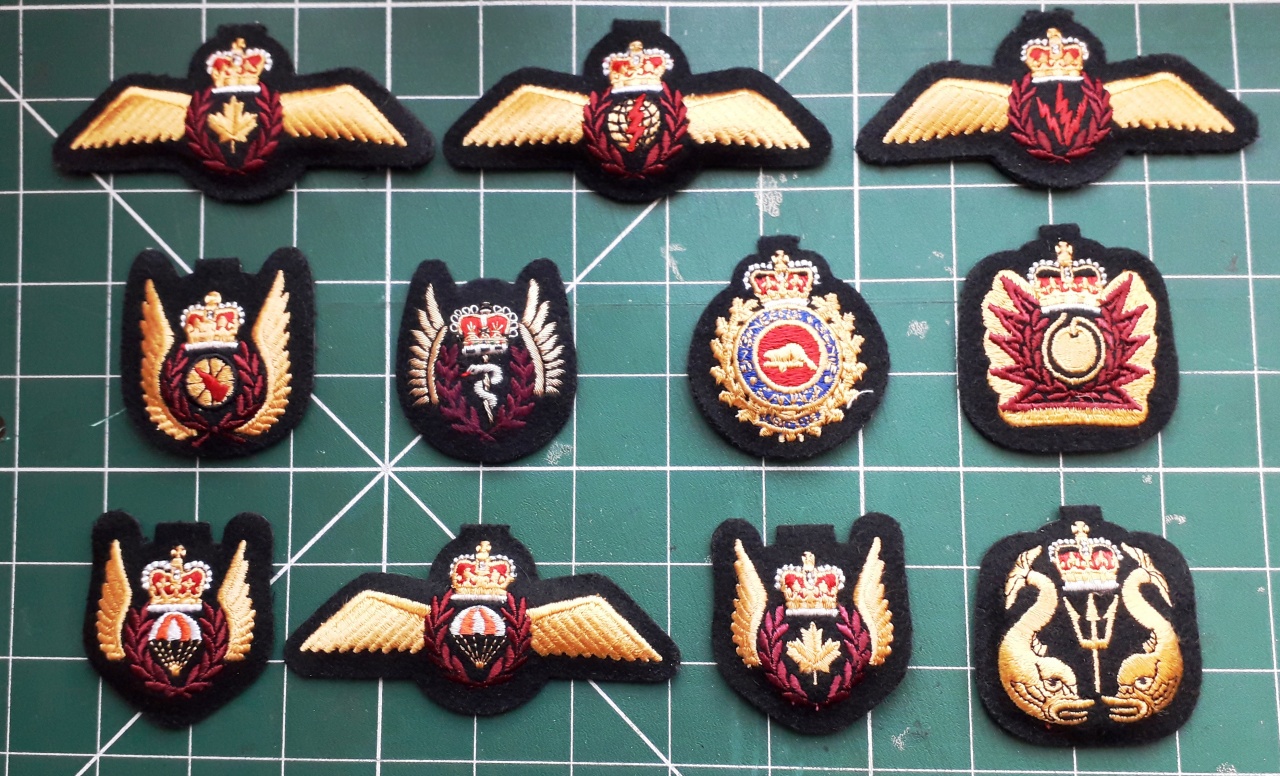 Selection of Canadian Armrd forces insignia

£5 each

Original Grenadier Guards shoulder titles
£10 pair
1st Guards Infantry Brigade
£10

Guards Armoured Division
SOLD

A good selection of old Merchant Navy shoulder boards £5 each with a brass Merchant Navy button (anchor through naval crown )attached.
£5 each
2 long lengths of Chief Officer 4 rings gold wire sleeve lace
£10
2 lengths of 1st officers gold wire sleeve lace
£10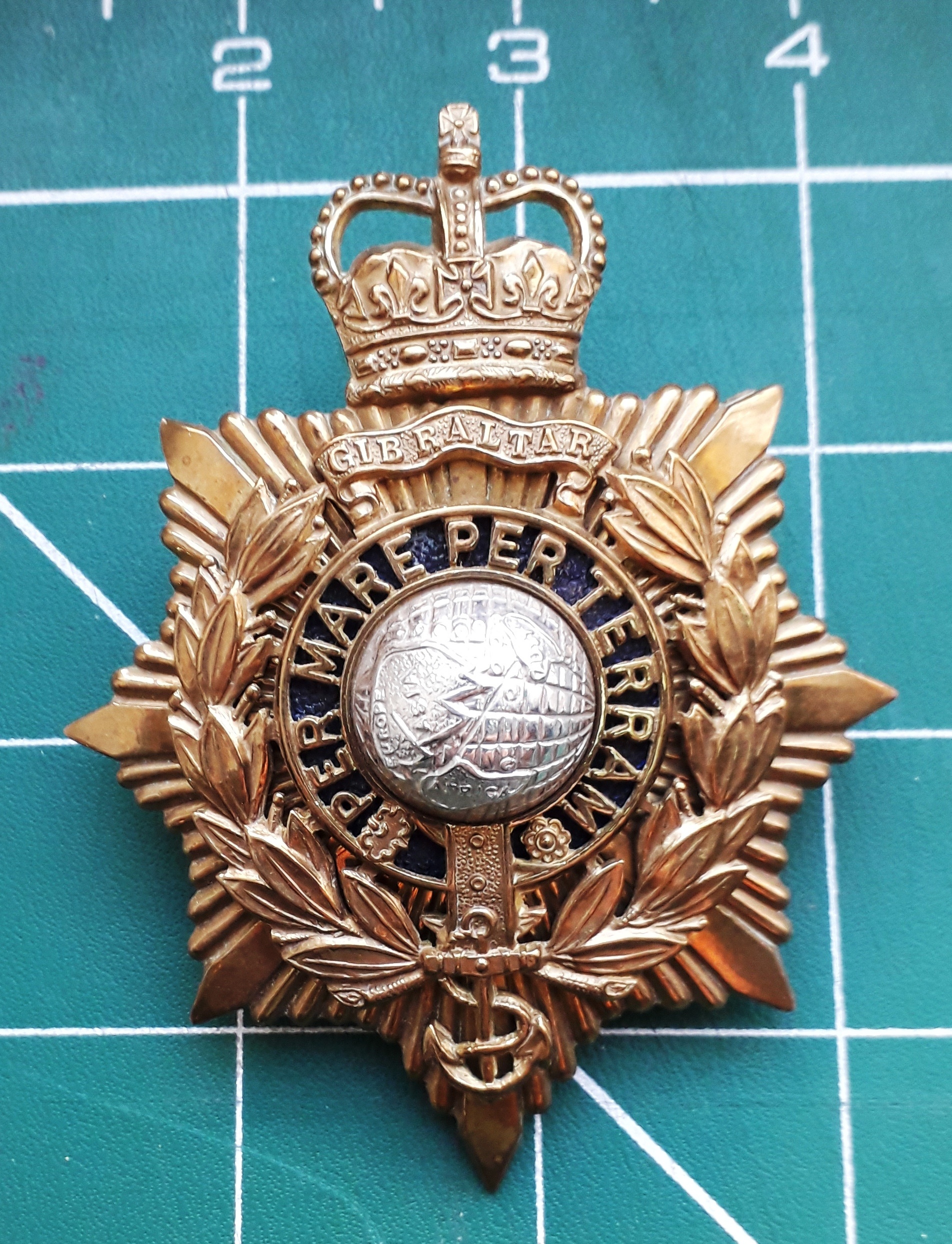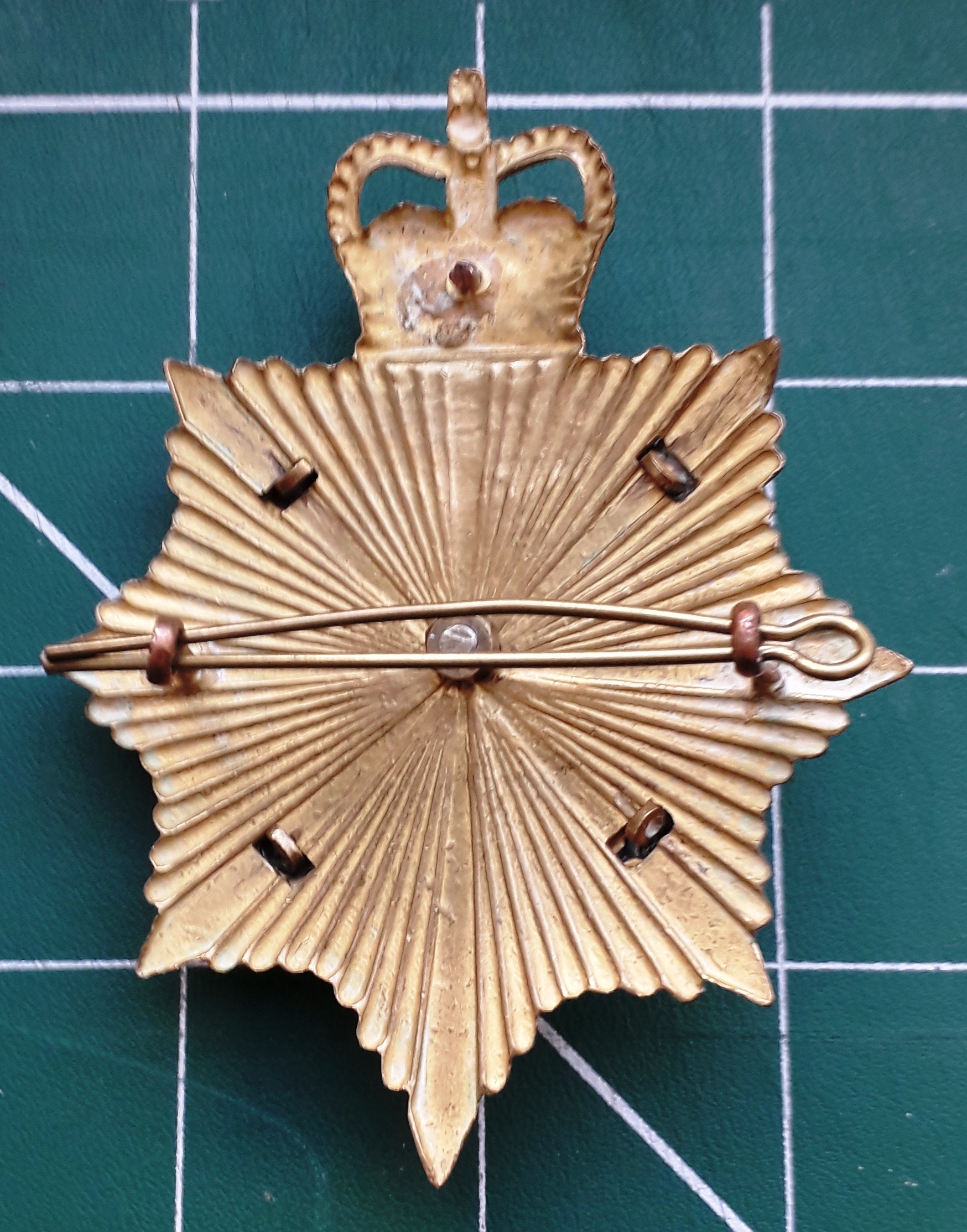 ROYAL MARINES OFFICERS GILT AND ENAMEL HELMET PLATE
Current issue multi part construction worn on the white Wolsey type pith helmet

£100

Grenadier Guards Cap Badges

Kings Crown Warrant Officers metal with silver GR cypher reversed and attached to the ball
SOLD
Queens crown Warrant Officers possibly Commisioned Quartermasters
£40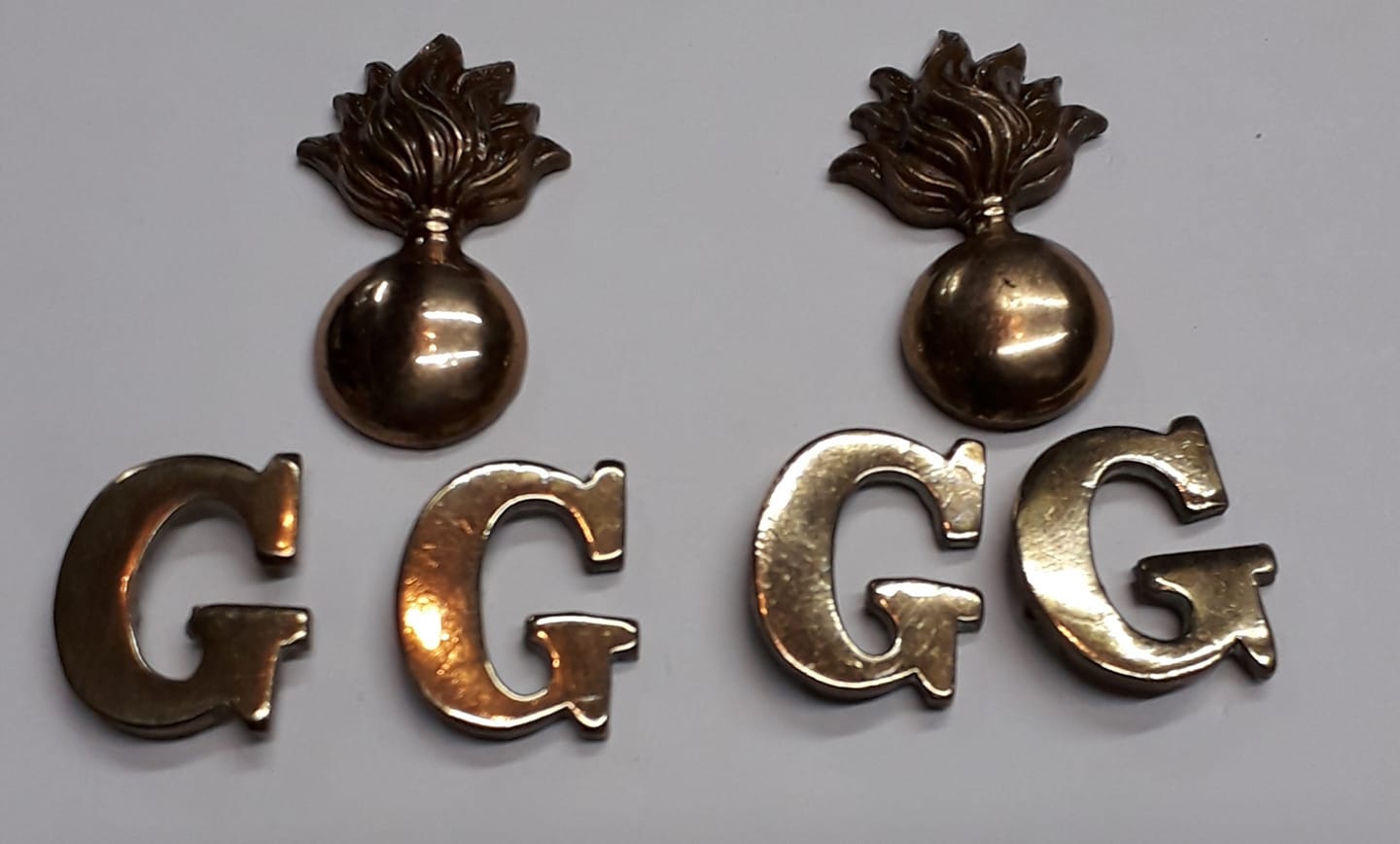 Scarce pre 1920 Grenadier Guards brass shoulder titles. The small grenade was replaced by the Royal Cypher after 1920, see Westlake badge 709
SOLD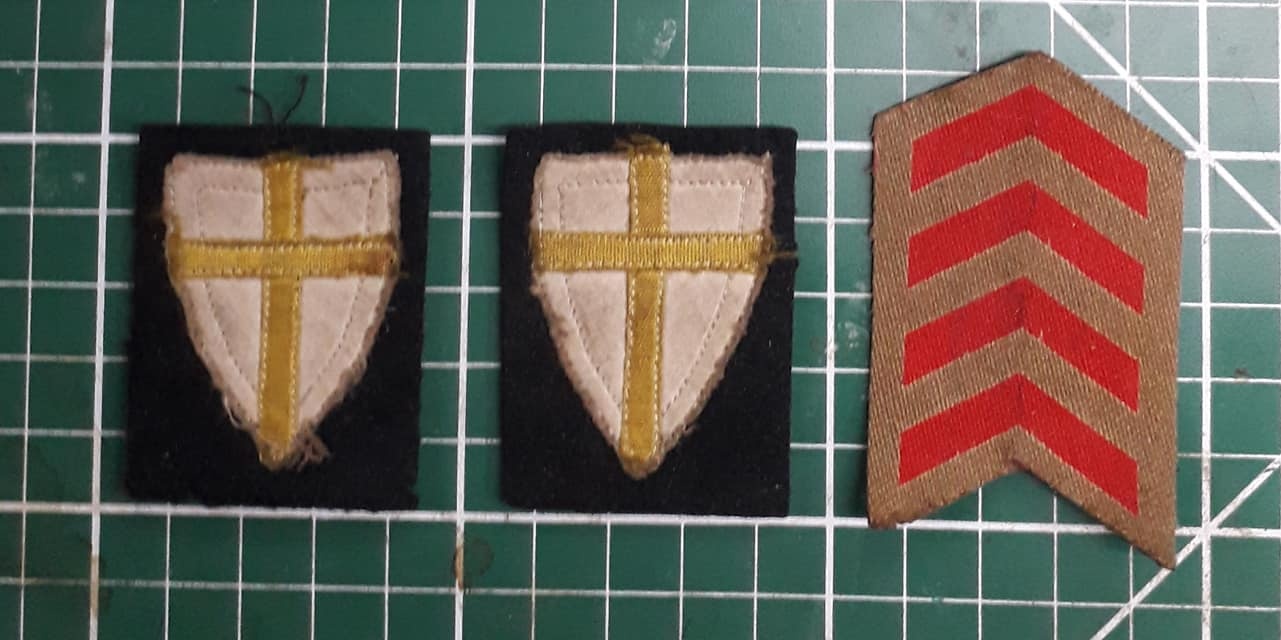 Pair of genuine WW2 formation signs £20 the pair. Printed WW2 service stripes £10