ROYAL NAVY WW1 TRIO AND LONG SERVICE MEDAL

1915 Star trio and RNLS medals mounted as worn with a named vintage metalite flintop lighter.1914-15 Star named 310263 L.STO H E TAYLOR R.N.Pair named S.P.O (stoker Petty Officer ) same number and nameRNLS named to SPO HMS DAUNTLESS , a D class light cruiserHarry Edwin Taylor was born Plymouth and had many ships including WW1 service on HMS London in the Dardanelles and HMS Taurus a T class destroyer which sunk a German destroyer. Copy Sercice papers available . All medals confirmed.
£180
GEORGE VI ISSUE
DAVID HENRY THOMAS
FREDERICK GEORGE HODGES
ER2 ISSUE
SYDNEY WILLIAM HEATH

WALTER ALFRED HARRIS
HERBERT MILNER
WILLIAM JOHN LEAR
GEORGE SAMUEL WEVILL
FREDERICK WILLIAM PRITCHARD
WILLIAM JACK AXON
RONALD WALTER KING
EDWARD JOHN RAYMOND SWEETT
ALL £20 EACH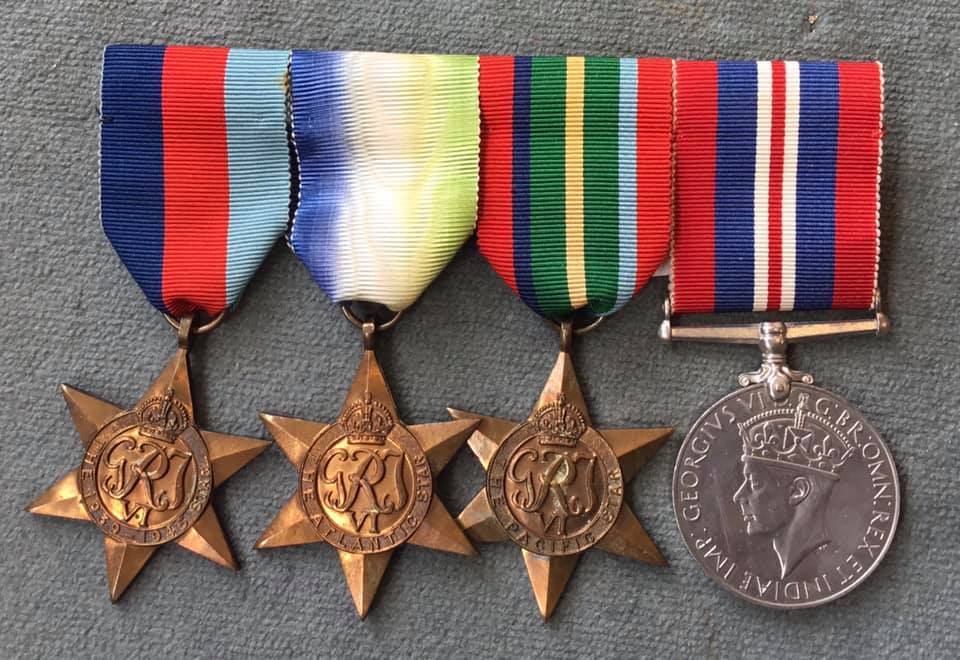 Genuine full size WW2 group mounted as worn , 1939-35 Star, Atlantic Star, Pacific Star, and War Medal
£70
SELECTION OF MINIATURE MEDALS IN STOCK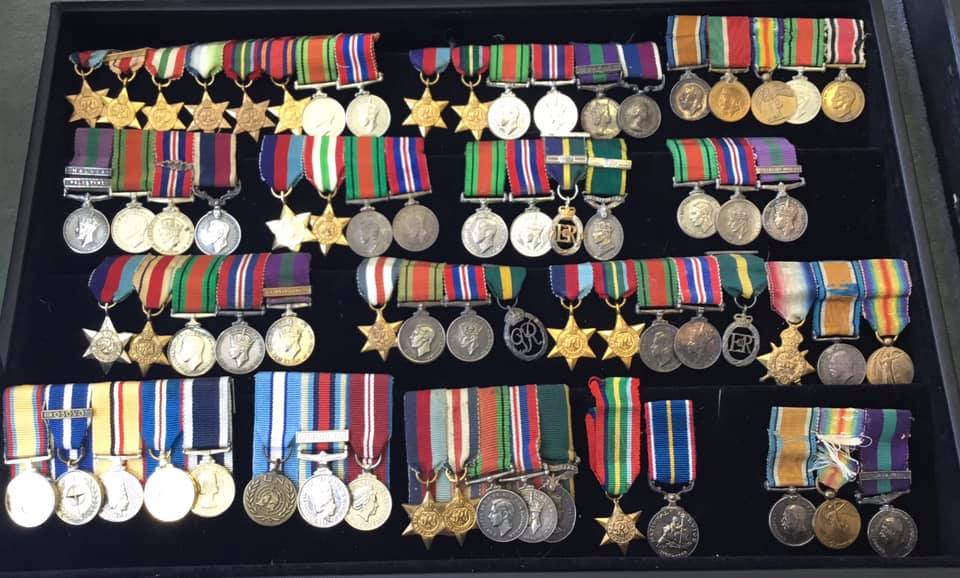 Please email or call for details and prices.
MILITARY MEDAL DURHAM LIGHT INFANTRY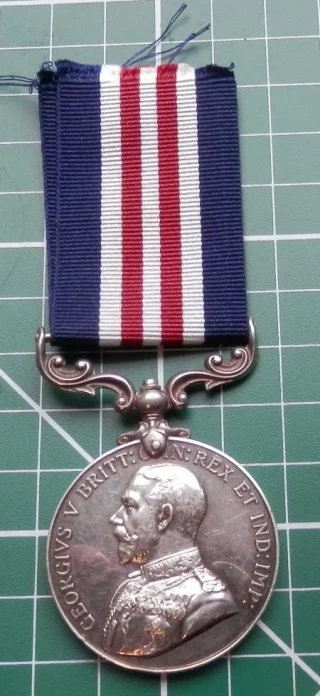 Military Medal correctly named
93044 Pte S Milner 2 / DURH L.I. copy MIC and London Gazette 21-9-18
£395
ROYAL NAVY CAMPAIGN MEDAL PAIR TO A MEDIC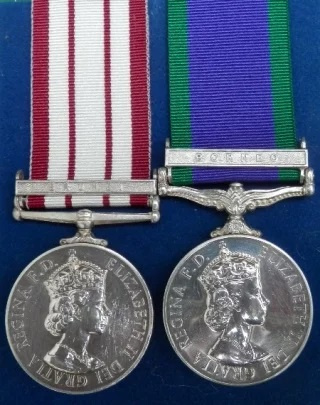 WW2 Territorial Efficiency Medal grouping to Harold Edward Mitchell who was born 1922 and died 2002. He lived in Kingsbridge Devon.
TEM correctly named 2067402 GNR H E MITCHELL R.A. Mint in named box of issue
Defence and War medals in named box of issue Kingsbridge address with issue slip showing these medals only
Mitchell enlisted 5.12.1938 into 482 Devon and Cornwall Searchlight Company which was converted to Royal Artillery and posted to 438 battery 28 searchlight regiment and 630 Regt R.A. In 1945. Released to Army Reserve 1946.
Interesting group to a soldier involved in Blitz and defence of Great Britain in World War 2
SOLD
NAVAL GENERAL SERVICE MEDALS GROUPS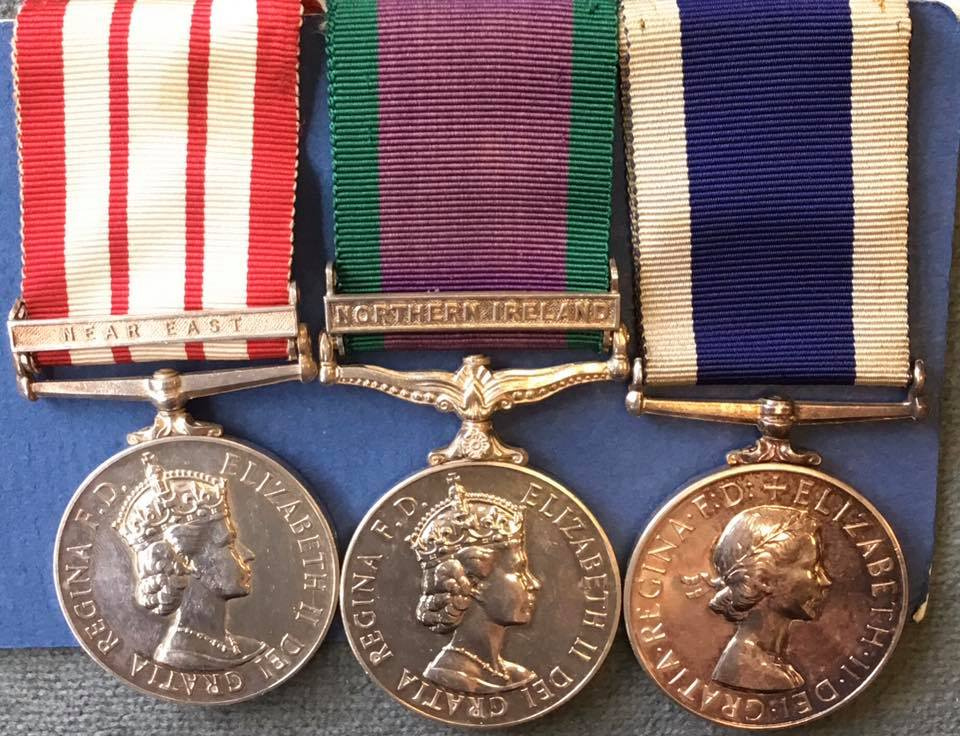 Naval General Service Medal clasp NEAR EAST correctly impressed PM.952961 K.J WOLLEN S.A (S). R.N. (Stores Accountant )
Campaign Service Medal clasp NORTHERN IRELAND M952961W POSA R.N. (Petty Officer)
Royal Navy Long Service and Good Conduct Medal M952961 L.S.A. HMS GRENVILLE (Leading Hand)
HMS Grenville was a frigate in service 1943-1974. Interesting group reflecting the changes made to the RN official numbering system over the years.

£350
TERRITORIAL EFFICIENCY MEDALS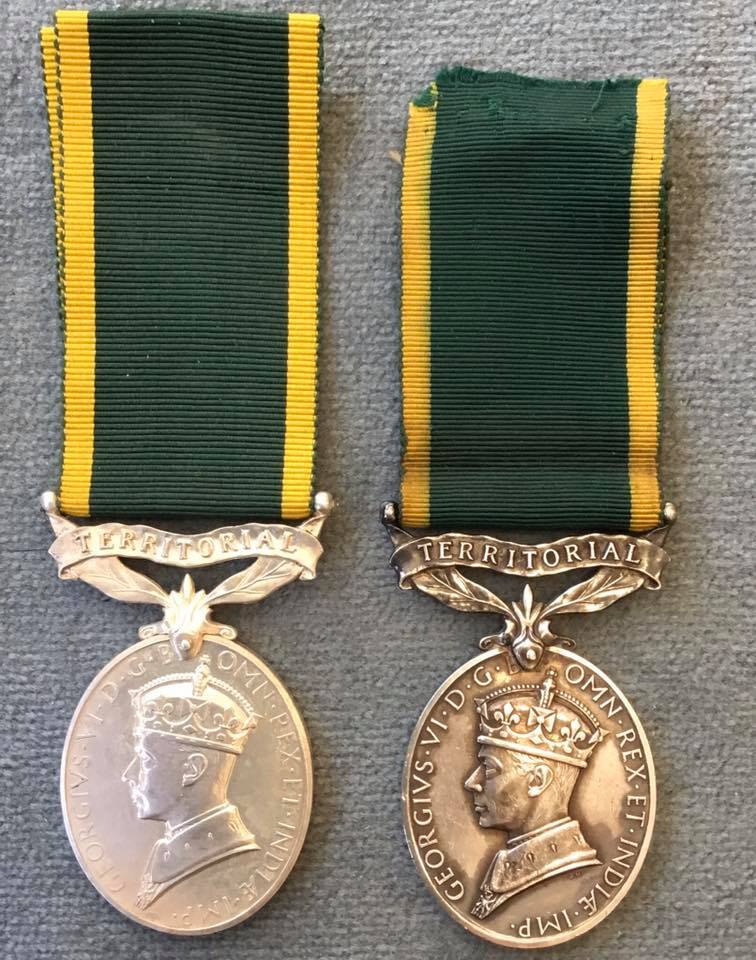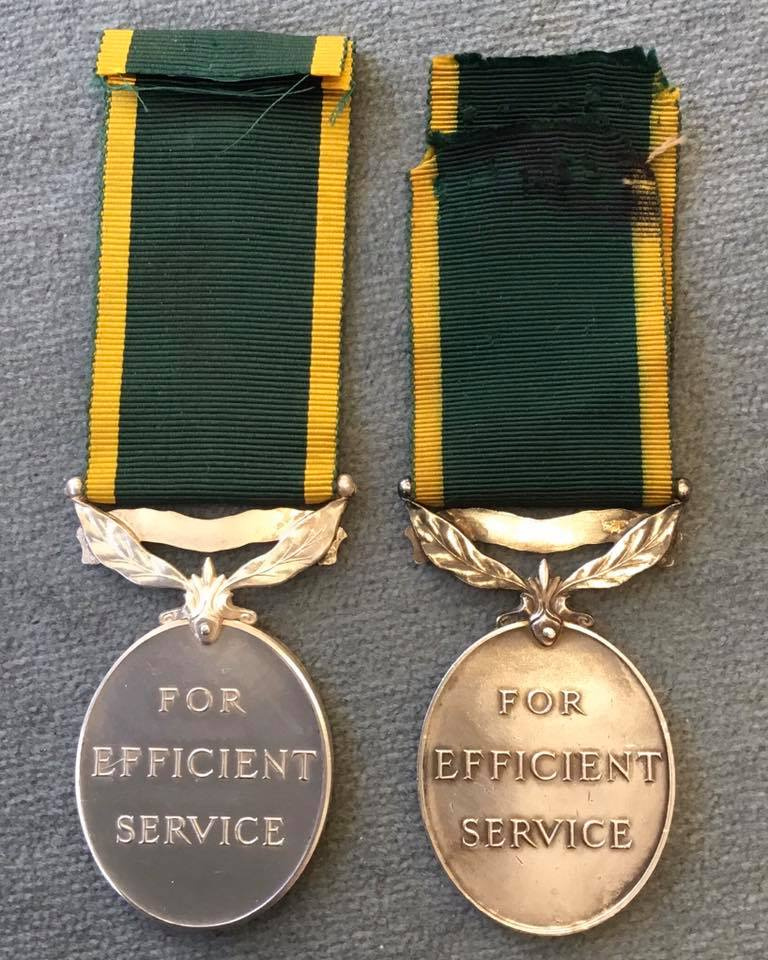 Territorial Efficiency Medals GV1 issue
1. 911913 Gnr. F G HAYWARD R.A. Frederick George £75
2. 7358260 Pte. A. E POWE ( possibly Albert Edward from North Devon ?)

£75
SOUTH ATLANTIC FALKLANDS MEDAL
South Atlantic medal mounted as worn correctly named to S(R) S. N. HARDMAN D180226W HMS BRISTOL .

Very nice medal to a Seaman Radar who served on the Type 81 Destroyer HMS Bristol

SOLD

IRAQ MEDAL TO DEVON AND DORSETS
Last campaign medal awarded to the Devon and Dorset Regiment correctly laser named 25208527 PTE S. P. GAMBLE.

Court mounted as worn as a single medal.
£220

On Salamanca Day 22 July 2005, the Devon and Dorsets became the Devon and Dorset Light Infantry (DDLI). On moving from the Prince of Wales's Division to the Light Division, members of the Regiment adopted the Light Infantry green beret. It was also confirmed that, the regiment would amalgamate with the Royal Gloucester, Berkshire and Wiltshire Light Infantry (RGBWLI), thereby achieving the reduction of an infantry battalion in the British Army's order of battle. On 24 November 2005 The Queen formally approved the formation of The Rifles and the Charter was signed by the Colonels of all the forming regiments of the Light Division the following day. Reflecting our historical seniority, the combined DDLI/RGBWLI would become the 1st Battalion, The Rifles (1 Rifles), the senior battalion in a new seven-battalion regiment that included the Royal Green Jackets and the Light Infantry.
1st Battalion in Iraq 2006 Op Telic 8
On arrival in Iraq the 1st Battalion had a few days of acclimatisation and theatre-specific training at the Shaiba Logistics Base (SLB), before taking over from the 9/12 Lancers as the Basra Rural South Battle Group on 28 April. The four companies were dispersed: A Company was co-located with BG HQ at the SLB, with responsibility for Az Zubayr; B Company was based at the Palace in Basra, with responsibility for the Al Faw peninsula; C Company was at Um Qasr, Iraq's only deep water port, working closely with US forces in the border town of Safwan while 1 DDLI also provided the Brigade Surveillance Company (BSC), under the command of 20 Armoured Brigade at Basra Air Station, which assumed responsibility for Op Resilient at Al Amarah.
In May Op Tyne was a Brigade 'surge', or show of force, into Basra to counter the increasingly adverse influence of rogue politicians and local militia, with the result that the Provincial Council re-engaged with British Forces for the first time since the previous September, when two British soldiers had had to be rescued from Jameat Police Station. Later the same month A Company was in the forefront of Op Merrivale, a search-and-arrest task that unearthed a cache of IED components. In July Op Test resulted in the arrest of Sajid Badr, a local militia leader, after several weeks of intelligence gathering. During the follow-up to this arrest Corporal John (George) Cosby, a team leader in the BSC, was killed in an aggressive fire fight. The same month the Maysan Battle Group was relocated as part of Op Oyster: three DDLI companies covered the move and Pte Attrill was extremely fortunate to escape serious injury when a bullet penetrated his helmet, passing round the inside, and leaving no more than a small scar. In September B and C Companies were relieved by the theatre reserve battalion from Cyprus, enabling them to form part of 20 Armoured Brigade's 'surge' operations, OpSalamanca and later Op Sinbad, which continued through to the end of the tour. As part of Op Brixham, A Company provoked the insurgents into an unwise redeployment of their armoury, leading to the recovery of six weapons.
A covert search by the BSC, Op Stingray, led to the discovery of around 70 artillery and mortar shells (potential IEDs), which were destroyed in situ the following morning. During Op Belstone 2 Platoon were searching houses in Az Zubayr when they captured a key target, Ahmed Juboori, together with a fully-equipped, three-man rocket team. By contrast with these military tasks, 1 DDLI hosted a much-appreciated, 'hearts and minds' Ramadan dinner at the SLB for local tribal leaders and politicians on 19 October. The 1st Battalion's final operational task was Op Citadel, which led to the capture of Sameer Sangu, one of Basra Province's five 'Most Wanted', on 24 October. The strike group main body arrived simultaneously from three directions, with low loaders simulating a routine British Forces convoy, thus neutralising Sangu's experienced look-outs. On 12 November 2006 1 DDLI handed over to 1 Yorks. Within weeks of returning from Iraq, the 1st Battalion started to reorganise itself in preparation for 1 February 2007, when it would form the core of 1 Rifles at Chepstow, conveniently close to the West Country, there were to be battalions of The Rifles stationed in Edinburgh, at Bulford, in Paderborn and at Ballykinler. The last three postings were already well known to many members of the 1st Battalion and that fact naturally influenced the decision that some took. In the event the 1st Battalion provided some 60% of the personnel for 1 Rifles, with most of the balance coming from 1 RGBWLI. The final, emotional Regimental occasion took place on 27 January 2007, when the last stand of Colours of the 1st Battalion joined its two predecessors, and those of the 4th Battalion, in the Regimental Chapel in Exeter Cathedral.
A GOOD SELECTION OF GENUINE WORLD WAR 2 MEDALS ARE ALWAYS IN STOCK

PLEASE EMAIL OR PHONE FOR PRICES

1914-15 STAR TRIOS
All below £75 each
8775 PTE J LAW ASC (also served Labour Corps 300949)
54546 SPR J W BAILEY R.E.

ALL £40
106715 William Altham : R.G.A
4476 Pte. F Y Parker Lancashire Fusiliers

94052 - Henry Rendall : Kings Liverpool Regt
54162 - Reginald Bray : Manchester Regt ( also served 31285 Border Regt)
3631/201320 - Thomas Logan : Kings Liverpool Regt (entitled to Silver War Badge)
73332 - Archibald William Williams : Kings Liverpool Regt (also served 49049 L.C)
376851 - Thomas Taylor : Manchester Regt
G/30731 - Herbert Victor Scrivenger : Queens Regt
58600 - John Heap : Worcester Regt & 68438 Lancashire Fusiliers
24933 - George Coleman : Berkshire Regt (also served 94312 L.C & 31182 R.E
95756 - Gilbert Collin : Kings Liverpool Regt
46230 - Percival Bertram Green : Worcester Regt & 514463 L.C (entitled Silver War Badge)
265507 - Samuel Jackson : Queens Regt (also served 650094 L.C entitled to Silver War Badge)
029708 - Reginald Harris : A.O.C.
T. WILSON A.B . M.F.A. .
none in stock at moment

ALL £25 EACH

WORLD WAR 1 VICTORY MEDALS
None in stock at moment