Campaign Service Medal clasp Northern Ireland
Correctly named 24488337 DVR. S C BAKER R.C.T. Mounted as worn as a single medal
£60.

WW 1 British War Medals
ASST PAYR.E. H. BARRENGER R.N.R. Edgar Hewitt BARRENGER unusual Officer rank. £30
SE 23364 PTE. J HOLLOWAY A.V.C. (Army veterinary Corps ) £30
ROYAL NAVAL DIVISION LONG SERVICE MEDAL INTERNED 1914

Royal Navy Long Service and Good Conduct Medal Royal Navy Division Collingwood Battalion Interned Holland 1914.
GV issue correctly named K12760 S H PIERSON SPO HMS HOLLYHOCK this was awarded in 1926 when serving on this small sloop. Pierson was born 25 April 1893 in Midhurst Sussex joined the R.N. in 1911 . in 1914 left HMS Black Prince and joined Royal Naval Division .Interned in Holland 1914 with most of Collingwood Battalion. RND record card actually shows coming home on leave from Holland ! Repatriated Nov 1918 then continued to serve in the R.N. All above verified on copy paperwork and a copy phot from the Dutch Internees records Pierson 1297 to a member of Collingwood Battalion 1914
Scarce Long Service Medal
£200
ROYAL MARINE LIGHT INFANTRY
1915 Star and Victory Medal. Both correctly named PO 7284 CPL. H WEALTHY R.M.L.I.
Harry Wealthy born Shaftesbury Dorset 8.10.1874 enlisted 8.8.1892 ( underage)
Served until a Oct 1913 Time expired
Re-enlisted 2.8.14 and serves until finally discharged 19.4.1919
Discharged Dead 31.12.1950 . 3 pages of service paper's included
A real old ROYAL MARINE LIGHT INFANTRY sweats medals
£50 RESERVED
Victorian Royal Navy Long Service grouping
Egypt medal 1882 reverse no clasp correctly engraved J ADAMS STOKER HMS INDUS
Khedives Star 1882 unnamed as issued
RoyalNavy Long service and Good Conduct Medal Victorian issue correctly impressed JOHN ADAMS LDG. STOKER HMS INDUS
John Adams was born St Germans Cornwall 29 October 1860
Joined RN 1881
Served in various ship as as recorded on his copy ADM188 service docs included with medals
Pensioned 1901.
£425
World War 1 Trio grouping to John Robert Godwin with very interesting service
1915 Star correctly named SD 2303 J R GODWIN DH RNR
WW1 pair correctly named 2303 S D J R GODWIN DH
Godwin born 5.12.1877 in Caning Town London enrolled RNVR 31.5.1915 London Division as London Z 2057 and 1st Battalion B/1056
Transferred to Royal Navy Tralee Reserve in June 1915 and serves till 24.2.1919
All the above verified by copy service docs
£80
JUTLAND GROUPING LATER H.M.S. HOOD
World War 1 Long service grouping to Charles Bertram Dawe M3282 JUTLAND and HMS HOOD
WW1 pair correctly named M3282 C B DAWE ERA 4 R.N.
Royal Navy Long Service and Good Conduct Medal GV issue correctly named M2382 C.B DAWE ERA 2 HMS LOWESTOFT. Mounted as worn on mounting pin.
Born 4th June 1895 in Devonport Plymouth . Died 1975.
Joined RN 4th June 1913
Served JUTLAND on King George V.
Later served on HMS HOOD 1923 -25
Invalided from service March 1929 due to lose of an eye in an accident .
All the above verified by copy service docs
£160 RESERVED

Victory medal correctly impressed T.Z 6673 J R O JOHNSON A.B. R.N.V.R.
Tyneside Division Born 25.7.1896 joined from Merchant service 10.8.1915. Demobbed 9.5.1919
£20
WW2 Territorial Efficiency Medal grouping to Harold Edward Mitchell who was born 1922 and died 2002. He lived in Kingsbridge Devon.
TEM correctly named 2067402 GNR H E MITCHELL R.A. Mint in named box of issue
Defence and War medals in named box of issue Kingsbridge address with issue slip showing these medals only
Mitchell enlisted 5.12.1938 into 482 Devon and Cornwall Searchlight Company which was converted to Royal Artillery and posted to 438 battery 28 searchlight regiment and 630 Regt R.A. In 1945. Released to Army Reserve 1946.
Interesting group to a soldier involved in Blitz and defence of Great Britain in World War 2
£100
NAVAL GENERAL SERVICE MEDALS GROUPS
Naval General Service Medal clasp BRUNEI correctly impressed MX786255 W. HIND S.B.A.R.N.
Campaign Service Medal 2 clasps BORNEO and MALAY PENINSULA same naming details
Royal Navy Long Service and Good Conduct Medal same naming plus HMS DRAKE
£550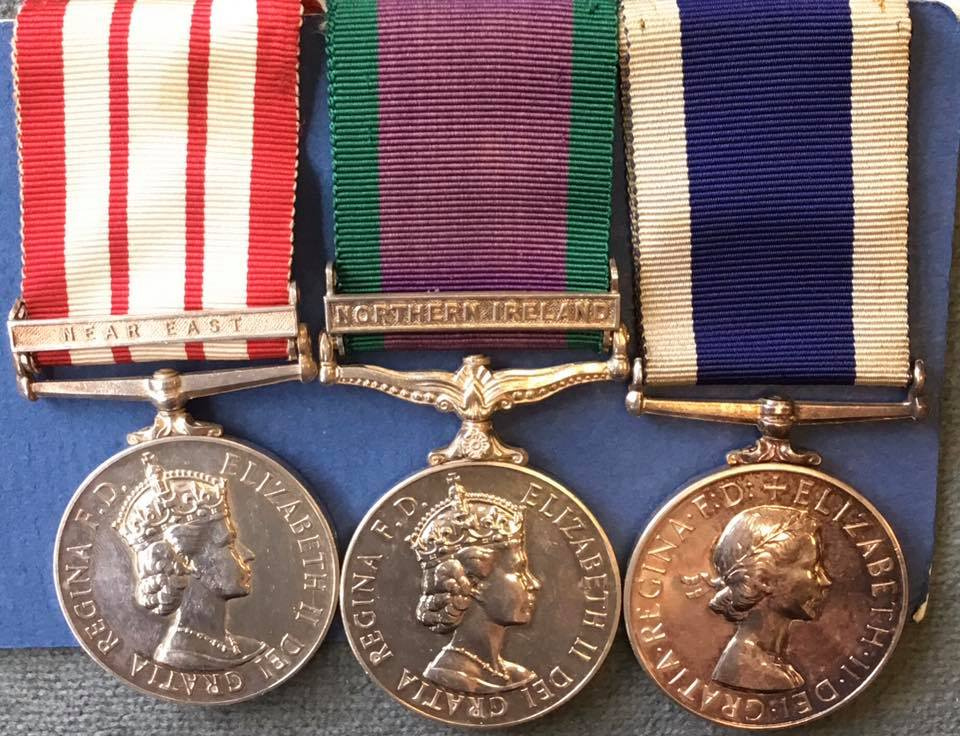 Naval General Service Medal clasp NEAR EAST correctly impressed PM.952961 K.J WOLLEN S.A (S). R.N. (Stores Accountant )
Campaign Service Medal clasp NORTHERN IRELAND M952961W POSA R.N. (Petty Officer)
Royal Navy Long Service and Good Conduct Medal M952961 L.S.A. HMS GRENVILLE (Leading Hand)
HMS Grenville was a frigate in service 1943-1974. Interesting group reflecting the changes made to the RN official numbering system over the years.

£350
TERRITORIAL EFFICIENCY MEDALS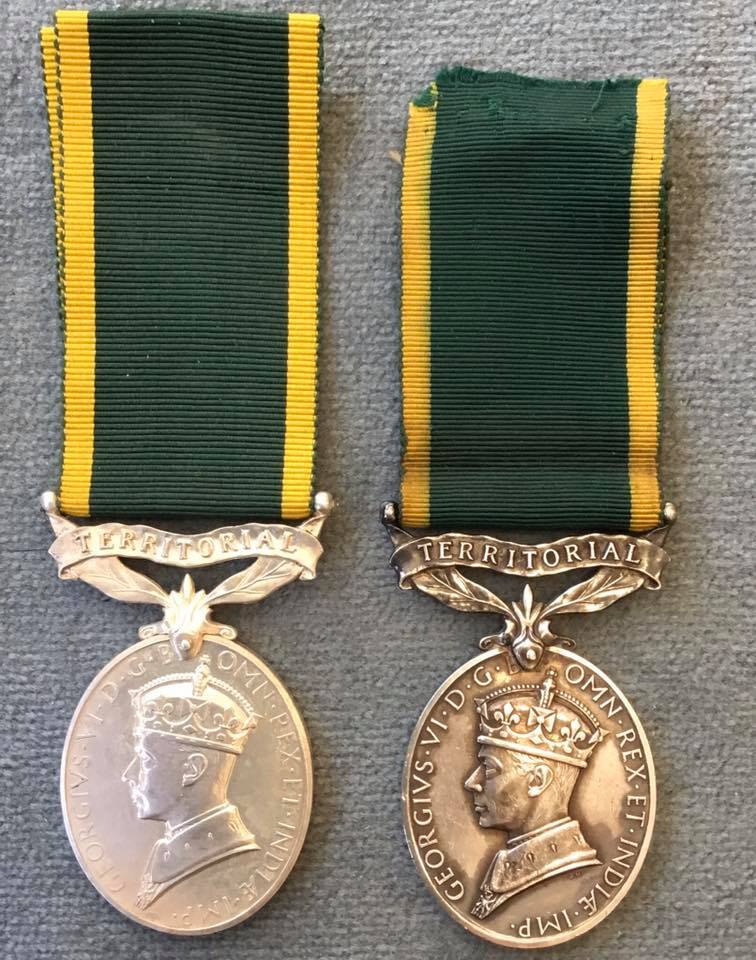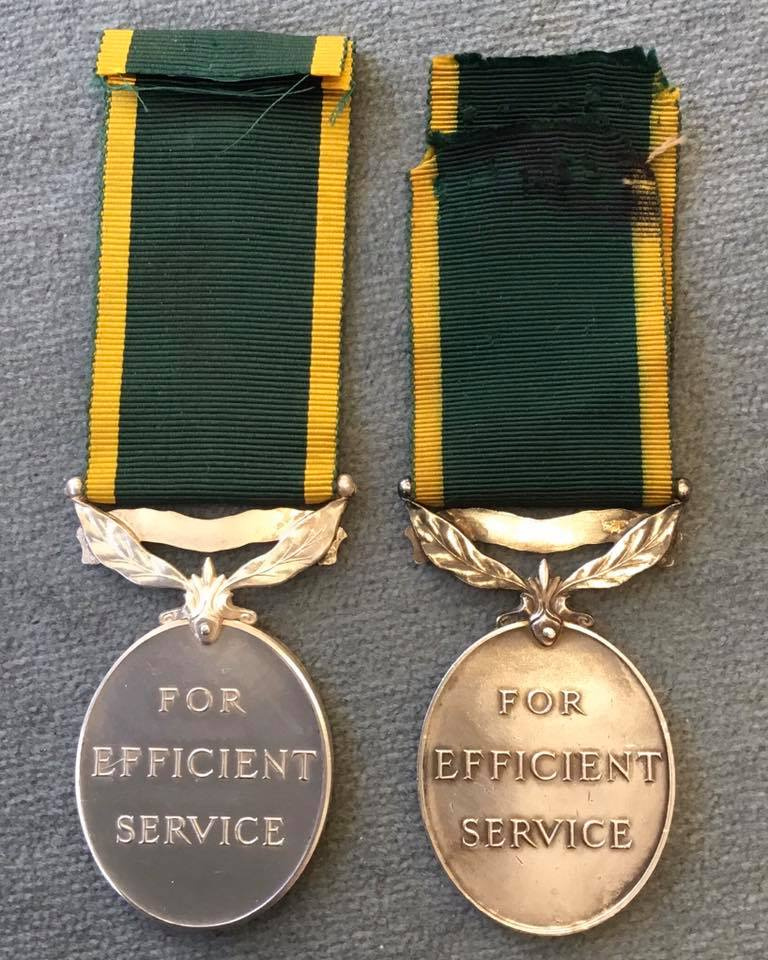 Territorial Efficiency Medals GV1 issue
1. 911913 Gnr. F G HAYWARD R.A. Frederick George £75
2. 7358260 Pte. A. E POWE ( possibly Albert Edward from North Devon ?)

£75
WW1 Memorial Plaque or Death Plaque

Second Lieutenant POCOCK, Charles Arthur
Died 08/05/1917
Aged 30
14th Bn. Royal Warwickshire Regiment
Buried at ORCHARD DUMP CEMETERY, ARLEUX-EN-GOHELLE
Location: Pas de Calais, France Cemetery/memorial reference: IX. A. 45.
Son of Charles Wellesley Pocock and Mary Elizabeth Pocock, of 21, Dundonald Rd., Redland, Bristol. Returned from Kudat, British North Borneo, to serve. Born at Harrow-on-the-Hill, Middlesex.

Complete with card cover, Memorial letter and white envelope
£250 .

Mentioned in Peter Hughes excellent book Visiting the Fallen : Arras North, "killed whist holding trenches near Arleux"
ROYAL NAVAL LONG SERVICE GOOD CONDUCT MEDAL
Royal Navy Long Service and Good Conduct Medal correctly named K931032J F LAWRENCE P.O.M (E) HMS TYNE .
Mounted as worn as a single medal

£80
New stock
1914-15 Star trio. 10849 Pte G E Brown R.Warwicks SOLD
Victory medal.253807 Pte W H Bishop 3 Londons £14
WW1 pair SE2-0299 J E Currey A.V.C and GVI Imperial Service Medal JAMES ERNEST CORREY (skilled Labourer R.N. Armaments Depot Upnor) L.G 27 November 1951 £65
SOUTH ATLANTIC FALKLANDS MEDAL
South Atlantic medal mounted as worn correctly named to S(R) S. N. HARDMAN D180226W HMS BRISTOL .

Very nice medal to a Seaman Radar who served on the Type 81 Destroyer HMS Bristol

£695
WW1 trio to A 8408 R HARRIS SMN RNR on Star and 8408A R HARRIS TR. RNR on pair

Unresearched £80
WW1 TRIO SICK BERTH ATTENDENT SERVED ON HOSPITAL SHIP GALLIPOLI

M4966 ALEXANDER MORRISON BARRIE Born Manchester 20 May 1891 served on HMHS Karapania and HMHS Somali1916. Copy service certificate showing ships served on.

SOLD
The Karapara was built by Swan, Hunter & Wigham Richardson, Newcastle in 1914 for the British India Steam Navigation Co. She was a 7,117 gross ton ship, length 425ft x beam 55.6ft, one funnel, two masts, twin screw and a speed of 15.5 knots. Originally ordered as the Karunga, she was registered on 21st August 1915 and entered service as Naval Hospital Ship No. 17, with 341 beds and 200 medical staff. On 26 August 1915 she sailed for Gallipoli and operated in the Eastern Mediterranean, based at Alexandria. On 26th May 1917 she rescued 270 survivors from the hospital ship Dover Castle and took them to Gibraltar. In 1919 she provided medical facilities at Istanbul during an exceptionally hot summer. Delivered to British India Steam Navigation Co in 1920, she commenced sailings to East African ports as the Karapara. In the 1930's she transferred to the Straits (Malaya) route and also did some sailings to Port Sudan. Requisitioned for World War 2 duty and reconverted to hospital ship (No. 36) in October 1940 with 338 beds and 123 medical staff in 1940, she served between the Red Sea and India. In April 1941, off Perim Island, Red Sea, en route to India, she was diverted to Aden to offload her patients, and then ordered to Tobruk to replace the hospital ship Vita which had been damaged by dive bombers. On her first voyage out of Tobruk, she was attacked by aircraft but escaped damage. However, on her second journey, 5th May 1941, she was deliberately bombed and damaged by at least nine enemy aircraft at Mersa, Tobruk; she was towed back into port, repaired and successfully sailed to Alexandria. She returned to commercial service in January 1947 on Calcutta/Singapore routes and was eventually sold to the Steel Corporation of Bombay for scrapping on 18th March 1950. [Merchant Fleets, Vol.11, British India Steam Navigation Co by Duncan Haws]
Click to edit text. What do visitors to your website need to know about you and your business?
Territorial Efficiency MedaL PRISONER OF WAR Fall of France
Correctly named 6281319 Pte. A FELLOWS R.A.M.C .That number could be an East Kent Regiment enlistment . Photo copies of Casualty lists , POW 15.6.1940

£150
WW1 CANADIAN CASUALTY PAIR
WW1 casualty pair to a Canadian died of wounds 14 Jine 1916
William Thomas Badger 104640 Canadian Pioneer Battalion.
Originally from Birmingham lived in Pasqua Saskatchewen ,enlisted Moose Jaw . Full papers available online . Previous service with infantry battalions and 48 Canadians which was converted to 3rd Canadian Pioneers in France . SOLD.
48 Canadian brass title SOLD
Canada brass title £10

WW2 mint medal group in box of issue and issue chit. Plymouth address on box.
Mr C Peel RAOC . 39-45 Star, Africa Star with 1st Army clasp , Italy Star and War medal.
SOLD.
IRAQ MEDAL TO DEVON AND DORSETS
Last campaign medal awarded to the Devon and Dorset Regiment correctly laser named 25208527 PTE S. P. GAMBLE.

Court mounted as worn as a single medal.
£220

On Salamanca Day 22 July 2005, the Devon and Dorsets became the Devon and Dorset Light Infantry (DDLI). On moving from the Prince of Wales's Division to the Light Division, members of the Regiment adopted the Light Infantry green beret. It was also confirmed that, the regiment would amalgamate with the Royal Gloucester, Berkshire and Wiltshire Light Infantry (RGBWLI), thereby achieving the reduction of an infantry battalion in the British Army's order of battle. On 24 November 2005 The Queen formally approved the formation of The Rifles and the Charter was signed by the Colonels of all the forming regiments of the Light Division the following day. Reflecting our historical seniority, the combined DDLI/RGBWLI would become the 1st Battalion, The Rifles (1 Rifles), the senior battalion in a new seven-battalion regiment that included the Royal Green Jackets and the Light Infantry.
1st Battalion in Iraq 2006 Op Telic 8
On arrival in Iraq the 1st Battalion had a few days of acclimatisation and theatre-specific training at the Shaiba Logistics Base (SLB), before taking over from the 9/12 Lancers as the Basra Rural South Battle Group on 28 April. The four companies were dispersed: A Company was co-located with BG HQ at the SLB, with responsibility for Az Zubayr; B Company was based at the Palace in Basra, with responsibility for the Al Faw peninsula; C Company was at Um Qasr, Iraq's only deep water port, working closely with US forces in the border town of Safwan while 1 DDLI also provided the Brigade Surveillance Company (BSC), under the command of 20 Armoured Brigade at Basra Air Station, which assumed responsibility for Op Resilient at Al Amarah.
In May Op Tyne was a Brigade 'surge', or show of force, into Basra to counter the increasingly adverse influence of rogue politicians and local militia, with the result that the Provincial Council re-engaged with British Forces for the first time since the previous September, when two British soldiers had had to be rescued from Jameat Police Station. Later the same month A Company was in the forefront of Op Merrivale, a search-and-arrest task that unearthed a cache of IED components. In July Op Test resulted in the arrest of Sajid Badr, a local militia leader, after several weeks of intelligence gathering. During the follow-up to this arrest Corporal John (George) Cosby, a team leader in the BSC, was killed in an aggressive fire fight. The same month the Maysan Battle Group was relocated as part of Op Oyster: three DDLI companies covered the move and Pte Attrill was extremely fortunate to escape serious injury when a bullet penetrated his helmet, passing round the inside, and leaving no more than a small scar. In September B and C Companies were relieved by the theatre reserve battalion from Cyprus, enabling them to form part of 20 Armoured Brigade's 'surge' operations, OpSalamanca and later Op Sinbad, which continued through to the end of the tour. As part of Op Brixham, A Company provoked the insurgents into an unwise redeployment of their armoury, leading to the recovery of six weapons.
A covert search by the BSC, Op Stingray, led to the discovery of around 70 artillery and mortar shells (potential IEDs), which were destroyed in situ the following morning. During Op Belstone 2 Platoon were searching houses in Az Zubayr when they captured a key target, Ahmed Juboori, together with a fully-equipped, three-man rocket team. By contrast with these military tasks, 1 DDLI hosted a much-appreciated, 'hearts and minds' Ramadan dinner at the SLB for local tribal leaders and politicians on 19 October. The 1st Battalion's final operational task was Op Citadel, which led to the capture of Sameer Sangu, one of Basra Province's five 'Most Wanted', on 24 October. The strike group main body arrived simultaneously from three directions, with low loaders simulating a routine British Forces convoy, thus neutralising Sangu's experienced look-outs. On 12 November 2006 1 DDLI handed over to 1 Yorks. Within weeks of returning from Iraq, the 1st Battalion started to reorganise itself in preparation for 1 February 2007, when it would form the core of 1 Rifles at Chepstow, conveniently close to the West Country, there were to be battalions of The Rifles stationed in Edinburgh, at Bulford, in Paderborn and at Ballykinler. The last three postings were already well known to many members of the 1st Battalion and that fact naturally influenced the decision that some took. In the event the 1st Battalion provided some 60% of the personnel for 1 Rifles, with most of the balance coming from 1 RGBWLI. The final, emotional Regimental occasion took place on 27 January 2007, when the last stand of Colours of the 1st Battalion joined its two predecessors, and those of the 4th Battalion, in the Regimental Chapel in Exeter Cathedral.
WW2 grouping to Sgt B R C Yandell R.A.S.C . who was Mentioned in Dispatches L.G. 23.5.1946 page 2433. Service number S/280970.
1939-45 Star, Africa Star with 1st Army clasp, Italy Star, War medal and Defence medal, with a large and smaller oak leaf emblem. All mint as issued in paper wrappers contained in box of issue (RASC records) addressed to Mr B R J Yandell, Station House, East Anstey TIVERTON Devon. Original Army Council medal issue certificate for 5 .2 medals.
WW2 War medal in named Air Ministry box of issue to Mrs. F E Yandell 97 Hotham Place, Stoke, Plymouth Devon with Air Council medal issue certificate with accompanying paper slip for the War medal only with additional name of LACW 206702. Leading Airwoman .
WW1 pair named to 162743 Gnr. A J. Yandell R.A. a confirmed pair only, Albert John, Base Dtls. RGA
£150 the lot
Click to edit text. What do visitors to your website need to know about you and your business?
E
Mint in packet and box of issue. Purchased from the recipient.
Correctly named 25136425 CFN. A P DERBYSHIRE REME.
Anthony Derbyshire served 4 Regiment REME and attached to Coldstream Guards Battle group as a Vehicle Fitter.
With Official Proof of Service Army letter

SOLD

VICTORIAN ROYAL NAVY PAIR
Egypt medal 1882 reverse no bar named to T H VAGAS STKr HMS AGINCOURT with India General Service medal Burma 1885-87. Correctly named LDG. Stoker HMS MARINER( scarce to Royal Navy and only 80 clasps awarded to Mariner a very interesting small vessel.
Medals confirmed on relevant rolls and copy service papers included . Thomas Henry Vagas born Torpoint Cornwall 1850 joined Royal Navy 1873. Continuous service numbers CS 2000448 and 49380 appears to have died 1905. Various spellings of the family name VAGAS and VAGUS
£495.​
0
r.
WW1 MEMORIAL PLAQUE .

Charles Edward Colley 18th Lancashire Fusiliers (Bantam Battalion) 30 th July 1916. Remembered on Thiepval Memorial. BORN Fulham 1896 was originally Middlesex Regt. 21571 . Interesting circumstances of deaths for 18th Lancashire Fusiliers on this date.
SOLD

World War 1 Silver War Badge B294556 complete with fixing pin. This awarded to Dvr Thomas Richard Price 821310 RHA who was disharged due to WOUNDS .Roll states serving with 34th Division Ammunition Column and awarded WW1 medal pair only
£20

A GOOD SELECTION OF GENUINE WORLD WAR 2 MEDALS ARE ALWAYS IN STOCK

PLEASE EMAIL OR PHONE FOR PRICES

1914 Star Trio to 4695 Pte.W G Garratt 7/D.GDS (D -4695 on pair) with mint ribbons, never worn and from the family first time on the market. Medals confirmed on MIC and WW1 medal rolls not entitled to the clasp. With 4 dated London County Council school medals for 1904- 1907 all named W. GARRATT.

£180
1915 Star trio correctly named Pte C HEBBORN M2-102858 A.S.C.

With correct silver War badge numbered 241859 DUE TO WOUNDS. Original long silk ribbons sewn on incorrect medals .
£100
MILITARY MEDAL DURHAM LIGHT INFANTRY
Military Medal correctly named
93044 Pte S Milner 2 / DURH L.I. copy MIC and London Gazette 21-9-18
£395
NAVAL GENERAL SERVICE MEDAL & CAMPAIGN SERVICE MEDAL
Correctly named to M984315 J WOOD S.B.A. R.N.
Scarce Naval General Service Medal clasp Brunei and a Campaign Service Medal clasp Borneo awarded to a Sick Berth Attendant and good chance serving with the Royal Marines.
£495
1914-15 STAR TRIOS
Y-860 PTE C SKIDMORE KRRC Charles Skidmore born Wigan27-4--1895 Prisoner of War 10and 13th Btns KRRC SOLD
All below £75 each

8775 PTE J LAW ASC (LC 300949)
123184 PNR A J CHAPLAIN RE (WOUNDED SWB DISCHARGED 11-10-17)
S4 143712 PTE F H ABBOTT ASC
54546 SPR J W BAILEY RE
101840 SPR D A CAMPBELL RE
20091 PTE L EDWARDS Y & L REGT
344387 PBR 1 E PROWSE R.N ( PLUMBER )
WW1 PAIRS ALL £40
85689 PTE.E.C. BURLS. RAMC

202946 PTE. E. GILL S. LANCS.R
231620 GNR C WHITE R.A.
47496 PTE J COOPER KRRC
CPL H ABBOTT 46329 R.A
GNR W ALTHAM 106715 R.A
PTE H V SCRIVENGER G 30731 QUEENS R
PTE H RENDALL 94052 LIVERPOOLS
PTE. R. BRAY 54162 54162 MANCHESTERS (20TH MANCHESTERS 5TH CITY PALS)
PTE.S.JACKSON 265507 QUEENS ( Lab Corps 650094)
PTE J WILKINSON 42999 LINCOLNS (8TH BATTALION )
GNR.E JEFFEREY 86491 R.A.
PTE R HARRIS 029708 A.O.C.
GNR F H C CLEMENTS 109468 R.A.
PTE W MAYLE PW 5377 MIDDLESEX 19TH PUBLIC WORKS
PTE T LOGAN 3631 L'POOL R MINT MIC STATES AWARDED SWB
PTE A T WILLOUGHBY 55605 ESSEX R 15th Btn also R40079 6th Wilts
PTE T R WHARF 48134 NOTTS & DERBY Pair only Thomas later LC
PTE A W WILLIAMS 73332 LIVERPOOLS pair only Archibald later L.C
SJT R STEAD 6945 KOYLI pair only Robert also 203355
PTE F Y PARKER 4476 LANCASHIRE FUSILIERS Frank Pair only late LC
PTE T TAYLOR 376851 MANCHESTERS Pair only Thomas 1/6th Btn
PTE H BOTTOMLY 88187 NORTHUMBERLAND FUSILIERS pair only Harold
PTE L BEALE 21977 SOMERSET LIGHT INFANTRY Pair only Leonard
PTE H R WATSON 41866 QUEENS pair only Henry later L.C
T WILSON M.F.A.
FRED JAMES COOPER 41852 MANCHESTERS
ARTHUR WARBURTON COLDSTREAM GUARDS 19167, RE 345568,WR 281394
JOHN HEAP WORCESTERS 58600, LANC FUS 657252
T RICHARD P JONES RWF 9298 MGC 140249
THOMAS C AITKEN CAMERON HIGH 203730 SWB
GREG COLEMAN 24993 BERKS LAB C 94312 RE 311832
EDWARD SELF GS 29714 R FUS 10TH BTN STOCKBROKERS .
ALEXANDER FOTHRINGHAM 27574 ROYAL SCOTS
G COLLIN 95758 LIVERPOOLS
EDWARD MARTIN 2447 KRRC
J PERCIVAL B GREEN 46230 WORCESTERS

WORLD WAR 1 SILVER WAR MEDALS

M2 195258 PTE R P FRASER A.S.C £25
44794 1 A.M E A ELLISON R.A.F £25

PTE J JEWELL SE 29148 A.V.C.
(John Jewell pair only Army Veterinary Corps) £25
PTE E FELLOWS 47320 DURHAM L.I £25
R4-110924 PTE S YABSLEY ASC £25
K31035 STO. G E PERKINS R.N. £25
S-4458 PTE E A DAVEY A.O.C.£25
M302036 PTE R HEMENSLEY A.S.C. £25
2073 PTE W J LEAKE RAMC £25
144343 PNR.R T RAMSEY R.E.£25
60553 PTE W BERRY MANCHESTERS (16TH BTN ) £25
SAMUEL MODERATE. A Samuel Moderate was born in Donaghadee near Belfast in 1860 a sailor who died 23-4-24 in Marsaille France 23-4-1924 £25
PTE F COOK R-21995 K.R.RIF £25
GNR B MASON 155318 R.A £25
261526 GNR C H SEYMOUR R.A £25 (CHARLES H SEYMOUR SWB 453699)
WORLD WAR 1 VICTORY MEDALS
CH GNR S EDWARDS R.N (later Lt.Cdr. Sydney Edwards born 14.3.72, enlisted 23.4.00.) SOLD

H WOOD 3098 TS TR.R.N.R.

25944 Pte. W A EDMUNDS DEVONS £15
2426 Pte F A LARKWORTHY 16th LONDONS awarded SWB 495782 as RSM £25
340833 W. T. SLADE CH.ARM. R.N. (William Thomas Slade Chief Petty Officer Armourer Royal Navy ) £25